Sometimes there are friends to be found on a powder day after all. To celebrate such camaraderie often found over fresh tracks and cold beer, Whistler Brewing and Fernie Brewing joined forces last month on a collaborative spring brew (ski), Spring Shred.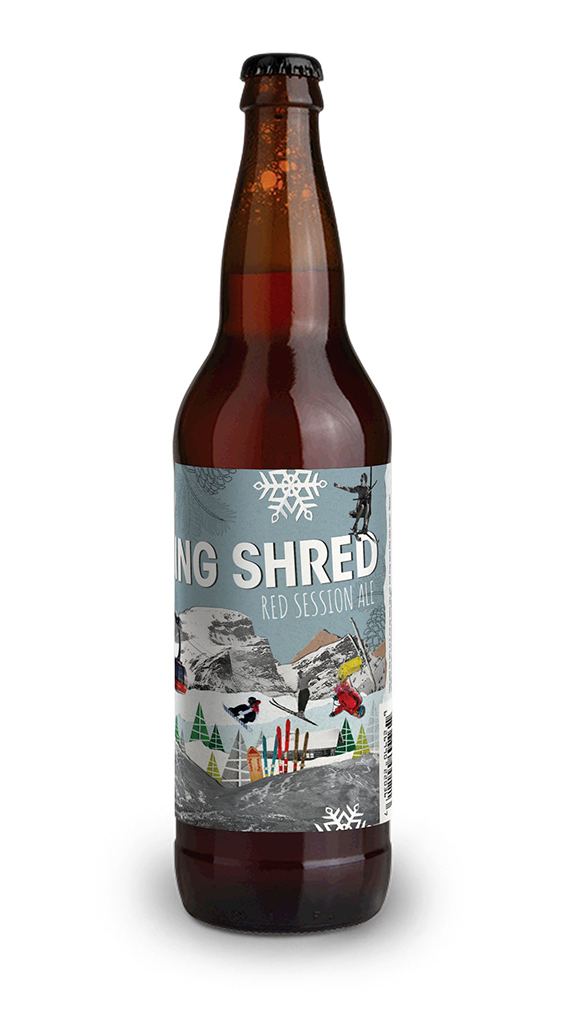 Spring Shred Red Session Ale is the result of this brewing partnership, launching at the perfect time of year to celebrate those legendary spring ski days. And to serve as a refreshing accompaniment to goggle tans, sun pits, slush cups and beers on the deck. Or anywhere for that matter.
There's a whole lot in common between the two epic ski towns of Whistler and Fernie, BC. Whilst Whistler hugs the west coast, and Fernie is a few peaks short of the Alberta border, both promise epic annual snowfall, unlimited terrain, huge vertical and amazing local artisan, food and craft-beer offerings.
As a result of these similarities, the two well-known craft-breweries started discussions, bounced around some spring skiing concepts, Brewmasters Matt Dean and Gord Demaniuk shared recipe ideas, and soon after, Spring Shred was brewed. To assist in getting this brew off the ground and distributed throughout the Province, BC Craft Brewers Guild, whose mission is to support the creation and discovery of truly great BC Craft Beer, and who wholeheartedly supports a number of varied, distinctive and exciting collaborative brews each year, stepped up to support the project.
Shortly after, Brewer Clinton Small, from Whistler Brewing flew out for a couple of days to enjoy the Fernie factor, and to brew Spring Shred at FBC with Brewers Pauly Roberts and Derek Bowker. "They were like let's do it and we were like yah and then were like cool brah! Noice!" And as the tone implies, it will indeed make you want to don your flip-flops and grab a cold one.
It's a ruby Red ISA that shoes a good rich malt backbone, with a pleasant IPA hop finish. Utilizing both hop back and dry hop methods to enhance the North West flavor derived from Cascade and Chinook varieties. IBU 50 and 4.7% alc./vol.
Spring Shred will be available throughout BC as of April 1st, and in Alberta March 21st, in 650mls, for a limited time only, until stocks and hopefully snow, lasts.