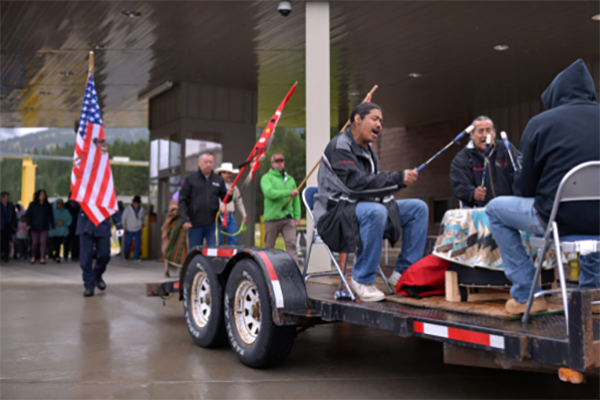 For more than 10,000 years,the Ktunaxa people, also known as the Kootenai or Kootenay, have occupied the homeland that spans southeastern British Columbia along the border of Southwestern Alberta, and parts of Washington, Idaho and Western Montana. Ktunaxa refer to the homelands as ʔamakis Ktunaxa that spans Naⱡmuqȼin refers to the Rocky Mountains.
For hundreds of generations, the Ktunaxa used the Kukin ʔamakis, Elk Valley and the Crowsnest Pass as a trade and travel route through the Rocky Mountains. Long before Provincial boundaries were laid out, Bison hunts were coordinated on the prairies east of the Rockies, until the bison population was decimated in the mid-1800.
Kukin ʔamakis, Elk Valley is the home of the easternmost community of the Ktunaxa people, who are closely connected to families living in the area now known as Yaq̓it ʔa·nukⱡi̓it, Tobacco Plains which straddles the US border to the southwest of Ȼaqahak, Fernie. The Ktunaxa, have lived in their homelands since time immemorial and have a deep spiritual connection to the land. The Ktunaxa take only what they need and no more from what the land offers.
Despite being subjected to 120 years of living on Indian Reserves, and decades of forced attendance at a Residential School at the St. Eugene Mission near Cranbrook, the Ktunaxa people continue to be resilient. Today, there are four Ktunaxa BC communities of ʔakisq̓nuk, ʔaq̓am, Yaq̓it ʔa·nukⱡi̓it, yaq̓an nuʔkiy, the Kinbasket Family of the Shuswap Band in Invermere and two Bands in Idaho Kooetnai Tribe of Idaho and Elmo in Montana.
Visitors to the region can learn more about the Ktunaxa by visiting the St. Eugene Mission Interpretive Centre.