After driving from ski town to ski town, Andy Cochrane shares why Fernie has grown to be his favorite.
Just north of the U.S./Canada border you'll find one of the last no-nonsense mountain towns in North America. Hidden between the Purcell Mountains and Canadian Rockies lies Fernie, British Columbia, population 5,000.
Fernie often gets overshadowed by bigger names like Whistler and Revelstoke – and that's fine by everyone who lives here. The locals don't care much for the glitz and glamour of big name resorts; they simply love to ski.
That attitude has made Fernie one of the last refuges for real ski bums – affordable housing, welcoming atmosphere, unreal skiing, and a town with real grit. Those who do stumble upon the town will understand why the motto of the Kootenay Region is "come for the snow, stay for the people."
The paradigm is subtle yet seemingly everywhere. Locals move a bit more slowly, smile at strangers, and rarely lock their doors. Fernie is the embodiment of what an idyllic small mountain town should be, before the idea got co-opted by real estate developers and mega resorts.
Originally a mining town founded over a century ago, Fernie went through many boom-and-bust cycles tied to the global price of coal. In the last few decades the town has diversified past its primary economy, slowly attracting tourists from Calgary, Edmonton, Vancouver and the U.S. Yet the community feels homogeneous in a good way: My first night at the bar I met miners, families, dirtbags, and town councilmen that all got along well.
The heartbeat of Fernie is a small downtown area that is clean and quaint, with a warm atmosphere. There are coffee shops, a local brewery, and reasonably priced food options across town, from sushi to steakhouses.
The outdoor opportunities start at your doorstep, with a maze of mountain bike trails, touring huts, nordic clubs, and more. Situated in a river valley in between two towering mountain ranges with peaks thousands of feet above, everywhere you look seems to inspire you to get outside.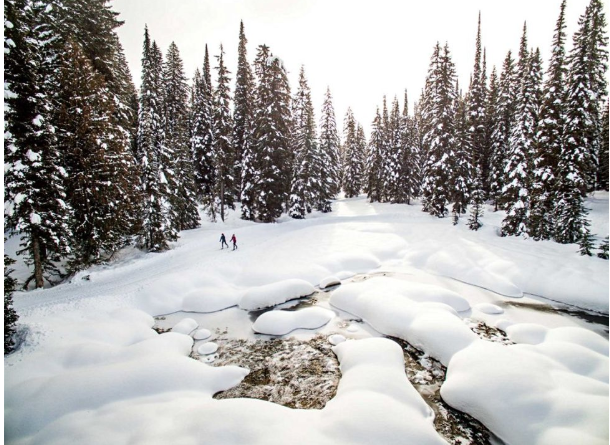 That's all without mention of the skiing. Fernie is home to some of the deepest champagne powder in the world. Our first few laps at Fernie Alpine Resort – four miles from the town itself – came after a week-long storm cycle, with nearly two feet of fresh snow. We got up early for first tracks with Robin Siggers, the director of operations, who's been around the area since the late '70s. Robin helped create the avalanche control protocol in Fernie, which has been adopted by resorts around the world.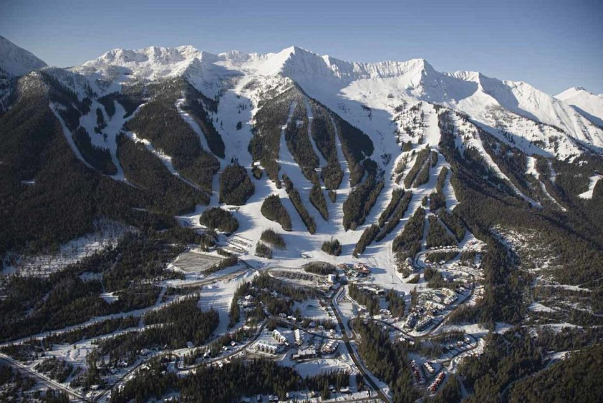 The terrain in the resort is challenging – five expansive bowls with nearly 80 percent at risk of slides. The team employs an artillery gun, charges thrown from helicopters, and hand-thrown chargers, all depending on the conditions, slope, and access. Watching this well-oiled machine was eye opening. You would never guess the science and precision that goes into controlling risk in-bounds at a resort.
With Canada Rockies International Airport only an hour away in Cranbrook, Fernie is more accessible than you might think. Direct flights are available from LAX, Denver, Orlando, Chicago, Houston, Seattle, Oakland, and many other hubs.
I spent a week in Fernie in late January, during a winter of chasing storms and trying to ski as much as I could. During my time in Fernie I stayed at the Lizard Creek Lodge, adjacent to the ski resort. There are ample other options on the mountain and in town for any budget.
I live fulltime out of my Tacoma and last year drove 43,000 miles to run trails, climb rocks, surf swell, paddle rivers, and chase snow. The nomadic lifestyle has forced me to meet strangers in places all over the West Coast and Canada, and in all my travels, Fernie has stood out to me as a still truly unique place.
Bend, Truckee, Telluride, Mammoth, Aspen, Leavenworth, Durango, Jackson, Bishop, Boulder, Bozeman, and dozens more. Each has a slightly unique flavor, but it doesn't take long to see trends among many of these small mountain towns. Homes look like mansions and downtowns feel like movie sets. Class structure is binary: elites and everyone else. Locals generally hates tourists, despite economically relying on them. Few of these towns, unfortunately, have a found a way to keep the heart of their identity thriving. There is very little weird left in them.
Fernie, like many other mountain towns, is centered around a ski resort. It offers a large variety of both front and backcountry terrain. It has notoriously deep snow – I could never tire of the powder in nearby ranges like the Purcells. The difference here is the people – humble, modest, and down-to-earth. Locals see and treat visitors as friends, and it makes a big difference. While many come to experience the legend of the Powder Highway, most stay because they soon feel like part of the community.
By Andy Cochrane
Source: Adventure Network