Posted by admin in : News ,

add a comment
East Kootenay Mines Industrial Safety Association's 92ng Competitions were held on May 11,2013 in Sparwood with the awards banquet in Fernie that evening.
The competitions were hosted by Fording River Operations – Teck Coal Limited with all five mines competing and also a novice team and two occupational first aid teams.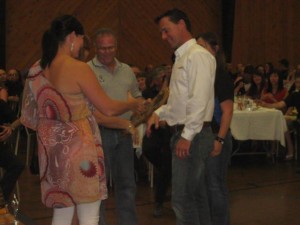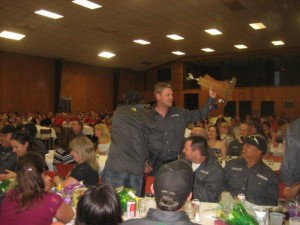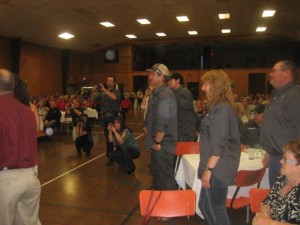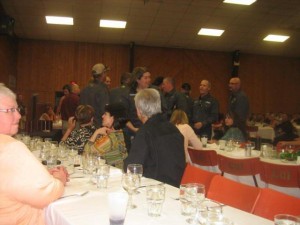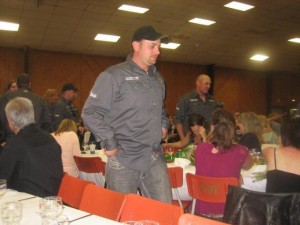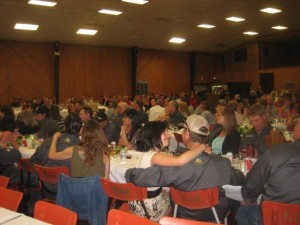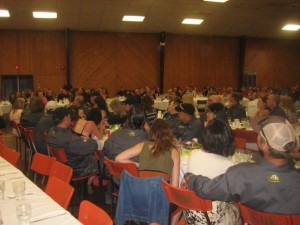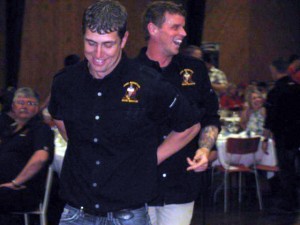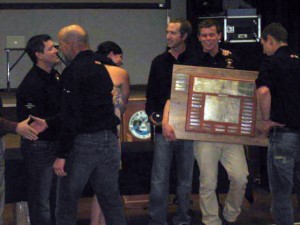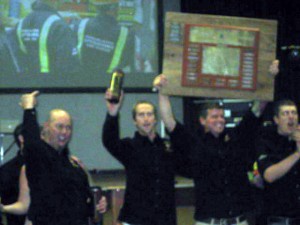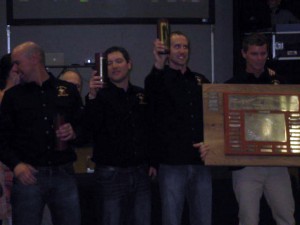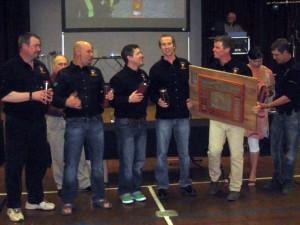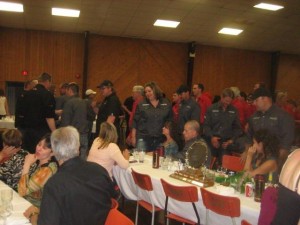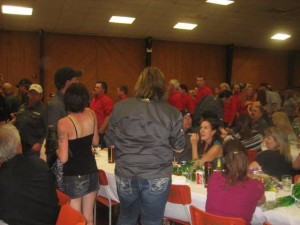 Brad Hogg was main organizer of the event with Mike Harrington as MC for the evening festivities.
Dean Runzer, President of the Association for 2013 and Mine Manager of Fording River Operations delivered the welcome speech. Grace was recited by Elov Simmons and a moving video presentation on the history of mining in the Elk Valley was produced by Patrick Spohr, Fording River Operations.
A delicious dinner was provided by Lizard Creek Lodge, afterwards Mike introduced David Wilks MP for Kootenay-Columbia, MLA Kootenay East Bill Bennett, Bob Kelly, VP Health and Safety for Teck Coal, Robin Sheremeta VP Operations Teck Coal, Mary Giuliano Mayor Fernie, Lois Halko Mayor Sparwood, Ken Wildman Councillor Elkford, Jerrold Jewsbury BC Ministry of Mines- Inspector of Mines, and Selene Minh Nguyet- Team Miracle.
The mine rescue teams were introduced with all five mines having competitors. Several jubilant teams exploded in cheers when they heard they would be attending the provincial competitions in Revelstoke next month.
Awards were presented by Linda Bailey and Tamara Bailey of Staying Alive First Aid Academy and Chief Judge Jerrod Jewsbury.
Winners were Non-mine rescue – first SMS second Canfor. 3person intermediate were first Anealators second Eradecators.
Best captain (Jack Peters award) went to Loren Langiville, highest written (Dunbar award) was Scott Shalaton. Novice team went to Team Miracle.
SMS got a standing ovation when they immediately donated their $1000 winnings to the Mining for Miracles for children.
But the biggest cheers came when Greenhills came in second place and Coal Mountain came in first place which means they are headed for Revelstoke and the provincial competitions in June.
Brad Hogg commented that "everything went without a hitch" Bob Kelley sated that he felt a "great sense of family and much community spirit and pride" in these competitions and Jerrold Jewsbury said he "was very proud to be part of the group of people', (in mining).
The comaderie displayed by the team members, volunteers and organizers is very evident during the competitions. The video showcased the suffering mineworkers of the Valley went through from the beginning when underground mining of coal was with pick and shovel. It was pointed out that the above ground removal of coal today is much safer but that much of that safety can be attributed to the miners themselves who train in mine rescue and are much more aware of safety than ever before.
Of course these types of events wouldn't happen if it wasn't for the sponsors and volunteers who contribute their time and resources to the success of the event.
Sincere Congratulations to the winners but most of all Congratulations to all of the competitors and volunteers and sponsors for their dedication to mine rescue.
On the morning of Friday, April 26, 2013 City staff and employees gathered to commemorate the World Day of Mourning.
Mike Poirier represented the workers and conducted a short ceremony that ended with a moment of silence. He read an introduction from the Union and asked me in my capacity as mayor to also say a few words.
Worker's Memorial Day was started by the Canadian Union of Public Employees (CUPE) in 1984.
In 1985 The Canadian Labour Congress officially declared April 28, as the annual day of remembrance for workers who have been killed and injured on the job.
This date was chosen because it was on this day in 1914 that the third reading of the Workmen's Compensation Act took place.
On December 28, 1990 the Government of Canada passed the Workers Mourning Day Act, establishing April 28 as the official National Day of Mourning for persons killed or injured in the workplace making that day an official Worker's Mourning Day.
Since then this day is observed in over 80 countries, the Canadian flag is flown at half-mast on Parliament Hill and workers and employees observe this day by wearing black ribbons, armbands and having a moment of silence.
The purpose of this day is to remember and honour those lives lost or injured and to renew the commitment to improving health and safety in the workplace to prevent further deaths, injuries and diseases from work.
Thursday evening saw the grand opening of the new banners that will be decorating Fernie's downtown.
As mayor I was given the privilege of opening the doors to the theatre where they were suspended from the ceiling and if a first impression means anything the gasp from the spectators said a whole lot, amazing scenes with a green border that looks spectacular. Seeing them all together is a pretty impressive sight. Donna Miller who led the program this year said that 18 of the nearly 100 entrants that were submitted were by children. I believe each of these kids deserves special thanks for having interest in such a program and actually submitting a work of art. Congratulations to all of you, it is wonderful to see and I commend all of you for being involved.
The original banners were introduced by the City in 1999 but a few years later Linda hide initiated the program to have images from local artists grace the banners instead of having generic art.
This program has proved so successful that both City Hall and the Arts Station receive calls regularly for requests of information on the program from municipalities across Canada.
I want to convey a huge thank you on behalf of City Council and the City of Fernie to all of those people who submitted their works.
Our town is much brighter and unique not only physically by the outstanding banners put up each year but also by the love visible in each of those pieces of art that makes the banner.
As a long-time resident of this town I can't help but gush over the amazing people that live here.
Fernie has a constant stream of individuals who are involved in so many ways to make life here easier and more enjoyable for all residents. Most of what is accomplished is done on a volunteer basis. Just look around and notice what we have, Community Centre, Curling Club, Aquatic Centre, Miners Walk, Library, Arts Station, Museum, all sports organizations, committees, service clubs and many amenities have all been spearheaded by volunteers and continue to be successful because of those same people willing to give of time, heart and energy to the improvement and addition to our town in one way or another.
Posted by admin in : News ,

add a comment
Friday April 26 had a large group of supporters gather for dinner to fundraise towards making a recovery centre for women with addictions happen in Fernie.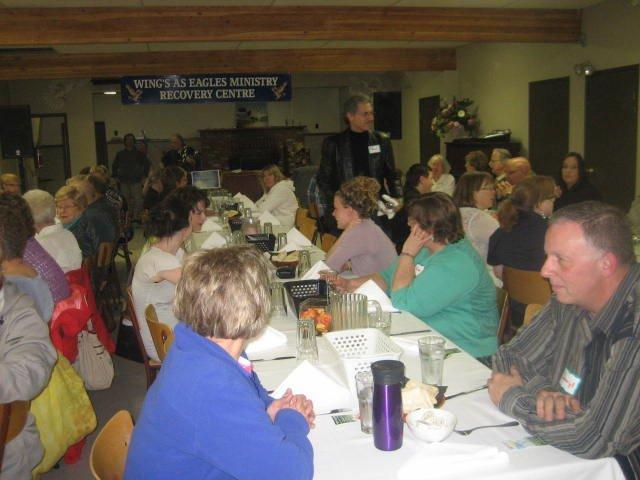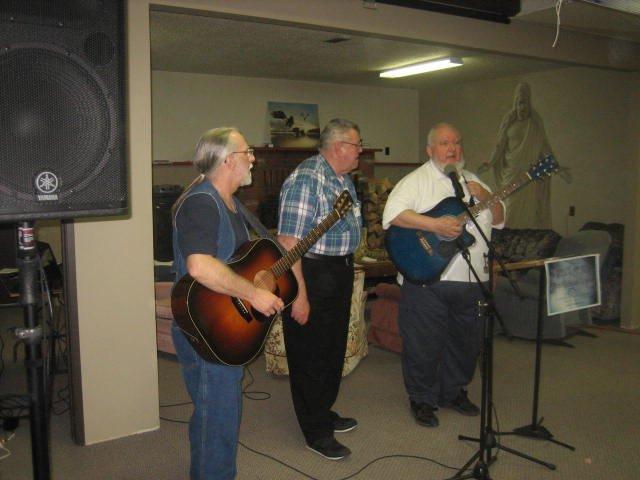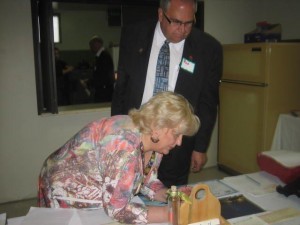 Spearheaded by local resident Linda Johnson and her team with support from Pastor Dennis Williamson and the Trinity Pentecostal Church and under the auspices of the successful Wing's as Eagles Ministry Recovery Centre in Cranbrook the idea has been percolating for some time and has now taken hold.
The evening began with a welcome by Pastor Dennis with John Dumas from Cranbrook acting as MC. The program included several musical interludes and testimonials including one from Linda Johnson.
John introduced Pastor Ron Short, the creator of the Wing's as Eagles Ministry noting that they had been working closely together for years and recalling how there were times when Ron and his wife would pick up a couple of packages of Kraft dinner from the food bank so that they could have something to eat. "Revolutionaries have a passion for Christ, many aren't in church but many are. We have to give people chances, we need to forgive as Christ said seven times seven, wherever I go, people I meet have hearts that belong to Jesus," John said as he asked his friend Pastor Ron to come up.
A visibly emotional Pastor Short said "I am overwhelmed at what the Lord has done in Cranbrook and now in Fernie".
Pastor Short went on to say how he was an alcoholic who had reached rock bottom; miraculously he was able to change his life around and was sent a vision to start a recovery center for men in Cranbrook. "The vision He gave me has come to fruition, five years, 125 men helped. All money raised in Fernie stays here for the women's recovery centre, when individuals are battling addictions they have to go away for treatment, instead with a centre here they can stay so once finished they have a support system to fall back on."
Linda concurred, she said women can stay up to two years in the recovery centre, most that go to the coast for treatment go through a 16 week program but once finished sometimes they find themselves homeless or they return to the same situation so if the program addressed only their woundedness without dealing with other problems they revert back to the old ways of dealing with their situation. With a recovery centre in Fernie women will be able to stay longer and get more support.
Twyla, a beautiful young woman gave an impassioned testimonial of how she had descended into drugs and alcohol, had her child taken away from her, tried to get clean on her own and had not been successful. However, she is now clean and sober and reunited with her daughter. Her personal story of addiction was very moving but more so was her obvious determination to now devote her life to helping other women.
Another testimonial from a young Cranbrook woman told of how she was shunted from one foster home to another, how her mother had all of her children taken away and eventually died from cirrhosis of the liver. She said she herself spiraled out of control, quit her job although it was the only area of life she'd experienced success in and then " dug a deep hole and threw herself in it, I was in complete darkness, I faced life or death, I decided to crawl out of that hole I had placed myself in and told my boss what was going. The boss replied that if I cleaned myself up I would get my job back. It has been an amazing journey, Jesus is my new addiction."
The evening had a delicious roast beef dinner catered by CP Catering and a silent auction to raise funds. Many local businesses donated items and gift certificates to support this endeavour.
It was touched on by Pastor Short that when he first began there was some "not in my back yard" attitude at finding a venue for the recovery center.
I believe Fernie is open-minded and compassionate enough that there won't be any such response.
Most of us are fortunate not to find ourselves in the quagmire of addiction. Many people who seem to lead lives that are productive hide their addiction from the world. But the saying that "Most people lead lives of quiet desperation" seems very true when one hears testimonials from those who have suffered through addictions but have overcome them.
For more information or to donate to this very worthy cause contact Linda Johnson at 250 423 6603.
Posted by admin in : News ,

add a comment
I first wrote about Grace Brulotte 16 years ago when she was born with a rare congenital disorder called arthrogryposis, a condition that stiffens body joints. "This affects one in 3000 live births" Grace says.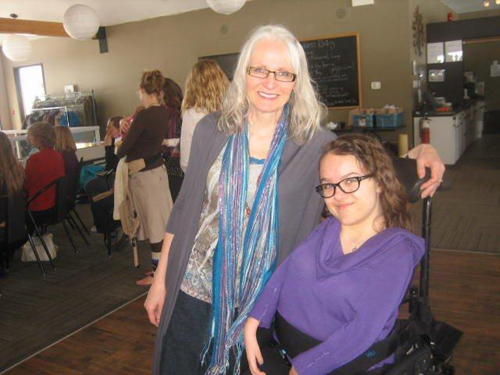 Grace constantly overcomes obstacles. Others may get gloomy about a bad day but for Grace each day is a bad day full of challenges.
With a fiercely independent spirit it seems ironic that she has to depend on bodily assistance at times and on a specialized wheelchair most of the time.
Grace may be physically challenged but she has been blessed with a quick, bright mind.
Although she doesn't have mobility in her legs and feet and very limited mobility in her arms and hands this young woman plays the piano well and has co-authored a book. Articulate and knowledgeable about her condition, in her latest project she founded "FIRE". "Fernie Inspire the Race to Empower" is the sit-ski program now available at Fernie Alpine Resort(FAR).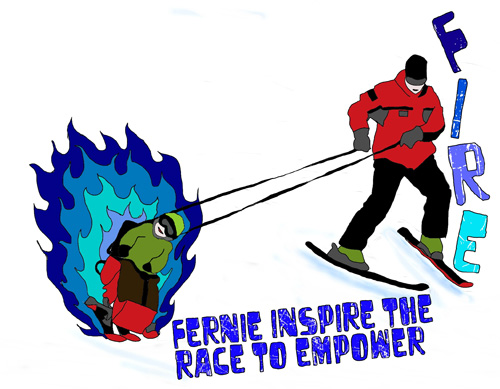 Two years ago she was feeling emotionally down, "trapped like a hobbit" she says with a smile. Her friend Katy Gibbs from Invermere told her that she needed to try sit-skiing, saying it was simply amazing.
Grace recalled how during ski days in school there was nothing for her so when she heard about this program and discovered that there wasn't anything available in Fernie she went to Kimberley. Instructors Nip Bradford and Steve Norton took her out. "when I first saw it I was skeptical, I was scared but the instructor said too bad, I needed that first push to get past my fears, I really needed to step out of my comfort zone. The instructors were very enthusiastic in getting me in the sit-ski. Usually I feel like a have a 400 pound weight strapped to my butt, but with this what I experienced was a freedom from being disabled, something I never experienced before, a feeling of happiness, of being really free, I feel like I can fly, a release I don't get often, my muscles tense but I can relax emotionally, I don't have to worry about my life or my problems, this makes me face my fears. Although I was strapped in, it didn't feel like it. I fell in love with sit skiing. With some kids the instructor holds onto a bar in the back to direct the sit-ski but they can also hold onto to tethers, sort of like a horse. In my case I can tip my head from side to side to steer the sit ski." said Grace.
Grace continuous to say that instructor Allan Watson takes her on steep inclines and off jumps. "I am terrified but happy; it's like scuba diving in powder!"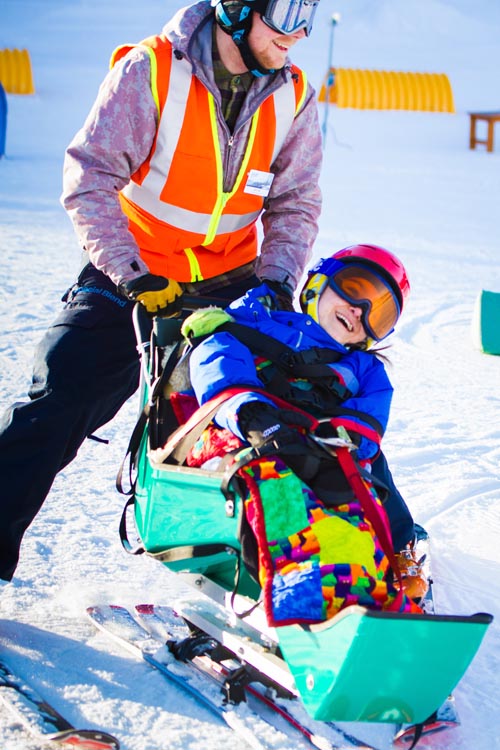 It didn't take long to find volunteers for FIRE. People like Andy Cohen(FAR General Manager) and Jennifer Gross. FIRE has Grace as president, her mom Janice as secretary and Jennifer as treasurer. Grace says many helped but she needs to mention how Glenn Purdy donated his services to set up the society. Anita and Dave Brunker, Marilyn Baker, Diane Costerton, David and Nelda Caruthers all became involved.
It took ten instructors, plus two to set up equipment and banner maintenance on the sit-ski, plus five more volunteers to help out in other ways. "Rod Tim directed me to Andy Cohen, who was responsible for getting the Para-training facility in Kimberly. Gord Tim helped to raise 6000 dollars in two weeks with his connections in Calgary. Three sit skis were purchased. A green one name Samson, a red one named Maximus and a yellow one dubbed Ben Hur, I see a pattern here I comment", says Grace, "they are all chariots". The program runs Sundays from two to four pm. The program is for those with any type of disability, behavioural or physical all are welcome. 'FAR is very generous and provides a cost that removes all barriers to fun and freedom, it is a positive atmosphere that shows individuals their ability in their disability' Grace says.
She said Taiga Koffman from Lethbridge always wondered why he couldn't go skiing with his dad and sister, she shows a photo of Taiga all smiles with happy parents by his side. She is now applying for a grant to get another sit-ski, one more adaptable for different needs that will cost nearly $6000 dollars. Through the Paralympic committee half will be paid so hopefully the grant will make up the rest.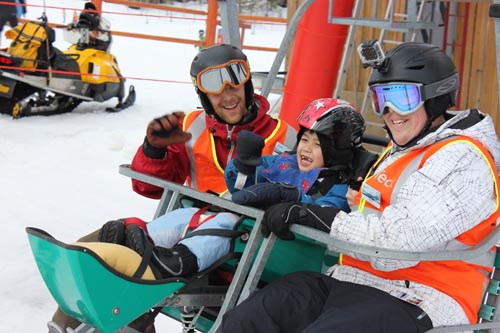 Grace says, "In my black and white world colour has been added, in this world different doesn't fit in but everyone wants to fit in, and now I understand there are no excuses, not limits, only our minds disable us. I am amazed at how the community rallied around with support, instructors are incredible people and the Free Press has supported me from the beginning and TECK donated too. I want to thank all the sponsors and encourage those who want to volunteer to come forward; it will change your life, Thanks to Jennifer and Andy for the amazing flood of ideas.
FIRE will have a website soon, in the meantime for more information you can contact this courageous young woman by calling Grace at 250 423 4488 or at bethefire@hotmail.ca
Posted by admin in : News ,

add a comment
In my youth Lent meant giving up favorite foods like bread or chocolate. Catechism taught that fasting and deprivation of something really enjoyable was a good show of Faith.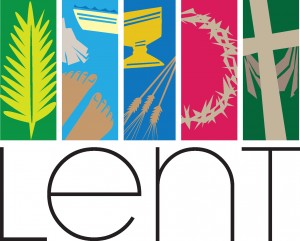 As time passed I turned to daily praying of the Stations of the Cross, but after a few years the daily repetitions turned into a rote exercise that didn't feel like I was fulfilling the necessary obligation.
This year I have been doing small daily mediations. One from a booklet provided by our priest Father Bart, another from the Rohr Institute and a daily inspiration that arrives to my inbox daily.
Father's book is written by Henri J.M. Nouwen, considered to be one of the greatest spiritual writers of our time, Richard Rohr is a priest and the inspirational sayings are interdenominational.
On one day last week Nouwen asks "Can we drink the cup?" Then explains that "drinking our cups means fully appropriating and internalizing what each of us has acknowledged as our life, with all its unique sorrows and joys. And we do this by "listening in silence to the truth of our lives, as we speak in trust with friends about ways we want to grow and as we act in deeds of service".
Rohr says "Your image, your de facto, operative image of God lives in a symbiotic relationship with your soul and creates what you become. Loving people, forgiving people have always encountered a loving and forgiving God. Cynical people are cynical about the very possibility of any coherent or loving Center to the universe. When you encounter a truly sacred text, the first questions are not "Did this literally happen just as it states. Does my church agree with this? Who is right or wrong here" These are largely ego questions, they try to secure your position, not questions that help you go on a spiritual path of faith and trust. They constrict you, whereas the purpose of the Sacred is to expand you."
One inspirational message by John Wesley states, "Do all the good you can. By all the means you can. In all the ways you can. In all the places you can, at all the times you can. To all the people you can. As long as ever you can".
I love these daily bits of education that touch body and soul and "expand" my thinking. Giving time to meditating dares me to truly change the way I think and react to people and life in general.
It's not an easy adjustment; drawing inward and outward discipline is hard. I would rather depend on the easy, learned way of thinking and behaving.
Giving up my favorite food was so much easier, saying daily prayers not difficult at all. But actually thinking about what matters in life spiritually takes energy especially if I am to do it honestly and then truly live what I learn.
It wouldn't be a real Lenten journey if I couldn't put into practice what it is I want to do.
But as a flawed human being it would be ever so much more pleasurable if I were able to instead write about how disappointed I am at people who are continuously critiquing me and looking for ways to show the community what a mistake they made in voting for me and what a terrible job I am doing representing our town.
However, I am going through this Lenten period working diligently to alter my thought processes so instead I will say that I will continue to learn, continue to care, continue "to do all the good I can, by all the means I can, in all the ways I can, in all the places I can, to all the people I can for as long as I can". And at the end if I have not been able to make everyone happy, it won't matter because if I have learned something so far in this life journey it is that although it is a goal I always aspire to it isn't one that is truly possible.
At the end what is important is that my intentions are pure, that what I want for others is something good, that what I want for my town is a balanced direction that takes into consideration our past and our future and especially the present. That I don't favour only one way of thinking, that I put everything in common sense perspective and that above all I am working for the good of the whole and that is what this Lenten journey is about, one that I hope to continue all year through if I have truly learned something.
Posted by admin in : News ,

1 comment so far
The Lions Club of Fernie held their annual appreciation dinner at the Legion Hall on Saturday February 23, 2013. This event is as a considerate expression of Thanks to those that contributed so generously in many ways to the organization in the past year.
The Fernie Lions have been a support for this area for many years fundraising to help the hearing impaired and those with special needs. They are identified and well known for organizing the amazing Labour Day Demolition Derby event that attracts competitors and spectators from different provinces.
I was invited again this year and was pleased to be asked to give the blessing before dinner and also say a few words on behalf of the City of Fernie.
In my capacity as Mayor I thanked the Lions and all the volunteers present saying, "Congratulations for all the enthusiasm and diligence you show year after year and for all that you accomplish. Volunteers like you are the heartbeat of the community; you make our community the wonderful place it is".
The delicious dinner of chicken cordon bleu, roast beef and fixings was prepared by the Legion Auxiliary Ladies.
President Rick Ganter thanked the Ladies and also Legion President Terry Rimmer for the use of the Hall for the evening and also for the Auction coming up in May.
Chuck Shoesmith, vice-president thanked all the volunteers getting a loud laugh when he stated, "I can't believe all you do for a free meal." He then touched on plans for making a permanent exhibition ground happen for Fernie.
Rick Ganter who has held every executive position since becoming involved with the Lions in the early seventies thanked the many individuals and organizations for the constant assistance to the Club. He particularly mentioned TECK Coal for their financial contribution, Randy Cameron who has been supplying free washrooms, fencing, etc, and also sets up and cleans up for the annual Demo Derby. "In the rain, at four thirty in the morning he moved the concession stand to the new venue last year".
He went on to say that for years he and Ron Corrigan have supplied and cooked burgers for Family Day for seniors beginning at the Tom Uphill Home and continuing on at Rocky Mountain Village.
"The Mitchells have supplied us with a loader, grader, and anything else needed for over 25 years, don't even have to call, Reiko Steel built metal seating stands for us. We also do security for the skating club and put on a volunteer dinner for all the kids who volunteer to help, over 30 this year" Rick adds.
He the points to a woman sitting across and says, "you see her, that's Kim, she and her family come from Calgary every year to help with the Derby. Rick then points to a tall man close by. "That's Loopy Meloff, an auctioneer from Alberta. He comes every year to volunteer as actioner for us. "Only time you can be called a big mouth and not be insulted," he says to Loopy, who laughs and says he loves coming here to work the auction, "I do other places but the best bargains are here, usually people get something brand new for only forty cents on the dollar" he says to me.
Last year the Club held the Derby at the Hutchinson Farm property. This year they have no idea where it will be. In the past the Derby has been held in Hosmer and Coal Creek as well as in Fernie. This event has proven very popular drawing thousands of spectators including people from out of town who love the sport. It would be a sad day for many if another location isn't identified soon for this very enjoyable family event.
Posted by admin in : News ,

add a comment
Earlier this year, Columbia Basin Trust committed $200,000 per year for the next three years to the Elk Valley Community Directed Funds (EVCDF) Program to support initiatives that provide socio-economic benefits to the Elk Valley.
The EVCDF Committee, which will oversee the Program, is made up of Regional District of East Kootenay Elk Valley Directors Lois Halko, Dean McKerracher, Mike Sosnowski and Chair Mary Giuliano along with community members Dan Savage, Michael Hepher, Troy Tobin, and John Baher. "We held our first meeting earlier this month and one of our first steps was to authorize the preparation of a Request for Proposal to prepare the Elk Valley Community Priorities Plan," explains EVCDF Chair Giuliano. "The RFP will be available within the next couple of months and we expect the plan preparation to take about six to eight months."
Once a consultant is hired, community consultation will be a key component in the research and development of the Priorities Plan, which will identify the priorities of the Valley and outline criteria to assist in selecting or developing projects.
"What makes this Program unique is that is aimed at valley-wide projects as opposed to community specific ones and I believe this gives us a wonderful opportunity to work collaboratively toward common goals for the Valley as a whole," adds Giuliano.
The EVCDF Program is the second program of its type in the East Kootenay. The Columbia Valley Community Directed Funds Program was initiated in 2012 and CBT President and CEO Neil Muth says, "We've been talking over the years about ways to support communities to make their own decisions about using CBT money to fund the priorities they have set. This is a new way to support people across a number of community boundaries to work together to shape their future."
The EVCDF Committee is a standing committee of the Regional District of East Kootenay. The RDEK administers and operates the Elk Valley Community Directed Funds Program in accordance with the Contribution Agreement between Columbia Basin Trust and the RDEK.
For more information on the Program or the Committee, contact Committee Chair Mary Giuliano at 250-423-2233 or by email mary.giuliano@fernie.ca.
Posted by admin in : News ,

add a comment
Last year passed quickly and 2013 is proving to move just as fast. Already January is gone but Council is determined that this year many of the goals established during strategic planning will be accomplished.
Current core values adopted by the City include:
Resiliency and Sustainability – Build and maintain a well-planned City that balances social, economic and environmental values.
Stewardship – Ensure financial and human resources are used effectively and efficiently.
Community Involvement – provide information of activities and operations of the City and involve and engage the community in a meaningful manner.
Innovation – Find new and better ways of doing things.
Integrity – Demonstrating honesty and sincerity in work and service, open and transparent in communication to create an informed community.
Leadership – Advocate what we believe in an open and honest way, demonstrate commitment to long- term goals and City's vision
Quality – Provide quality service, practice continuous improvement.
Safety – Includes Drinking water, Elk River, Highway Crossings, Worker safety, snow removal, etc.
During the strategic planning discussion it was noted that some of the opportunities like population growth will bring about negative aspects such as extra cost of policing once the City reaches the 5000 population threshold.
A lot of concerns and complaints have been expressed over snow removal. Our workers do a good job with the equipment available. Snow removal is done on a rotational schedule so each time different areas of town are cleared early; it is difficult to clear the entire town in one day when a snow event happens. Weekends are difficult as well as less workers are on duty. Making changes that will allow for more workers and equipment means increasing the snow removal budget that is presently at half million dollars, that would require an increase in taxes and I don't know if that is something that the community would be agreeable to. I would like to remind everyone though that it is very difficult to do a good job of clearing the streets when vehicles are parked. Please contact the City to find when the alternate days are for moving parked vehicles to the different side of the street for snow clearing. I want to relay a comment that Chief Superintendent M.J. Sekela of Southeast District RCMP "E" Division was in town for a meeting with me and Jim Hendricks his first comment was that as he toured his district that stretches from the Alberta border to Lytton. Sekela said Fernie had the best snow clearing of streets, he only noticed one corner that was a little too high, but otherwise he commended us on how well the streets were passable. I realize this praise may sound hollow to some of you who come home to your driveway blocked by a windrow that prevents you from entering your home or from leaving it, I have experienced this first hand, but I wanted to point out that the City does the best it can, is there room for improvement, as with everything the answer is yes and we are working towards that.
Information that some may not be aware of is that with the small lot subdivision modular homes are a designated use. These are not single trailers but pre-fabricated homes. There has been a lot of negative comment regarding the small lot subdivision which came about to allow for more affordable housing. Most of the homes being built on these small lots are not deemed affordable however a modular home would allow for more people to own their own home at a more affordable price range.
The City owns 30 buildings, some of which are in need of repair, a facilities master plan will be conducted to address these issues.
On January 24 we had a meeting with MP David Wilks, he conducted a Pre Budget with council—here is a photo of council with him.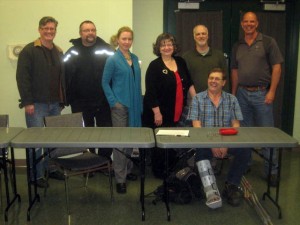 As mayor I have attended a dizzying amount of workshops, seminars, meetings and events. I continue to answer all emails and phone calls as I believe anyone who cares enough to contact me regarding a concern deserves the respect of being heard. I do my best to find solutions to concerns but sometimes it is difficult to do so. Regardless, I appreciate all correspondence and want to thank everyone for all comments, yes, especially the ones that are negative because it is through those that changes can be looked at and discussed.
Posted by admin in : News ,

add a comment
Volunteers are the heart of every community. Most often volunteer effort is what brings about projects and amenities in the Elk Valley. One such person is Elkford resident Gordon Galloway. (Click on images for larger view)
Gordon is a lifelong volunteer with over 100 years of dedication to a combined number of organizations. This includes Minor hockey, ball, Snowmobile patrol and club, Snow a Rama, BCSF, Provincial Emergency Program coordinator, Core Process, SRMAC, ATV Club, patrol and Jamborees, Trail Maintenance, executive positions with ATV/BC, and the TECK community advisory committee.
At 72 Gordon still participates as Chief Instructor for the Canadian All Terrain Quad council of Canada Safety Institute for all terrain and utility terrain vehicles, is president of the ATV Club, and director and chair of several committees for ATV/BC.
Born in Trail, the oldest of three children from parents of English and Swiss descent Gordon spent his growing up years in Fruitvale. He was a member of the Trail Air Cadets until age 18 when he became employed with Cominco as a carpentry and millwright apprentice.
He met his wife Audrey from Rossland at high school dances and after a four year courtship they married. They have a son Jim who lives with his family in Westbank and one granddaughter.
When Fording River mine was built Gordon was transferred to Elkford where they have resided since. Both he and Audrey were employed at the River until retirement.
Gordon had quit school but returned to get his grade 12 until finding full time work at Cominco. "I snowmobiled all my life and ATV'd the rest" he says of his love of sports. "I've had 8 quads, ride 4000 km a year, more with the snowmobile. In 1992 I rode from Tumbler Ridge to Fairbanks, Alaska with 27 others. It was cold, no groomed trails, we rode on whatever we could find. We had highway support in case of breakdown, and a bus, that's how we returned home. Another trip was from Ontario to New Brunswick, 7 days but those were all groomed trails." Gordon and Audrey also enjoyed racing spending time in Washington, Cranbrook and Trail raceways. "I was racing when the plane crashed in Cranbrook" Gordon says recalling the tragic event. They also drove dirt cars at Northwestern Superstock".
"I had good years in the mine and smelter, spent first ten years in Trail, second ten in the process plant in supervision of maintenance of shovels, drills, cranes and crushers, the rest in the shop supervising small groups in different areas as well as doing scheduling and injury recording that tied in with safe work procedures". Gordon's blue eyes light up as he speaks of work, obviously a man who enjoys challenges of all kinds.
While at Fording he was also owner of the Lamplighter Pub for 11 years. "I had the wrong people managing; I ended up selling it, more of a giveaway. Looking back, I don't know if I did it right, I needed to be there more". He reminisces about the Jamborees, "4/5 days of riding, 200 quad riders of BC in Elkford for the AGM. I am the only chief instructor west of Ontario, trained 11 in BC, 7 in Alberta and 1 in Saskatchewan in the past 2 ½ years. Waiting for Manitoba now", he says with a smile. He doesn't say that he is also the Safety Director and CSC Certified instructor for the ATV Association of BC. "When Big Weary closed I worked with MLA Bennett, Doug Martin and the Ministry to reopen two months of the year". He has gone on a couple of rides with CO Trish Burley to look for compliancy in areas, "I wear the vest so when I see people doing something they shouldn't be I can stop and talk to them", he says.
Gordon has a deep love of community and shows it by his actions; he is a businessman and volunteer extraordinaire working for organizations and charitable causes.
It is individuals like Gordon that make towns real communities. In September 2012 Gordon and Audrey celebrated their 50th wedding anniversary. Congratulations Gordon and Audrey and Best Wishes for many more years together.
Posted by admin in : News ,

add a comment
Thinking of the heartbreak parents of those killed in the shootings in Connecticut I wonder where and how those individuals can find the strength to stop thinking about the tragic and horrific way their child had died. For most of us life goes on at a pretty normal pace, sometimes ordinary and boring without even realizing how fortunate we really are.
December always brings self-reflection for me. It's a time when I think of my deceased parents and friends recalling past meals shared and thoughts of Christmases long ago.
My father returned home from the war and married my mother in 1943. Work was scarce so when Canada asked for labours he signed up. He arrived in Canada on Christmas Eve 1951 not knowing how cold and dismal winters could be. He and others from our town were sent to work in the bush of Timmins Ontario wearing the dress shoes and light jackets they had brought with them from Italy. They froze but managed to make it to the end of the month when the first paycheck allowed them to purchase proper clothing and footwear.
Dad came to Fernie and stayed here for the clean water. He sent for Mom, my two siblings and me in spring of 1953. My parents kept as many traditions possible including the Christmas Eve dinner of "baccala" dried salted cod fish cooked in many ways, vegetables dishes and " pittas" cakes stuffed with nuts and raisins, scalilles and turdilli drenched in honey and torrone nougat. What was missed was the huge bonfire outside of the church in the town piazza where everyone would gather round before and after midnight mass and greet each other with hugs. In Fernie friends would go from house to house after dinner stopping for a small glass of homemade wine and a dessert treat, until it was time to go to the next house. Christmas had no gifts just friendship and food, still they were great times.
It's hard to convey to people the simplicity of those first Christmases; we didn't have the lovely homes or the great gifts. No fancy toys, expensive jewelry or fine clothes, still they were amazing times because life was safe and people valued each other and no one had to worry that someone would shoot their child while they attended school.
Sunday evening I attended the Vera Choir and Children and East Kootenay Ensemble concert. After a five minute silence to honor the slain in Connecticut the music commenced. For two and half hours Christmas carols, operatic selections, barbershop quartet and a cappella music was heard soaring throughout the United Church that was literally packed to the rafters as even the choir loft was full of spectators. Under the fabulous hands of conductor Gilles Hainault, musicians and singers provided a most fantastic concert that made the hours fly by.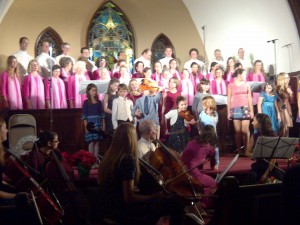 As 2012 comes to a close I want to say what a great learning experience this first year of being mayor has been. The months have been filled with hard and difficult decisions, thoughtful issues and much dialogue. I have learned that regardless of what council or individuals do there is always criticism and accusation but I also know that the only person that doesn't get criticized is the one that does nothing and that one person's opinion isn't right or wrong or that anything is black or white. However something that I have known all my life and followed is that as long as I follow my gut instinct and my heart while doing everything honestly to the best of my ability then I am doing okay for myself and my community.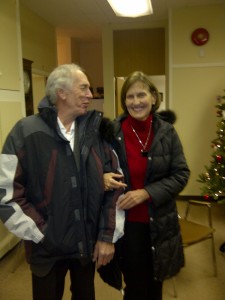 Council has accomplished several goals this year such as the Splash Park, 9th and 5th avenue reconstruction, initiated the OCP update process and completed a Wildfire Protection plan for fuel treatment above Ridgemont. Goals for next year include Soccer field development at Max Turyk and paving of Manitou Road. This past Monday I and members of Council and Anne Majic had the pleasure of presenting the George Majic Spiritus award to George Smith, retired teacher who devotes countless hours of volunteerism to various causes. George is truly an "unsung hero" as he does this without fanfare, however many people noticed and he received several nominations for his good works, sincere Congratulations and many thanks to George.
I want to take this opportunity to wish everyone Happy Holidays, Merry Christmas and a most wonderful New Year. Let's hope it is filled with ordinary days for all of us. For those that have lost family members this year my wish for you is a year filled with the Blessings of God and his mighty Angels watching over you to provide the comfort and peace you need to heal your hurting heart. This time of the year is especially difficult for those who have lost loved ones., it is a most vulnerable time that makes grief surface to the top in waves so strong that sometimes they overtake mind and soul. Life is precious, it is also very difficult, it is especially challenging to understand why God allows so much loss and sadness to come into lives. But it is as it is and so we must forge ahead doing the best we can in whatever circumstances we are in.
I also want to thank all the volunteers that serve on City committees, organizations and those that individually volunteer for so much in this community. Historically, this town can boast the many amenities it has due to the volunteer efforts of citizens. This world runs on the kindness and dedication of volunteers for sure. I also want to thank all my friends and supporters for all the generous words of encouragement given this past year.
Merry Christmas everyone and may 2013 bring you much Love, Peace and Harmony in your lives.
Posted by admin in : News ,

add a comment
In September I had opportunity to hear Anna Maria Tremonte, host of CBC's The Current reflecting on the role of local elected leaders and the media. She said "More politicians should speak from the heart. These days, though, a politician rarely gives an answer that has not been filtered through a heavy dose of media training". She suggested that by avoiding clear heartfelt communication about issues elected officials miss opportunities. "If you believe strongly that you should take an action, you should be prepared to tell others why you are doing it," she said to a standing ovation.
Her words resonated with me as I have always believed in being open about issues.
You may have noticed that Shaw TV is showing repeats of older council meetings. That is because the City no longer has the services of the person who taped council meetings. New technology is also required that the City doesn't have.
I met with Area A director Mike Sosnowski, FAR manager Andy Cohen and the team that does blasting to discuss Avalanche Control Program Timing. Last winter a lot of complaints were recorded regarding the effects of blasting in early morning. Mr. Cohen explained the reason was due to construction of the Polar Peak Lift that was completed this past January. The location of this lift necessitated extraordinary control work that sometimes needed to be accomplished before seven in the morning as well as needing larger blast sizes. In a follow-up letter to Council Mr. Cohen stated that FAR has "Reconstructed our Avalanche Control Sequencing to make every effort to commence avalanche control after 7 am. Although on rare occasion, the snow pack may dictate we need to start prior to 7 am for the safety of our staff and guests." As with everything in life there is always a pro and con to everything. In this instance individuals were unnecessarily disturbed by the sound and vibration of the blasts however the early blasts were required for the safety of the workers and people on the hill.
CUPE president Barry O'Neill was in town to present his Ten Percent Shift. Spending ten percent of monies locally could provide multiple benefits to a community. Met with Valley mayors and several provincial representatives from China, India, Korea, USA and Europe to exchange information regarding trade opportunities for the Elk Valley. I also presented Fire Chief Shawn Ivany with a 30 year Fire Services Exemplary Service Medal and certificate. Chief Ivany has extensive training in the fields of fire protection, rescue and emergency services. Congratulations to Chief Ivany on achieving this milestone. Byron Sarabun has been promoted to position of Supervisor of Public Works, Congratulations Byron. Pets Society's Pierre Dupont presented plans for a couple of areas for an off leash dog park that was referred to the Leisure Centre Master plan in the works. Council commends Mr. Dupont for all his work towards making this a reality.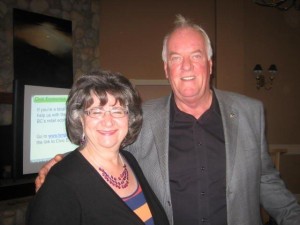 An issue of concern addressed this week by council was the garbage bin area at the Chamber site. Council had bins placed there specifically for use of secondary home owners and visitors so they wouldn't leave garbage outside when they left town Sundays. Animal carcases, old furniture, wood products and bags of garbage are being placed inside, on top and on the ground making the area very unsightly and unsanitary. These bins will be removed and users will have to cross the highway to the new Transfer Station to deposit their litter. Having unsightly garbage at the entrance to our town does not produce a good impression. Depositing garbage of any kind in that area will now be illegal.
We have invited Mike Lorimer, Regional Director, Southern Interior Region of the Ministry of Transportation and Infrastructure to visit Fernie during peak periods of ski visitors to experience first-hand the traffic congestion and number of accidents that have happened in past years. This is a follow-up to our meeting with this Ministry in Victoria.
Kerri Wall introduced Interior Health's Healthy Communities Initiative for chronic disease prevention and health promotion. She said in her presentation that local Government has contributed more in the past 150 to the health of people than doctors and hospitals have and that Fernie in particular is doing "great things for community health in terms of accessibility, food security and embracing a culture of wellness. I would like to partner with council to continue building an even healthier community by making it easy to make healthy choices so as to improve the general factors of health for the entire population.
In August Council sent a letter protesting the provincial government's proposal to disband warehousing and distribution of liquor products in BC. We believed this would impact local jobs. A reply from Minister Rich Coleman states that this proposed request to privatize the liquor distribution has been cancelled.
The Building official's report states that this year to date value is $14,821,000.00 compared to $10,920,000.00 in 2011.
As mayor I was pleased to lay the wreath at the Cenotaph on Remembrance Day, special thanks go to the Fernie Legion for organizing this very moving event each year. I have to mention how great it was to have the Ghostrider Team involved in the services, even more special because the guys had played three nights in a row in different venues and won, had spent some time in a hospital because one of them was injured, flown that morning from Penticton, got home by bus and came to march in the parade. Way to go Ghostriders!
A lot of meetings are attended each week by members of council, this past Monday I was in Cranbrook to hear and meet with Minster Mike De Jong who provided a very informative presentation on the Provincial Budget.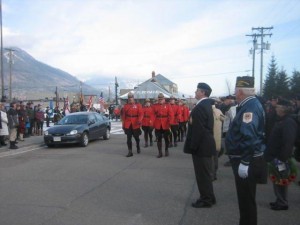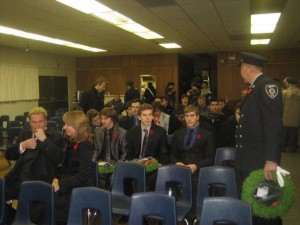 Wednesday was the City Beautification Committee that welcomes new members who would like to be involved in shaping how our town looks, if interested put your name at City Hall. Thursday and Friday were meetings with Elk Valley mayors, and others regarding Ambulance concerns and the newly formed CBT Community Funds. Friday I spent nearly four hours trying to digest an intense engineering report on liquid waste management currently underway and I must admit this is no easy task although reading the funding numbers certainly kept me awake.
And finally, parents always hope children will grow into productive adults with caring hearts. This past year I have seen that in my children, my oldest daughter worked through her diagnosis of stage four cancer by helping to raise money for a woman who needs financial help before and after a double lung transplant will be considered to save her life, and then also raised money for another woman who was facing eviction notices because she wasn't able to work after cancer surgery. Her siblings and all of the extended families of uncles, aunts and cousins as well as many friends chipped in to raise the necessary monies. I am very proud of Julie and everyone who helped her. But this week I was proud of my son Nick's quick thinking. On seeing the look on his co- workers face and without any training he took action and performed the maneuver that saved the man's life. He didn't think it was anything special but his co-workers praised him for what he did to which he replied that he hoped that if it had been him in same situation someone would have helped him. And this was my week.