I'm standing in the lobby of the Park Place Lodge in the corner next to the elevator when a young couple walks by. Glancing up from my phone I immediately recognize Siobhan Williams, reach out and say Siobhan? She immediately responds yes, I introduce myself and am impressed with the friendliness of this young woman and her boyfriend Steve Bays of the musical band "Mounties". Steve has played Wapiti and says he loves the town. Siobhan has nothing but praise for here as well.
We're at the Lodge to meet for dinner sponsored by Gordon Sombrowski. It's an opportunity to meet the special guests brought in for the feature film that opens the annual film festival held in Fernie, Friday, January 26, 2018 titled "Adventures in Public School." Siobhan plays the love interest in the film and Fernie's Flo Barrett is the costume designer for it.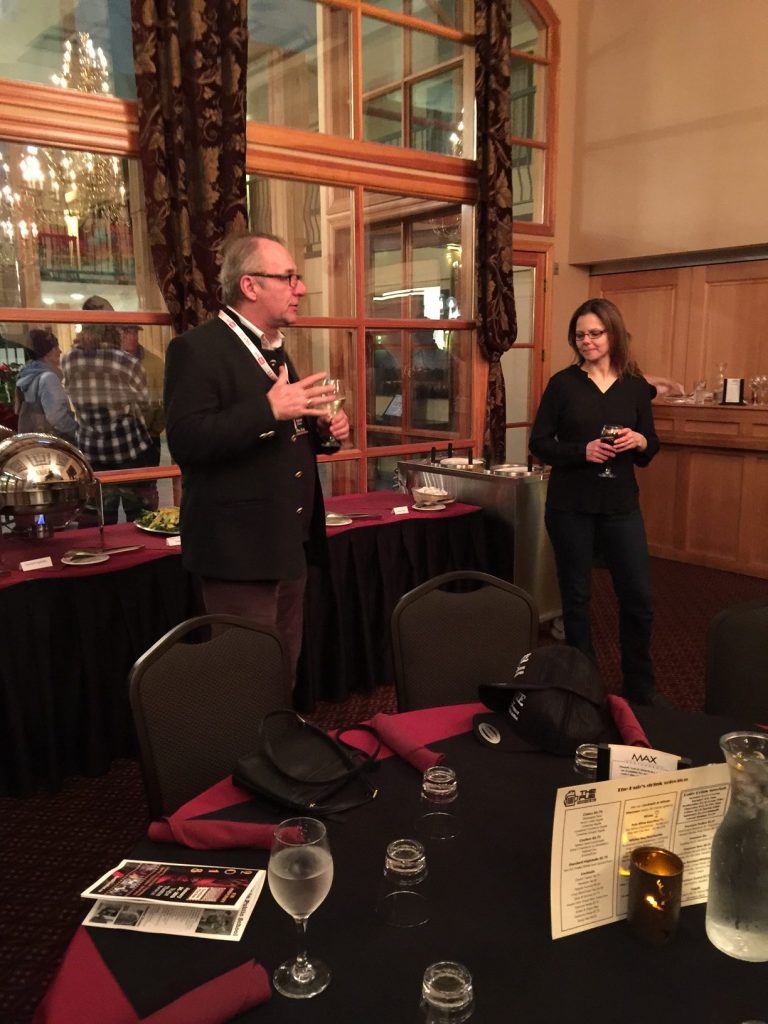 Flo arrives and I greet her and present her with a City of Fernie hat. She has her hair piled on top of her head and comments that she's not able to put the hat on. I reassure her its okay, it's just a memento of home for her. After dinner she disappears to return with her hair flowing and the cap perched on her head. She says that she had to put it on because when I presented it to Josh Epstein, he wore it all the time, he even wore it to his stag party. I know that to be true as I saw photos and certainly appreciated Josh promoting our town.
At the theatre I introduce the film and the two special guests but not before welcoming everyone on behalf of the City of Fernie.
This is a distinctive year as it is the tenth anniversary of the festival and so Congratulations and considerable compliments go to the organizing committee comprised of Kevin, Cory, Debbie, Keya, Hannah, Suzanne, Deborah, Rebecca, Stacey, Susan and Ingrid on a decade of hosting exceptional films and guests to Fernie.
This annual festival is supported by many valuable sponsors so Congratulations are also extended to them for contributing to bringing independent films that showcase the many talented Canadians who produce including those from here in Fernie.
Adventures in Public School is produced by Josh Epstein, whom some might recall was here two years ago with his film Edweard that also involved award winning costume designer Flo Barrett .
The film's script was co-written by Kyle Rideout and Josh Epstein. It was directed by Rideout and produced by Epstein.
It star's Judy Greer, Daniel Doheny, Siobhan Williams, Russel Peters, Andrew McNee, Grace Park and Andrea Bang. This film has already been recognized with an award as Best Comedy feature film at the Edmonton Film festival and is also nominated as Best Canadian Feature film and Best BC Film for 2017.
The film is about a teenage boy who is homeschooled by his mother, is rather inept at social skills, on falling in love with a girl attending public school he enrolls there and soon gets a crash course on teenage life.
The film is lighthearted and really entertains. Judy Greer as the mom is both hilarious, serious and very believable as the smothering mama that doesn't want to let go of her baby boy. The relationship between mother and son is both touching and odd. At times much too close yet Greer does a great job of making the viewer understand the ties between mother and child and how sometimes parents can be too controlling in the name of love and wanting their child safe.
Siobhan Williams plays Anastasia, a one legged girl who is beautiful and very popular.
Siobhan was born in Cambridge England and moved to Canada as a child with her family. She trained for 13 years at the School of Alberta Ballet in Jazz, modern dance and ballet. She has studied voice guitar, violin and theatre. Since becoming involved in film and television she has trained in various theatrical and on camera methods. She broke into the film and TV world while living in her hometown of Calgary with a role on CBC's internationally acclaimed series "Heartland". Moving to Vancouver she was hired for another recurring role on the live action series Level Up. She has had leading roles on may feature films and series most recently including John Cassar's "Forsaken" with Kiefer and Donald Sutherland and Demi Moore and is also on AMC's acclaimed series "Hell on Wheels". This very personable, beautiful young woman is very talented and well on her way to stardom.
Lovely Flo Barrett was born in the UK but spent a good part of her adolescence in Fernie. In 2015 Flo won a Leo Award for best costume design in a feature film for her work Eadweard which was the opening film in 2016.
She told everyone that she built those costumes in the basement of her parent's house with a tiny budget. She was also nominated in two of three design categories at the Leo awards. Flo did the costume design for Adventures in Public School and also for the short film "Stories of Alyx and Anton" which premiered in Fernie just before the feature film. Most recently she did the costumes for the American horror film "Summer of '84" that just premiered at the Sundance film festival. Flo lives and works in Vancouver where she no doubt has many projects on the go. But having her at the festival opening was great. Flo has an endearing personality and an amazing presence. "Everyone loves her" Siobhan commented to those of us sitting with her at the table. I think that goes for both of these two lovely young women.
I must give a shout out to Fernie's film "I'm Possible" premiering at the festival. The story of Fernie local Grace Brulotte, and ski partner Scott Courtemanche, who is the first physically disabled woman tandem sit skier to heli-ski in Canada. For those that know Grace they know nothing stops this young woman from achieving what she wants in life, not even a most challenging disability. This short film follows Grace and shows " A new perspective and redefines the meaning of possible." Thank you Grace and Scott for this most inspirational film. You both make Fernie proud with your abilities and determination. Sincere Congratulations.