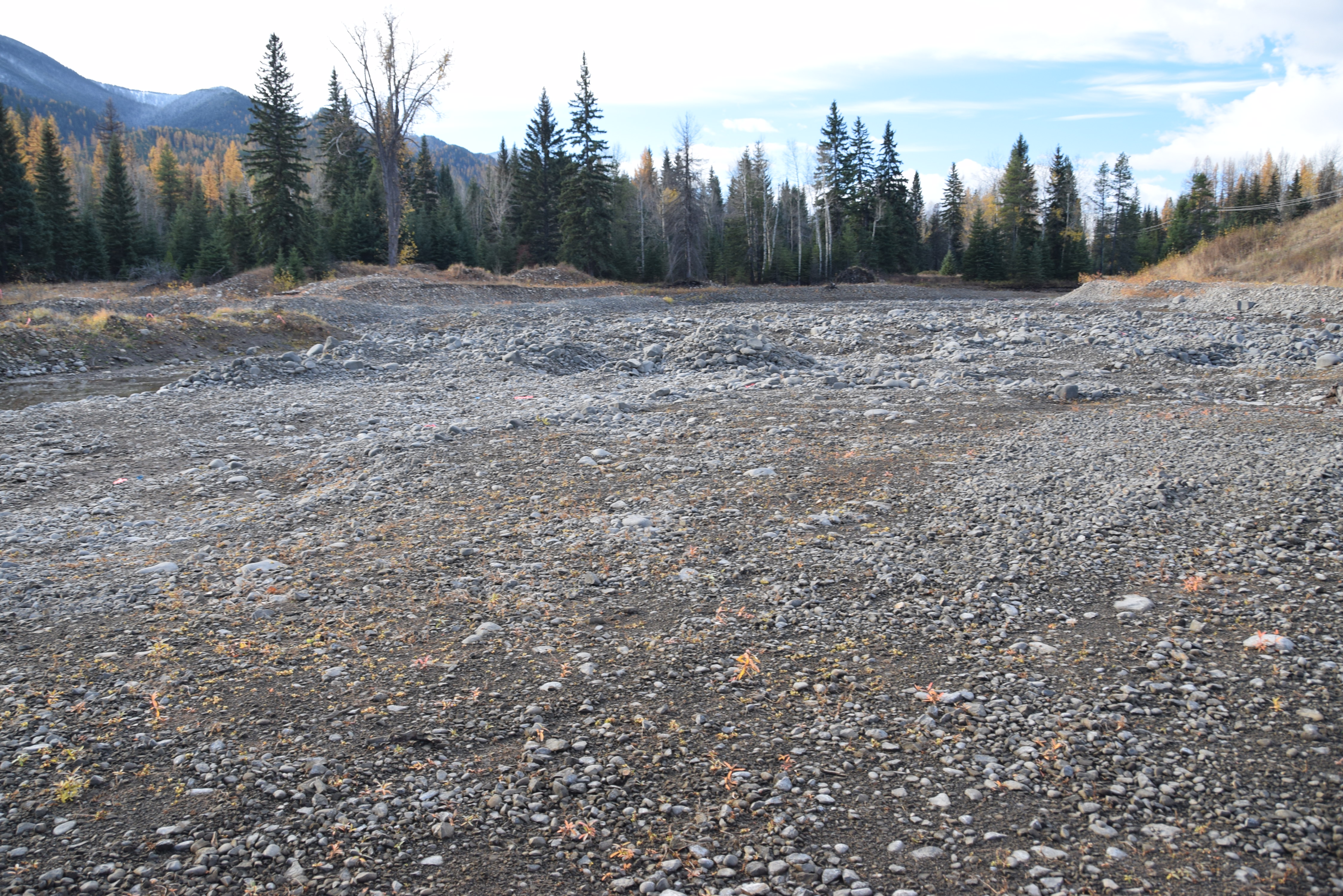 People love before and after transforming photos. Above is a picture of a large depleted gravel pit north of Hosmer on October 23 and below is what it looked like after a wetland was restored by November 7, 2017. It isn't easy or cheap to restore wetlands from what is essentially a gravel parking lot, and no one person can do it alone. Many organizations and businesses were involved in this first-ever attempt in the Elk Valley to restore a natural functioning wetland from an industrial landscape.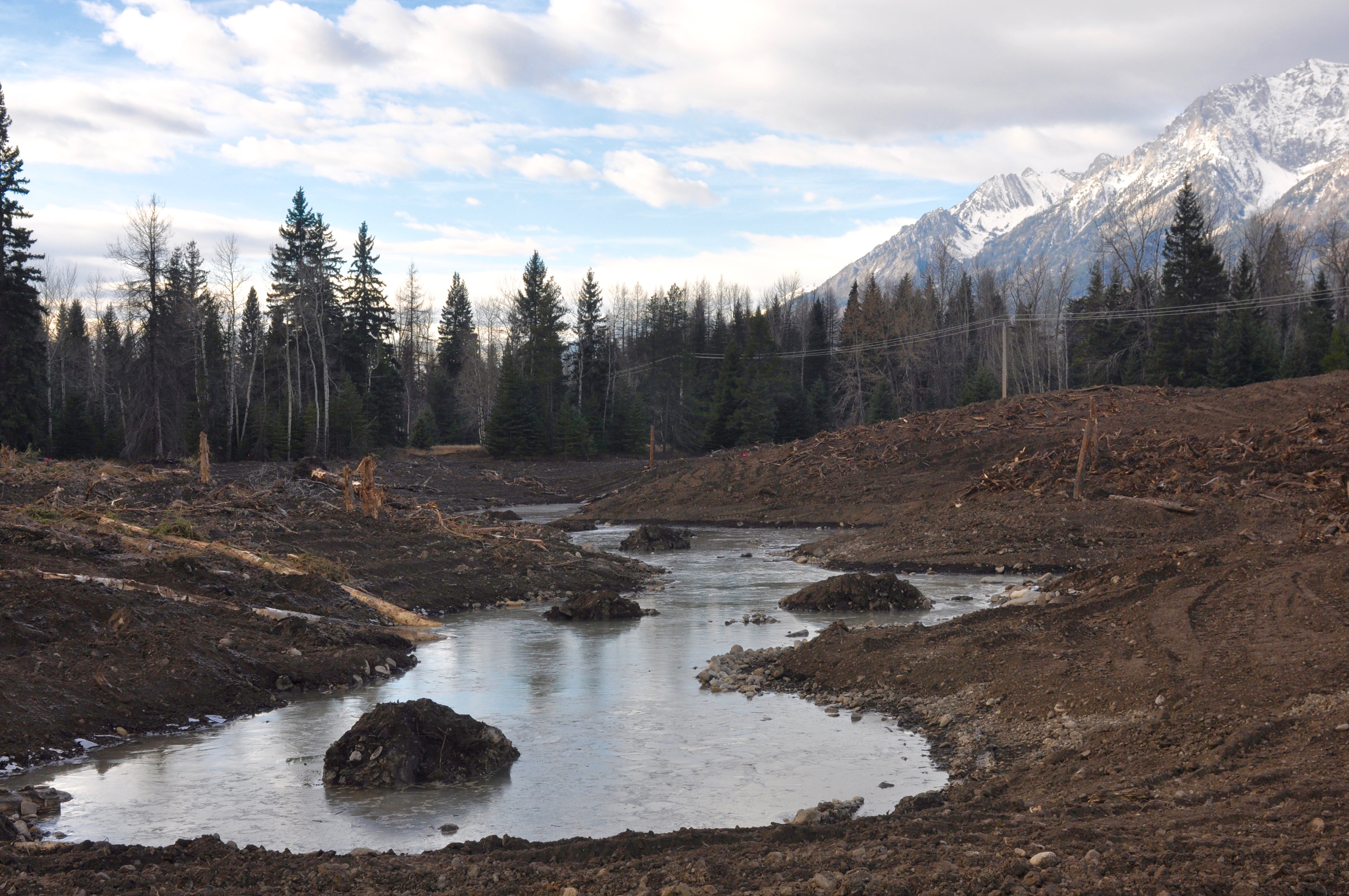 In 2015, The Nature Conservancy of Canada (NCC) worked with wetland specialists Tom Biebighauser and Robin Annschild to design a wetland restoration project at the Wilson Lake gravel pit near Hosmer. NCC owns the land, applied for funding and coordinated the project. The Fish and Wildlife Compensation Program, Columbia Basin Trust, and NCC provided financial support. Fiorentino Brothers Contracting Ltd., who manages the gravel pit, donated a significant portion of the heavy equipment needed, along with highly skilled operators. Foothills Silvaculture Ltd. donated hauling and delivery of boulders and sandy loam soil. College of the Rockies-Fernie Campus Mountain Adventure Skills Training students will help plant native vegetation in the spring 2018.
In the fall of 2017, the Elk River Alliance (ERA) trained and coordinated volunteers, assisted with site surveying, gathered and planted 500 live willow stakes, and seeded the site with native grass seed. In the spring ERA will install an interpretive sign and bench along the Elk Valley Trail for access to a viewpoint where people can see the sites transformation back to nature. "All of these partners share the stewardship ethic it takes to transform human scarred landscapes back to a place used by rare species like grizzly bears, Western toads and American badgers", said Lee-Anne Walker, ERA Executive Director. "None of us could tackle this type of project on our own".
"We were lucky to get wetland restoration and training consultant Tom Biebighauser from Kentucky to help design and implement the project", said Richard Klafki, NCC Program Director for the Canadian Rocky Mountains. "This 4.9 hectare constructed wetland is the biggest project Tom has attempted to date".
The gravel pit was opened in 1999. Spruce, cottonwood and aspen trees were pushed to the side and the topsoil scraped, salvaged and stockpiled in large berms. Gravel was mined and shipped to homeowners, and businesses in the region to build roads, driveways, houses and septic systems. The pits lifespan ended when gravel was too mixed with soil. Eventually dug down to the clay layer at the base, the gravel pit now stores water from runoff and ground infiltration during the spring freshet.
Transformation of the steep walled gravel pit included gentle grading of the side slopes, adding back and loosening the soil, installing mounds of rock and soil for muskrats, loafing boulders and logs for waterfowl and Western painted turtles, and vertical tree root masses for bird nesting sites. "Before the restoration the ground was impenetrable. Now the loosened soil absorbs runoff, improves growing conditions for plants and provides easier burrowing for critters like Columbia ground squirrels, desired food of the endangered American badger", notes Klafki.
"Wetlands have been lost in the Elk Valley due to the cumulative impacts of road, railway and urban development. They've been drained, filled in and cut off from the Elk River. This project is an attempt to restore wetlands that provide important functions to locals for free", reminds Beth Millions, ERA Restoration and Stewardship Project Coordinator. "Wetlands help reduce flood risk by soaking up and storing water. They recharge groundwater and later release it back into the Elk River during dry spells later, important for aquatic life like fish. They also provide habitat for many species at risk."
The Elk River Alliance (ERA) is a non-profit, community-based water group dedicated to connecting people to the Elk River watershed keeping it drinkable, fishable and swimmable for future generations.
The Nature Conservancy of Canada (NCC) is Canada's leading national land conservation organization. Since 1962, NCC and our partners have helped to conserve 2.8 million acres (more than 1.1 million hectares) of ecologically significant land nationwide.