The 85th Annual Association of Kootenay and Boundary Local Governments (AKBLG) was held in Fernie this past month. Beginning with a pre-convention Drinking Water workshop organized by Interior Health on Tuesday, April 17 and ending with a post-convention workshop on High Impact Leadership on Climate Action hosted by the BC Municipal Climate Leadership Council on Friday the 20th the week was a resounding success.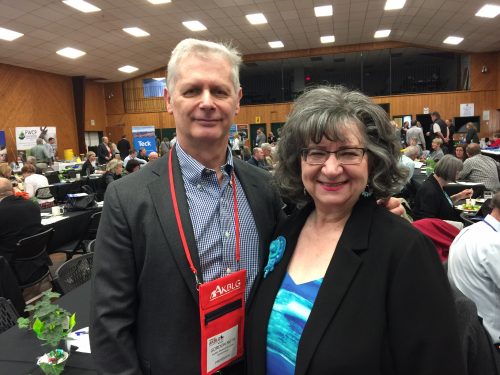 The event included a Trade Show, a CP Rail Emergency Equipment exhibit, an Electric Vehicle Demonstration, a tour at the Elkview Mine and a Historical Walking Tour.
The keynote speaker was master story teller Chief Joe Pierre, ?aq'am Community, St. Mary's Band who gave a most captivating talk on 7 Generations of Relationships and 7 Generations of Reconciliation.
With a theme of Emergency Preparedness in Local Governments, Response, Recovery and Reflection- Are you ready?, speakers discussed Wildfire Threat, Learning from Fort McMurray and other fire disasters, Exercising Emergency Powers for Community Evacuation, Crisis Management, building interconnected teams in your community as well as a session on the Prevention of Youth and Children Sexual Exploitation, the Possibilities of Tech and Innovation in Emergency management, Connecting the Dots of Housing Affordability, and Cannabis Regulation in BC. The sessions proved interesting and presenters knowledgeable as many were experts in the fields they spoke on.
One I was particularly interested in and personally asked to attend as a presenter was the one on sexual exploitation of children. I met Cathy Peters several years ago and have been impressed with her passion to educate and raise awareness about this issue. She has given over 120 presentations to the public, police and politicians about the growing epidemic that is now aggressively targeting youth and children as young as 8 years old. Cathy says that this modern day slavery needs to be stopped but with internet availability it's becoming easier to entrap young people by those experienced on this matter. She comments that once in the system young girls are hooked on drugs and made to service up to 60 individuals a night, they become quickly worn out and mentally ill and that's when they become disposable.
UBCM president Wendy Booth, FCM director Leah Main, president of AKBLG Rob Gay, MP Wayne Stetski, MLA Tom Shypitka attended as well the Auditor General of BC Gordon Ruth came as was part of a panel.
About 200 delegates, sponsors, trade show participants and guests enjoyed the opportunity to learn and connect in Fernie. Over 55 businesses and organizations contributed financial assistance to this event. The organizing committee consisted of three members of Fernie council myself, Mary Giuliano, Councillor Joe Warshawsky and Councillor Ange Qualizza, three members of the AKBLG board Ron Popoff, councillor from Cranbrook, Mayor of Radium Clara Reinhardt and Gary Jackman, the director of the Regional District of Central Kootenay. Sheryl Zrall was co-ordinator for Fernie and staff director Carolyn Maher supported the AKBLG board.
The group worked well together planning the event in regards to speakers and presenters and as hosts we got to plan the extra events like the welcome reception, and Thursday evening banquet.
Special thanks goes to Emma Dressler and her staff for hosting and organizing the welcome reception and to Mike LoVecchio of CPRail for sponsoring the wine, cheese and Italian desserts on Wednesday evening, thanks to Ron Ulrich Museum director who planned a most wonderful pre-banquet event hosted at the Museum for us that everyone raved about and thanks to CP Catering for a most delicious meal that everyone enjoyed immensely. I also need to thank Patty Cameron for the most beautiful decorations and Sheryl and the Green Petal for the most gorgeous flowers. Another person that needs to be thanked is Area A Mike Sosnowski who graciously put forward a sponsorship amount from his director budget that allowed for the many extras including several large door prizes purchased locally, chocolates treats in delegates bags and red and white wine on the tables.
This type of event takes many people to make it successful, so thanks especially to all our sponsors, tradeshow participants, organizers, caterers, the Park Place Lodge for being our anchor hotel where concurrent sessions were held, the restaurants that participated in the dinner around town promotion, all our amazing presenters and speakers, and all the volunteers that assisted a huge thank you to all.
I want to mention that as this event ended on Friday afternoon the next day brought over 600 people to town for the swim meet. I went to the Aquatic Center to see hundreds of children and parents crowding every inch of the building most of whom were visitors. This type of event brings huge economic benefit to our town, so I want to extend sincere thanks to the organizers, who I have no doubt are all volunteers for their dedication and hard work to put on this huge event. From what I saw it certainly was successful. Congratulations, thank you.
I also want to thank the poets that came to City Hall during April Poetry Month in Canada. The students were fantastic, amazing to hear how even a child as young as eight can conceive of words to put together so meaningfully and movingly, and of course the adults are always so touching with what they write and read so eloquently. Thank you all so much for taking the time to write and come and read before Council, it made the evening very special.