Like an alabaster curtain cutting across the sky, the jagged peaks, cirques, and ridgelines of the Lizard Range rise above the town of Fernie. Visible from anywhere in the valley and particularly impressive when viewed looking west down main street, ski runs dominate the ridges and aprons below 2,070-metre (6,900-foot) Grizzly Peak and 2,100-metre (7,000-foot) Polar Peak, plus the large chunk of intervening terrain spilling out of massive Lizard Bowl. More ski terrain lies to the north-east in adjacent Cedar Bowl and its perimeter, Snake Ridge, as well as to the west in three bowls opened in '99-Currie, Timber, and Siberia. Add in the fortuitous juncture of valley systems funneling any passing weather into the area, and you begin to understand some of the area's powder mystique.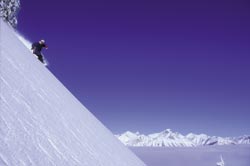 Of the three corners of south-eastern BC's so-called powder triangle of Fernie, Whitewater and Red Mountain, Fernie Alpine Resort is perhaps most recognizable as a modern ski area. Once a recreational distraction for locals and a handful of Calgarians willing to drive an extra hour to beat the Banff crowds, Fernie's slow, concerted growth at the hands of long-time owner Heiko Socher, and its reputation as a powder mecca, saw many people move there solely for the skiing. At Fernie, the in-bounds skiing is often more spectacular than the backcountry at other BC areas, and the realm beyond the rope is of an almost limitless scope, ranging from a simple 5-minute ridge hike, to multi-day high-alpine adventures.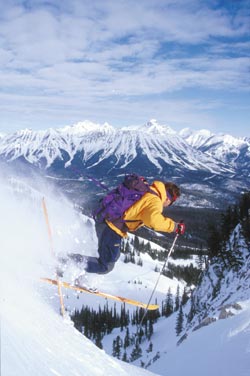 Coal had set the local wheels of commerce turning in 1897, but years later Heiko would set a different set of wheels turning. Although he didn't exactly "discover" the prodigious snows of the area, Heiko realized that this crystalline bounty could play a big role in the future of the valley. The snow would certainly keep coming long after the mines were gone, and in the meantime, those who lived and worked in the jagged shadows of the Lizard Range would have a first class and much needed recreational outlet.
A forester by trade, who along with wife Linda, had run the ski school at the weekend-only local ski area since 1967, Heiko realized his vision when he took over as manager of Fernie Snow Valley in 1973, and opened for business seven days a week. The resort was just five kilometres outside of town-far enough that Fernie itself didn't degenerate into a lift-base "ski village," but close enough that even from the shortest distance, Snow Valley's main feature, Lizard Bowl, appeared perpetually and impressively poised above the town's turn-of-the-century streetscape.
As its name suggested, Snow Valley's other main feature is its snowfall. Receiving blasts from storms tracking through the unique dual north-south and east-west valley systems of the area, Fernie's annual eight to nine metres of snow provide some of the consistently best powder skiing in the Rockies. It's no surprise why each year's Canadian Powder 8's Championships at Lake Louise are over run with, and frequently won by skiers from Fernie.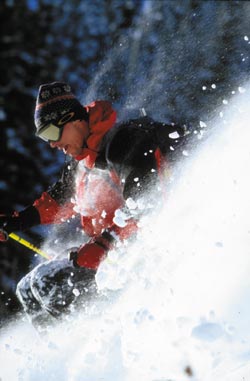 Heiko's longtime goal of lift access to Currie, Timber and Siberia bowls was finally realized in 1999 when two new lifts doubled the size of the ski area to an impressive 2,500+ acres. In 1998 Snow Valley was purchased by Calgary-based ski-area magnate Charlie Locke. Locke's collection of ski hills known as The Resorts of the Canadian Rockies also includes Lake Louise, Kimberly, Fortress, Nakiska and Wintergreen. After the purchase Snow Valley's name was changed to Fernie Alpine Resort and brought a cash infusion that helped accelerate development around the mountain's base, as well as the expansion plans. Shortly after Locke's lofty goals went sour as RCR went into bankrupcy protection only to be saved by White Knight, Murray Edwards. Edwards, in Forbes 500 list and single largest investor in Alberta's tar-sands, ousted Locke at his earliest convenience and has continued his attempt to turn around the money loosing business. The resort has been repositioned as "high-end" within the RCR resort bundle and services have continued to improve.
With its relaxed atmosphere, unhurried approach and truly excellent conditions, Fernie has long been considered one of a shrinking number of true "skier's mountains," something that likely won't change. Ski memories of Fernie often seem to coalesce into one endless snowfall. But the citizens seem most oblivious to this accumulating flakage. They've seen the mines close and re-open again, other resource industries wax and wane, and many businesses in the valley come and go; but the snow, they hope, will just keep on coming. And so will the skiers.