1. PETITION'S AND DELEGATIONS
1.1 Mayor's Poetry Challenge: A Celebration of Poetry, Writing and Publishing
An annual celebration of poetry facilitated by mayors and city councils all across Canada, encouraging them to invite a local poet to do a short reading at a city council meeting in March or April. Fernie City Council responded to Mayor Nenshi's challenge in 2015 and we've been delighted by our poet's readings each year since.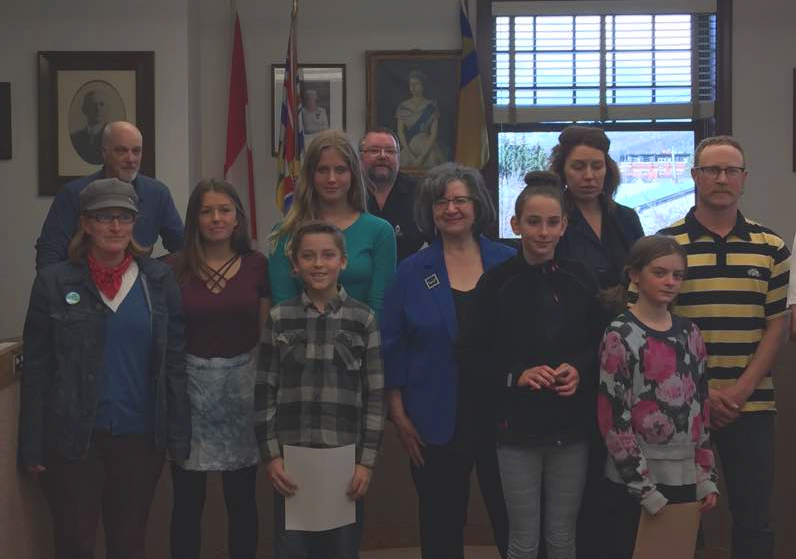 Council and public enjoyed readings by:
• Luke Larsen, Grade 6 Isabella Dicken Elementary School
• Adele Stahl, Grade 4 Ecole Sophie Morigeau
• Rachael Braden, Grade 6 The Fernie Academy
• Catrin Merrit, Grade 9 The Fernie Academy
• Kasha Bell, Grade 10 Fernie Secondary School
• Anie Helper, Adult Category
Thank you to all who participated!
2. STAFF REPORTS
2.1 West Fernie Official Community Plan Amendment Advisory Committee Council appointed the following members to the Advisory Committee: Council appointments – Mayor Giuliano, and Councillor Warshawsky. Public-at-Large – S. Parmar, L. Rousselle, R. Champagne, J. Tarnowski, F. Sullivan, S. Kuijt, and R. Fraser. This committees mandate is to assist and advise administration and council on community engagement and provide feedback on policy options.
2.2 Fernie Secondary School Rainbow Crosswalk Project Council heard representations from students at Fernie Secondary School at the Committee of the Whole meeting regarding an initiative to paint rainbow crosswalks in support of the LGBTQ2 community. At the regular meeting Council directed staff to work with the FSS students to provide oversight to the project and permit the students to paint rainbow crosswalks at the intersection of 3rd Ave and 5th St and allocated $250 of discretionary grant funding conditional to an annual maintenance agreement.
3. BYLAWS
3.1 Bylaw No. 2318, 2017-2021 Five Year Financial Plan. A presentation of the Five Year Financial Plan was made to public and Council at the Committee of the Whole and public invited to provide comments to Council. The Bylaw received first three readings at the regular evening meeting April 24, 2017. The 2017-2021 Five Year Financial Plan provides for municipal taxation increase in 2017 of 6.4%. RTC Bylaw 2318, 2017
3.2 Bylaw No. 2319, 2017 Tax Rates Bylaw Following first three readings of the Five Year Financial Plan Council gave first three readings to the 2017 Tax Rates Bylaw No. 2319 which provides for a municipal taxation increase in 2017 of 6.4%. RTC Bylaw No. 2319, 2017
4. OTHER INFORMATIONAL ITEMS
4.2 Youth Action Network Fernie's new Youth Coordinator presented an update to Council on activities for March/April. Watch for the coordinator at local schools talking to youth about what they want the program to be.
4.3 Access Management Compliance and Enforcement Program Conservation Officer Patricia Burley provided Council with an update on this one of a kind program in British Columbia. Presentation to Council
4.4 East Kootenay Mines Industrial Safety Association Zone Competition hosted by Teck will be held on May 13, 2017.
4.5 BC Hydro Annual Operations Update meeting to be held in Cranbrook in May/June 2017.
4.6 Bike to Work Week coming up in May.
4.7 Canada Day Celebrations If you are interested in joining our Canada Day Committee for the celebration of our 150th year please contact Sharon Switzer at sharon.switzer@fernie.ca or 250-423-2245.

UPCOMING MEETINGS AND OTHER NEWS
5.1 Next Scheduled Council Meetings:
Monday, May 8, 2017 and TUESDAY May 23, 2017
• Committee of the Whole (COTW) 10:00am
• Regular Meeting of Council 7:00pm
Download a detailed Council Report Here: 2017-04-24 Council Connection