It was a Fernie Day. It was a Colorado Day. It was a Fernie Day.
Riding the Deer Lift with Andy Cohen just before the start of the Monster Boardercross, we reminisced about spring skiing. How today was a classic Colorado spring day. One from our earlier times in Colorado. Just over zero, great snow and a blue sky without a cloud. The start of the Boardercross came in view. The four starting slots dropped to a 12 foot kicker and then the course swept in a few gates leading to the water hazard. And water hazard it was. With four riders in every heat, the hazard was only a couple boarders wide. This would narrow the field. Literally.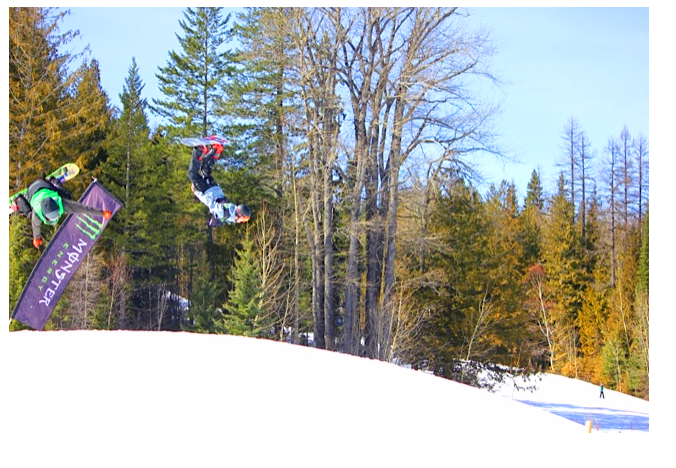 Andy motioned to the top of the course and down to the water. "You know they just made this up. The Monster guys. There's never been anything like this." He laughed.
Boarderstyle riders traveled to Fernie for Round 1 of the Monster Energy Boarderstyle National Tour. The format pits four riders at a time in a head-to-head boardercross – style race, incorporating pond skims and big jumps that requires racers to show off their style if they're going to reach the top of the podium.
Elimination was simple. No math. No timing. First two finishers in every heat moved forward. For the men, a round of 32. A round of 16. A round of 8. And a final round of 4. For the women, a round of 7 (all that entered) and a final round of 4.
And there was real money on the line. Five thousand for the men and half that for the women (a smaller field). There was a real carrot at the finish line. Cash.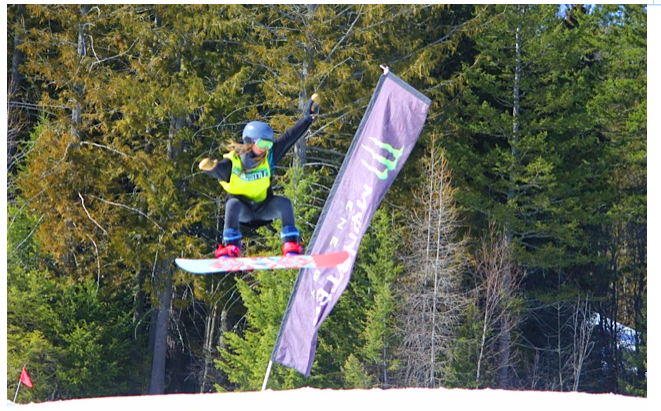 The course was not simple. The initial kicker leading into the first open gates, Then the water hazard, then a big big bump and a series of tight banked gates into the final jump with a required spin.
The the wakes in the water settled and the spins on the final landing settled, four riders came out on the podium.
It was a Monster Fernie Day!
Men's
1st – Charles Reid
2nd – Mark Tremblay
3rd – Mark Sollors
4th – Jordan Howard
Women's
1st – Jamie Warner
2nd – Emily Park
3rd – Laurie Fichter
4th – Lisa Kotrys