Fernie Brewing has released their "IPA Bucket List" for the past two years; initially a four-beer series, releasing one at a time, over the course of a year. New this year however, there are two new IPA's in this popular "Bucket List".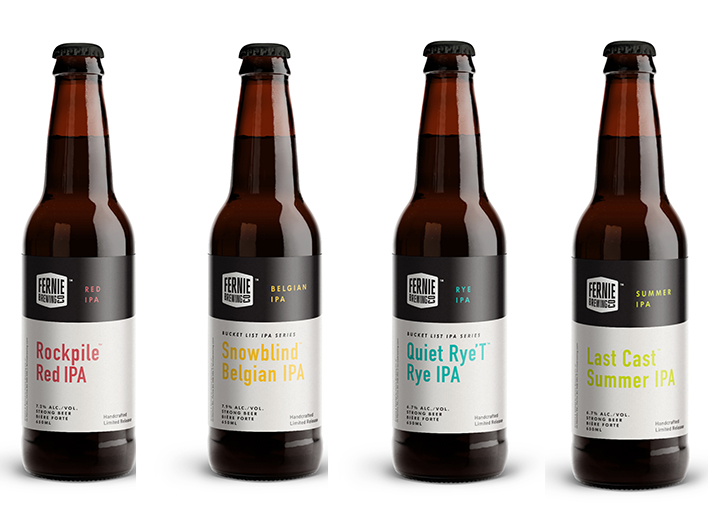 Answering to the calls of the hop heads, throughout BC, Alberta and Manitoba, this year sees six refreshingly unique, inventive, hop-fueled IPA's, releasing every two months from October 2015 through until September 2016.
First up is the Rockpile Red IPA, hitting stores in BC and Alberta mid-October, and Manitoba later in the month. FBC's Brewmaster selected Admiral, Ahtanum and Chinook Hops for their fine characteristics, with the use of Caramel and Crystal Malts bringing about the Malt balance. Truly a profusion of flavour to entice your taste buds, it's not for the faint of heart, but definitely a beer for your bucket list – 7.2% alc./vol, 80 IBU.
Next up is the popular Snowblind Belgian IPA, available mid-December in BC and Alberta, and February in Manitoba. It combines the traditional Belgian IPA style, with some of the newest hop varietals from Australia and New Zealand. Snowblind Belgian IPA delivers another truly original brew experience – 7.9% alc./vol., 78 IBU.
The third offering is the Quiet Rye't – Rye IPA, available early February in BC and Alberta, and April in Manitoba. An amber coloured Rye IPA, using two rye malts and a variety of hops, including Pacific Jade. Cracked peppercorns are also used, to provide a distinct pepper note – 6.7% alc./vol., 75 IBU.
Fourth is a new brew to the IPA Bucket List, available April in BC and Alberta, and June in Manitoba. More details coming soon. Whilst fifth is the return of the Last Cast Summer IPA, available early June in BC and Alberta, and August in Manitoba. The perfect way to celebrate the opening of the Elk River in Fernie, this Summer Session IPA is slightly lighter in body, but this helps expose a wonderful combination of new hop varieties, flavours and aromas. It results in a refreshing stone-fruit, citrus & pineapple flavour. Tropical fruits and grapefruit prevail – 6.7% alc./vol., 70 IBU.
With the final fling being another exciting new brew, available early August in BC and Alberta, and September in Manitoba.
Limited Release 650mls, available whilst stock last in select BC Private Liquor Stores, Alberta and Manitoba. For full information on the series and to locate closer to home, head to www.ferniebrewing.com.