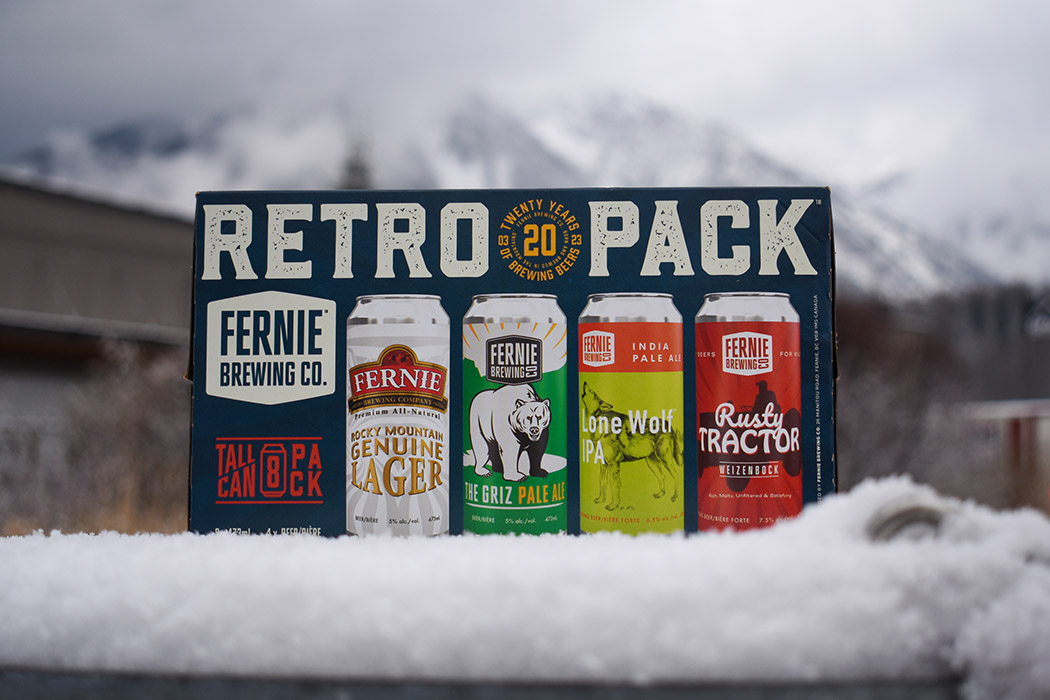 Born and brewed in the mountains, Fernie Brewing has been brewing up a storm since 2003. To celebrate the big 2-0, they've had an action-packed year, from a 20th Anni Exhibit in their gallery room, to celebratory merch pieces; the launch of their new LOGO non-alc brand in June, to a special 20th Anni Trail to Ale Challenge this past summer; and social giveaways galore, to several key community fundraising collabs. Needless to say, it's been a busy year and it's not over yet. But for now, they've gone a little retro.
Dropping last week in their Tasting Room, before heading out to craft-centric liquor stores throughout BC and Alberta this week, their 20th Anni FBC Retro Pack has brought back some age-old favourites from the past 20 years of FBC beers.
Paying homage to FBC's history, the Retro Pack contains 4 classic FBC brews, each can design hailing from a different era. But with all the past brews available to choose from, how did they land upon this line-up? An FBC staff vote, of course. So, take a trip down memory lane, revisit these nostalgic brews in their old-school designs, then head to your closest liquor store to grab one before they're gone.
The Griz Pale Ale. 5% ABV.
FBC's very first brew in early 2003. From mountain peaks to river valleys, The Griz was a perfect partner to venturing into the great outdoors. With a light malt colour, this refreshing ale uses dry-hopping to give it a distinctive hop aroma and bitterness, classic to the style. The Griz eventually retired, making way for the more on-trend, now multi award-winning, Campout West Coast Pale Ale.
Rocky Mountain Genuine Lager. 5% ABV.
A year later, their continental-style Lager arrived in the fall of 2004, featuring the finest European and New Zealand hops and a mixture of European and Canadian malts. With peaks of flavour built in a longer aging process, this golden Lager starts and finishes with high mountain clarity and smoothness. Rocky Mountain Genuine Lager stepped down when their now flagship P9 Pils rolled into the limelight and never looked back.
Lone Wolf IPA. 6.5% ABV.
FBC's first-ever IPA hopped into their lineup in 2012. This IPA has four select malts in combination with three classic hop varieties and time-honoured traditional brewing methods, including dry-hopping, resulting in a golden ale with exceptional flavour and complexity. A true West Coast classic IPA in every sense and a fan favourite. After a great run, Lone Wolf headed back to his pack, to be replaced by Thunder Meadows.
Rusty Tractor Weizenbock. 7.5% ABV.
A spring seasonal first launched back in 2013. Paying homage to those who've endured long, harsh Canadian winters, Rusty Tractor is brewed with wheat, German specialty malts, noble hops, and Belgian yeast. The resulting Weizenbock beer is rich, robust, and malty with surprising complexity. Short-lived, but never forgotten.
A limited release Tall Can 8-Pack, available shortly in craft-centric stores throughout BC and Alberta. Congratulations Fernie Crewing on your 20th year of reviving brewing in Fernie!