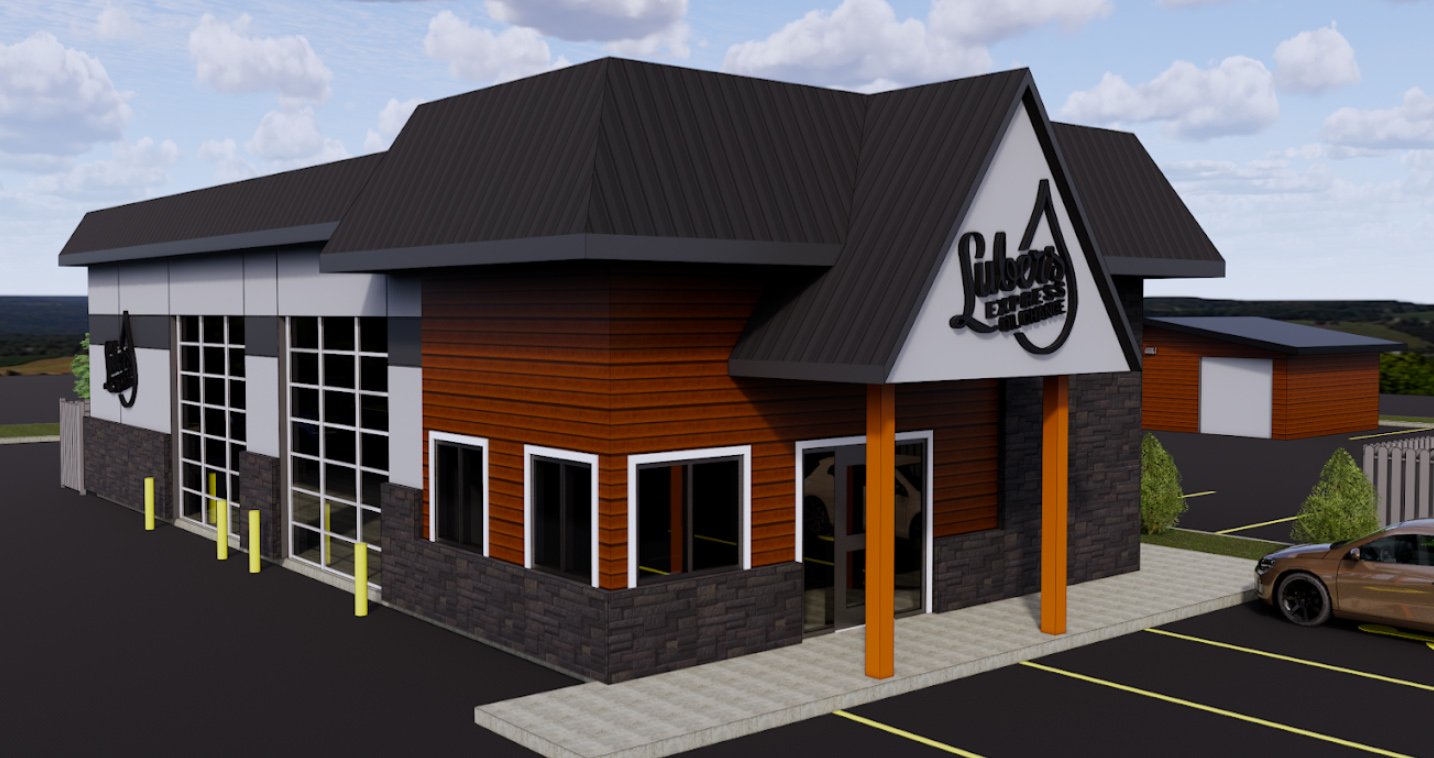 Nearly two years ago the Fertig family of Alberta announced that the Lubers Express Oil Change had chosen to open a second shop located in Fernie.
The family owns a successful business in Drayton Valley and after Cavan Fertig worked in Fernie in 2018, and quickly grew fond of the city and surrounding area, they decided to be part of our community. Their website states, "The business is run based on the belief that the customers should be treated like family and we will never compromise on quality, service or our integrity. We keep our prices fair, our service honest and will always do what's right for the customer."
They had hoped to be open by January 2022 and so construction began with the public kept up on the project with online photos and comments.
Unfortunately, progress was stalled when the City issued a stop work order that lasted for months. Since then, the Fertig family has worked diligently with City staff to realize a finished project.
Caven and his brother-in-law Edward Kezar have been steering this project since the beginning and appreciate the patience and are now pleased to provide an update stating their hopes for a soft opening on March 1st. They also are very pleased to have hired seven employees and one student to work at Lubers.
Caven said "in past months the site has changed significantly. Signage was installed on January 16th, which was exciting. There are still a couple of things left to do on the exterior and interior. Lastly, we will complete all system installs and do some finishing touches to tie everything together. One of the last major steps in opening is the completion of our flood wall which you've probably noticed was constructed late last year. While the main portion of the wall has been completed, we are now working to install the RS Demountable Flood Barrier. In the event of a flood, this barrier will be quickly installed at the openings in the flood wall. This barrier was designed and manufactured in Germany and was shipped via cargo ship. When a flood becomes imminent this innovative flood wall, which is a first in Fernie will be put into action".
The quick lube will be a good service for the community as the closest one is in Cranbrook. Adding that despite the obstacles & challenges with the project they are very excited to be opening. The family is also appreciative of the community support over these many months saying, "It has meant the world to us and been more motivational than you'll ever know. We do what we do because we truly enjoy it. The best parts of our job are getting to know our customers, building long-term relationships, and getting the visits throughout the day. Our customers are always treated like family & our advice will always be honest & genuine. We pride ourselves on doing the right thing, even when no one is looking and treating each vehicle that comes into our shop as if it were our own."
The business was started by Cavan's father Wayne Fertig with their first shop in Drayton Valley in 2000. He said the business had a slow start but then it just got busier and busier to become very successful. His sister Charlie manages that shop and mother Louise oversees accounting. The family takes great pride in what they do, they have high standards and believe that this sets them apart demonstrated by the many return customers that they know by name.
The family plans on rotating who comes here to work but Caven believes he will probably relocate and live here permanently as you "can't leave a new business alone and you need to get to know your customers and make sure their quality standards are being upheld. Edward said he moved to Drayton Valley from Ontario as his brother lived there. He is married to Charlie and his brother works at the shop in Drayton Valley. Both emphasized that this is a family business with all members involved.
Congratulations to the Fertig family and wishing you a long and prosperous business serving our community.
By Mary Giuliano
Mary arrived in Fernie in May of 1953 and has lived here ever since, by choice, because she loves the Elk Valley and everything it stands for. Read more from Mary here.