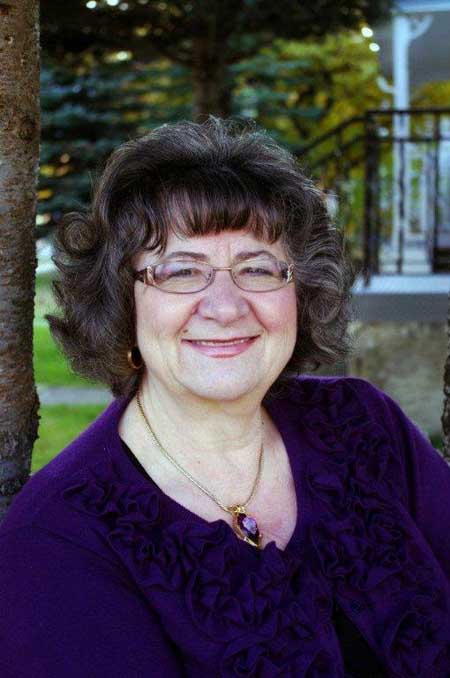 Mary Giuliano arrived in Fernie in May of 1953 and has lived here ever since, by choice, because she loves the Elk Valley and everything it stands for. Good water, clean air, amazing mountains, wonderful vegetation and a great quality of life. "On a clear sunny day, Fernie is as close as one can get to being in heaven", says Mary.
Mary is married (Nick) with four grown children, two grandchildren that are very close to her heart and fortunate enough to have family and friends who still call Fernie home.
Mary's love for Fernie pushed her to become interested and involved as a participant in groups and organizer of special events. She sat on the Fernie Library Board for 9 years, was a member of the Kinnette/Kinsmen Club, Bet Sigma Phi Sorority, Legion, PAC, Fernie Community Media Society, Fernie Kids Club, Fernie Heritage Cemetery and is still a member of the CWL and Fernie Derrick Society.
Mary joined the Elk Valley Coalition and helped to organize several demonstrations to keep health care services in the local hospital as well as organizing a highway traffic stop to bring national media attention to keeping the operating room open in the hospital as well as making changes to home support services. She was involved in successfully acquiring the dialysis unit in the Sparwood Health Center so Elk Valley clients didn't have to travel to Ft. Mcleod or Trail for treatment several times a week.
Mary coordinated several projects, the yearlong Festa Italiana in 1998, fundraising and coordinating the rehabilitation of the oil derrick site by forming a non-profit society to save the derrick with improvements that is still ongoing.
For twelve years she hosted and produced a volunteer television show seen on Monach and Shaw Cable and online. Her interest in writing had her contribute to the Free Press newspaper for over 28 years, to fernie.com and to e-know and several other publications.
In 2010 Mary was involved in preventing a water bottling plant from hooking up directly to Fernie's water source and this action served as the catalyst to run for City Council in 2011. She recently finished serving three terms as Councillor and two terms as Mayor of the City of Fernie.
While in office Mary introduced several programs including the Junior Achievement award, adding benches at the cemetery and at several bus stops around town and an increase of preferred parking spots on Main Street. She initiated the renovation of the dilapidated Legion Cemetery entrance with a new gate and landscaping, initiated the beautification flower program, the windrow clearing for seniors and those with disabilities, Dumpster painting, and coordinated the commemorative Fernie stamp and celebration in honor of the 100th anniversary of the 1908 Fernie fire.
She also facilitated the replacement of the Lizard Creek Bridge to be completed by 2020 and was successful in a request for a wildlife corridor for safety of animals in that area and fundraised and coordinated the Miners Walk Exhibit in front of City hall.
She also moved forward an annual grant funding for the Seniors Center so a a part time administrator could be hired, initiated the campaign against poor highway maintenance and when Mayor Nenshi of Calgary challenged her to have poetry readings in council she took on the challenge and brought it forward.
Once on Council Mary sat on the board of the Fernie and District Arts Council, Fernie Family Housing, Historical Society and Heritage Library not only as a liaison but as an active volunteer.