Ol' Willy Wit, Belgian White Ale, has been a Fernie Brewing favourite since 2007, but it's on the hunt for a new name. The popular beer recipe will remain exactly as it is, but it requires a name which matches the light & spicy citrus flavours of this refreshing, year-round beer.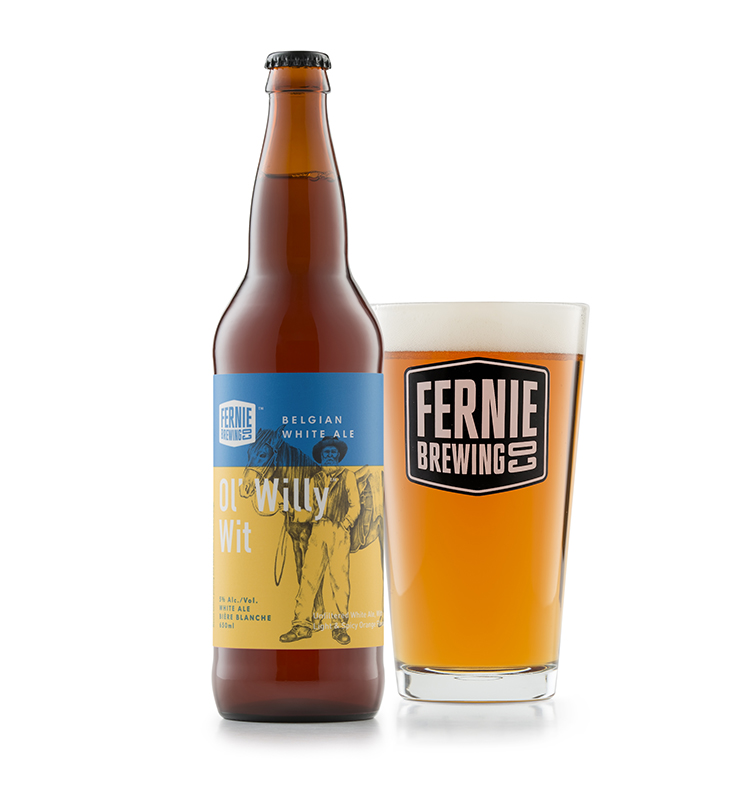 "A Belgian White Ale with light & spicy citrus flavours. This unfiltered beer is brewed with a touch of coriander & orange peel and is slightly cloudy. We think it's downright delicious! Best when garnished with a slice of orange, to bring out the natural spices & subtle fruit flavor," describes Murray Pask.
Further details of this popular brew, is its kettle addition during boil, of Seville orange & coriander. The use of Belgian yeast, providing the slight phenolic, clove and bubblegum flavours. Its 50% Wheat Malt. And an IBU of 10, and 5% alc./vol. If you haven't tried it, think light, citrusy and with a touch of spice.
Its subtly fruit flavours pair well with pork, chicken, seafood and salads. Available year round, currently in 650ml bottles and on tap, it's a staple for Fernie Brewing, but its name doesn't represent its greatness, when it comes to the highly popular names of some of FBC's more recent brews accompanying it on the shelves – What the Huck, Sap Sucker Maple Porter, Slingshot Session IPA, Quiet Rye't, and most recently, Java the Hut Coffee Milk Stout.
Whatever name is chosen, it needs to be suitable for a year-round brew, be able to be well illustrated on the label, and stand out from the crowd!
And whilst the FBC Brew Crew love thinking up names, they think an FBC fan can come up with something better. Efforts of course do not go unrewarded, as the one lucky winner will win: $250 FBC credit for use in their Storefront or Online, a night's accommodation for two people in Fernie, and the chance to Brew a batch of the beer that bears their winning name!
Submissions will be accepted from Friday January 22nd 10AM, until Friday February 5th at 4PM. At which point the FBC Brew Crew will narrow them down to a shortlist, and vote. The winner will be contacted the week of February 8th.