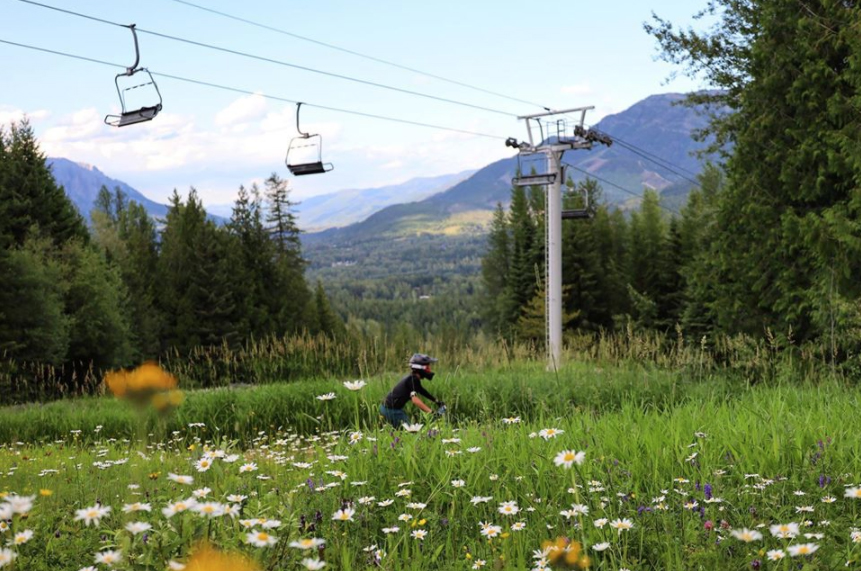 Why take the chairlift if you've got an e-mountain bike! New this summer, Fernie Alpine Resort now allow uphill bike traffic (e-mountain bikes* or regular mountain bikes) on their specified uphill route at the bike park.
E-mountain bikers will love the convenience of quick laps on this uphill only route, which accesses the Elk Side downhill trails as well as Lower TNT (from Rock Landing only) on the Timber side. Your laps can be short – deke off at access point A to rip down Honeybee, Eville, Holo Bike and Phat Larry's – or take the longer pedal on up to access point B or C to access the rest of the DH trails in the bike park. Of course, those who like to pedal under their own power are also welcome! It's a great way to stay and get fit, and enjoy the adrenaline of their DH trails too!
Uphill riders MUST have a valid Uphill E-Bike/Enduro ticket, or mountain bike season pass/day ticket in order to access our bike park trails. Visit Guest Services to purchase your ticket.
*E-mountain bikes permitted in the bike park are Type 1 (pedal assist) e-mountain bikes.
Please note that the uphill route is only open during regular bike park hours:
Monday – Friday: 10:30am to 4:30pm
Saturday & Sunday: 9:30am to 4:30pm
See the new uphill route on the map: