In the 90's Eric Ried, a local cycling enthusiast and race coach, suggested that Fernie would soon become the Moab of the North. Well, it has.
At that time Fernie Alpine Resort was building their bike program with National XC events and lift serviced downhill riding. Little did anybody expect that FAR's biking program would fade with their snubbing of a potential World Cup and the reduction of lift serviced riding to weekends only. So how did Fernie become a biking mecca? Locals, that's how, it's the lifestyle!
Fernie is blessed to have two trail building organizations, the Fernie Mountain Biking Club and the Fernie Trails and Ski Touring Club. Both of these organizations build and maintain trails and host a number of events. The FMBC hosts a weekly races and The High Roller and the FT&STC hosts the annual Porky Blue Ride and Roast. These clubs belong to the Fernie Trails Alliance-a new body formed in the past five years to represent Fernie trails with the BC Government, local government and private land owners. Liability and funding are the issues and opportunities and the organization is moving the trail network to a new level.
When I reference locals creating the bike mecca I'm suggesting that the individuals in these organizations have created the mecca. They have done this through the hard labour of building one of the best network of trails to be found anywhere and the persistence to establish this network with the various land owners and governments. Promises of tourism budgets for trail building have made however to date the cash is not flowing.
Other locals that have helped make Fernie the mecca are the stable of core riders. Local Paul Attalla rode through town today on route from New Mexico to be a winner in this years Tour Divide Race. Downhiller Luke Nelson frequently places well in international competitions when no building trails and a new crew of dirt park kids are rippin' up the circuit as well.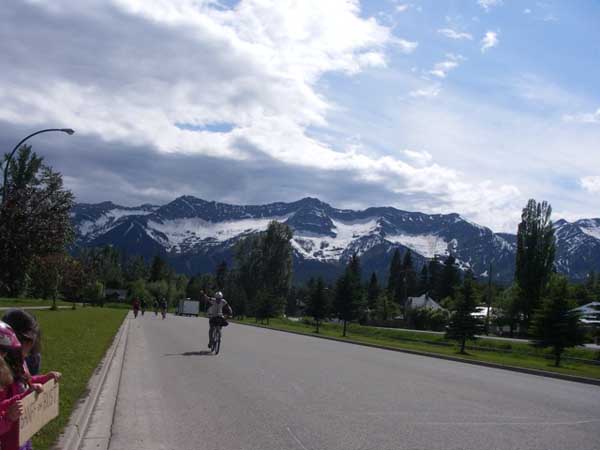 The old events were replaced with new. This year the TransRockies celebrates its tenth year, Fernie is the only community to have hosted all ten events. Next month a TransRockies copy-cat event, the Furious 3, launches in Fernie and has an event planned for Moab later this year.
When I began mountain biking in Fernie in the early nineties the sport was viewed as extreme. Today everybody bikes-meeting a group of 20 mothers is not uncommon however meeting a group of 20 Calgarians is more likely. If you haven't mountain biked in Fernie there is no better time that now.
This weekend FAR opened its lift serviced summer program and most of the local trails are open following a slow to retreat record breaking snowpack. Here are a couple of shots from FAR's Gorby Trail.