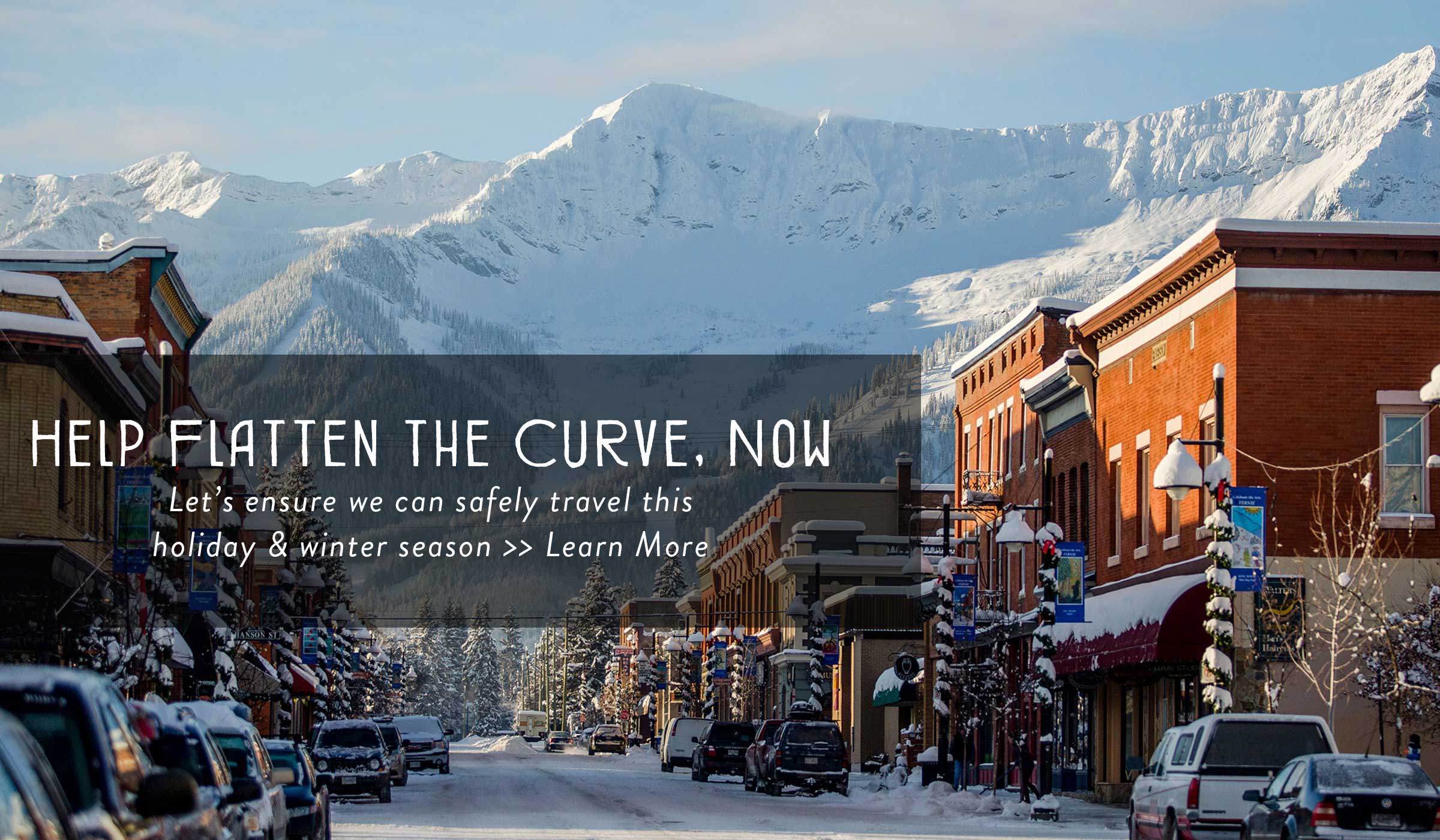 A message asking everybody to work together to Help Flatten the Curve was released on Friday by Tourism Fernie and supported by the City of Fernie and the Fernie Chamber. They are doing their best to work with BC Health policy and maintain optimism for out-of-province visitors spending their holidays in Fernie. At this time they are supporting the ideal that out-of-province visitors will be welcome in Fernie for non-essential reasons this holiday season.
BC Health policy has the following request in effect until December 7th: "Officials are asking everyone not to travel outside their communities for non-essential reasons and asking people from other provinces to postpone their trips here." Based on "freedom" policies in our neighbouring province and know Covid spread rates, it's highly likely that BC Health will strengthen the lockdown and extend it.
Fernie's messaging communicates that given the recent announcements, please help flatten the curve now to ensure non-essential travel is publicly supported for Christmas and Winter Season. View BC's new health directives here.
Fernie's message:
"Please help us flatten the curve in BC to limit the extension of travel advisories. View new BC Gov't restrictions. Those related to travel and visitation include:
1) mandatory masks in public indoor spaces with some exceptions, this includes retail and dining (but not at your table when eating/drinking)
2) limit travel to essential travel only until December 7th, if you can't postpone and you are still travelling, keep to your immediate household, and you must follow local/provincial orders and health protocols. Provincial borders are open. View trip planning details.
3) no social gatherings at this time, limit to immediate household (exception for single person households). Special important gatherings of up to 10 for funerals/weddings etc allowed if protocols followed and safety plan developed and available.
4) no events where people can gather (ie original rule of up to 50 ppl not supported right now).
BC Centre For Disease Control Message:
British Columbians have been advised to avoid travel within the province or outside of the province at this time because of the COVID-19 pandemic. It is requested that you do not travel to other regions unless it is essential. People travelling to B.C. from another province or territory within Canada should only come for essential reasons.
Essential travel is travelling for work, school, medical appointments, and to obtain groceries, medicines, and other essential items. It can also mean travelling to care for someone like a family member who is ill.
>Non-essential travel is travel for tourism, entertainment, or recreation. Stay local for these activities. For example ski and snowboard at your local mountain.
An existing order also halts travel to other regions for sports.
The Canada-USA border is closed to all non-essential travel until at least December 21, and may potentially remain closed through the winter season. International/Overseas visitation for leisure travel purposes is not permitted at this time. Anyone travelling to Canada for Essential Travel is required to quarantine for 14 days. More details.
Since the pandemic started, as per the BC CDC, cases in the East Kootenay region have totalled 68, current cases are listed as 22. View current regional 'Interior Health' public exposure alerts.
Businesses in Fernie are open, however with safety guidelines, new hours and procedures in place. Please adhere to signage. Please plan ahead and respect the new safe ways of experiencing Fernie.
View details on planning your visit to Fernie, BC this winter, including how we are working to keep you safe and what we ask of you.
Winter Ski Season – all resorts will be operating this winter season. Fernie Alpine Resort's opening date is December 5th. Local catskiing operations will open around mid-December. Fernie offers a wealth of cross-country skiing, fat biking and snowshoeing as well, which are great ways to safely enjoy the outdoors. Businesses offering indoor experiences such as wellness, spa, dining, shopping and attractions are all open with safety protocols in place."
To ensure the stop of spreading any cold, flu or viruses, including COVID-19:
– Masks are now mandatory in public indoor spaces, please bring your own with you due to limited local supplies
– Practice social / physical distancing – Stay 6 feet away from those not within your family or travelling unit
– Keep gatherings to your immediate family or household unit
– Wash your hands frequently and have hand santizer with you at all times (limited local supplies, bring your own please)
– Stay home or away from others when not feeling well
– Cover your mouth and nose with your arm when you cough/sneeze
– Don't touch your face with unclean hands
News of a covid case at a grocery store in Fernie surfaced earlier today. Please be safe and healthy and remember, there is hope that the corona virus will slowly diminish in coming months.