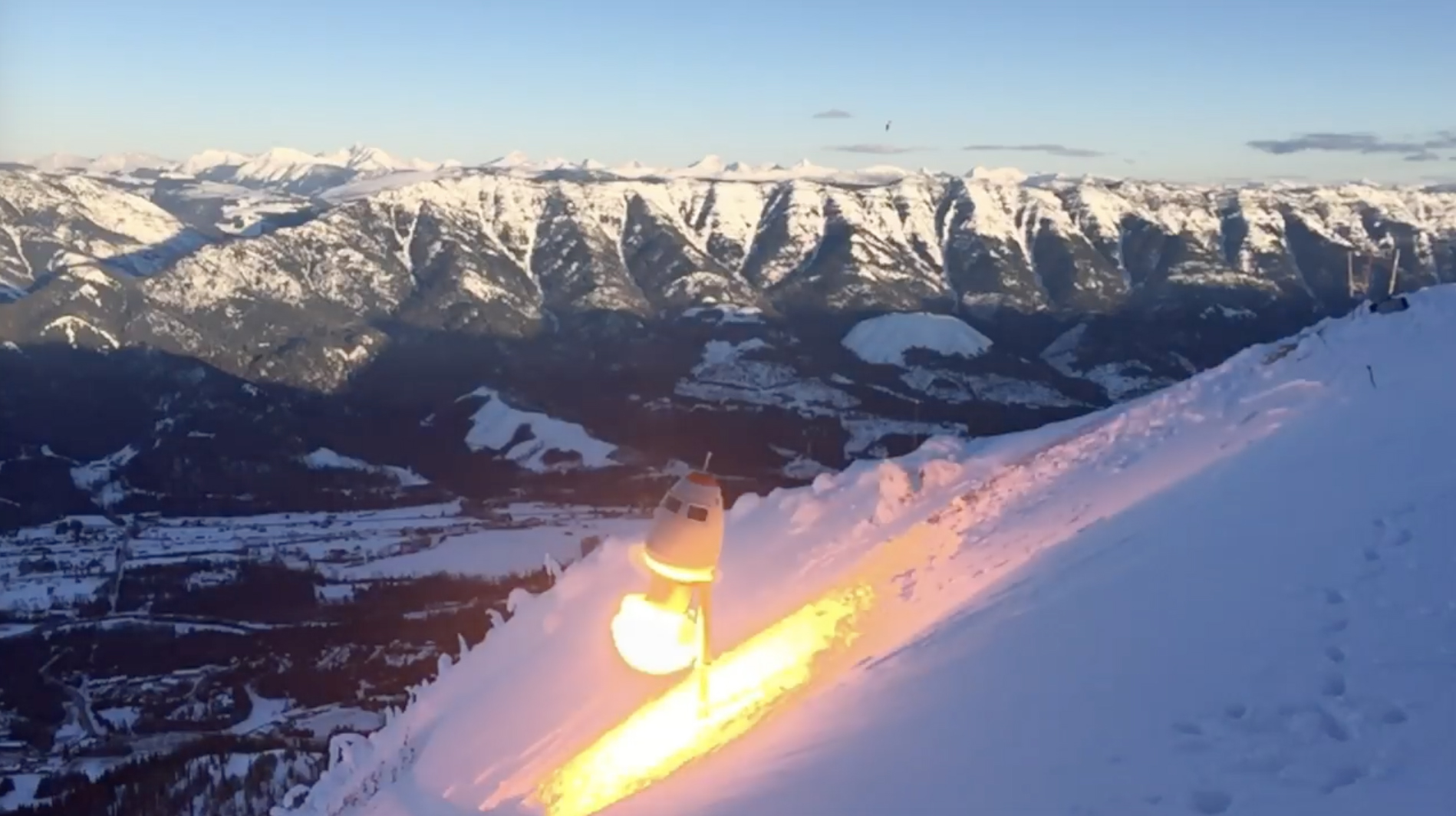 Fernie Alpine Resort's O'Bellx Avalanche Control system has now been fully installed below Polar Peak and is operational. This is the first such installation in Canada and at a resort with challenging avalanche conditions.
FAR is known for its avalanche safety program due to the above average amount of snowfall, large overhanging headwalls and limited visibility on snow days. Their program has just improved with the installation of a removable remote avalanche control system (RACS) on the Lizard headwall below Polar Peak. The TAS O'bellx RACS system is based on exploding a hydrogen/oxygen gas mixture inside an open cone.
The natural hazards control company TAS has created the next generation of avalanche control systems called O'bellx that can perform avalanche mitigation remotely with no human interaction. TAS is the world leader in remote natural hazard prevention systems. For more than 20 years, TAS technologies have been protecting ski resorts, villages, highways and mining sites from avalanches.
O'bellx's avalanche control unit uses a hydrogen/oxygen gas mixture housed inside an open cone shell to create pin-point explosions to trigger avalanches. The structure is semi-permanent and positioned in known avalanche start areas before the snow season begins. The system can be detonated remotely 24 hours a day, 365 days a year, regardless of weather conditions.
There are no pipelines attached to the cone, meaning it requires very little work in terms of installation. At the end of the year, the cones are removed easily and stored until next season. The technology makes a lot of sense to have in zones that have high-frequency avalanche areas which require routine bombing but are often hard to access on foot. TAS is marketing the O'Bellx as an eco-friendly solution that greatly minimizes the risks which patrollers take on a regular basis to help the lot of us ski and snowboard.
This is exciting news for the pro patroller who risk their lives, and the skiers and boarders. Here's to hoping that Lizard Bowl will open sooner on powder days and perhaps the Polar Peak chair will open soon!

Source: Facebook