It was one dramatic defining moment that brought about the architectural vista that one is presented with in downtown Fernie these days. That moment occurred on August 1st, 1908, when most of the city was obliterated in 90 terrifying minutes by a firestorm.
After the Great Fire, Fernie city council decreed that "all buildings within a ten-block section be constructed of fireproof material". And so it was that from the 1908 ashes a new disaster-resistant town arose. Its architectural style is described as simplified Italianate, typified by "rows of 3 storey, flat-roofed commercial brick buildings…enlivened with round-arched and rectangular windows decorated with hood moldings or classical pediments and pilasters". Many of the reconstructed buildings were built from locally produced yellow brick and extended under the streets or alleys to allow for coal chutes into their basements. Boardwalks and street crossings made of planks were an early part of Fernie's downtown streets and helped minimize the annoyance of mud, rain or melting snow. It wasn't until 1922 that streets were paved and Second Avenue (originally called Victoria Ave. after Queen Victoria) was first covered with cement. Other streets were at one time covered with old cinders from the coke ovens.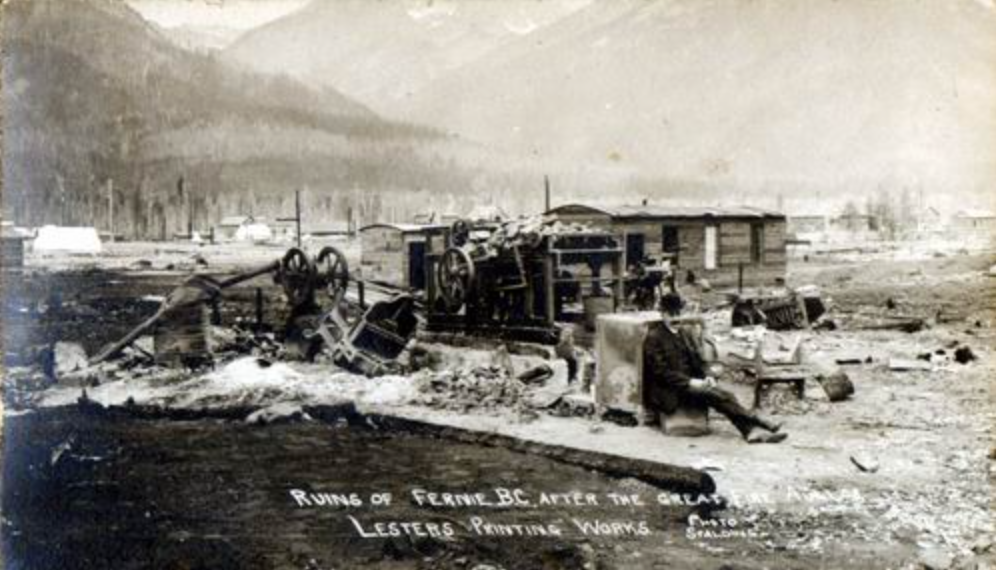 Today the revitalized downtown core proudly displays its original architecture and uniqueness. Two blocks off of 2nd Ave. lie two marvelous structures; the Fernie Court House and the Holy Family Catholic Church. The Court House (1911) is a magnificent chateau style building with slate shingles, copper trim and granite imported from Vancouver and is well known throughout BC as a historic landmark. The Catholic Church (1912) is a beautiful brick edifice done in a "cruciform pattern". The Italian stained glass front windows are backlit at night, which adds quite nicely to the reverent stature of the church.
A block over on 3rd Ave. you will find 2 more equally significant structures; the Fernie Heritage Library and City Hall. The recently restored library building (1908), once was a customs and post office, and now presents an invitingly bright and spacious reader's paradise with 18 foot ceilings and rooms flooded with natural light from floor to ceiling windows. City Hall (1905) was once the home of the Crows Nest Pass Coal Company and is a survivor of the 1908 inferno. It was strategically located in the middle of a block to minimize fire risk and served as a place of refuge for the survivors during and after the great fire.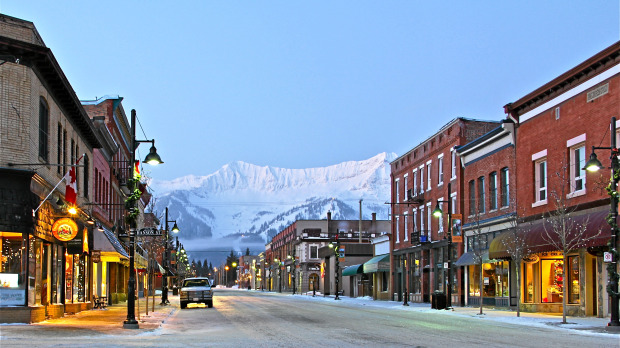 Second Avenue is undoubtedly the jewel of Fernie's turn of the century architecture and is chock full of unique structures where brick and stone abound. Many buildings sport recessed entrances, local rubblestone or locally made brick. Appropriate canopies have been added and enhancements or restorations must follow specific guidelines.
Structures like The Ski Base (originally the Fernie Hotel), the Elk's Lodge (once How Foon's restaurant and laundry) and Our Cappuccino Corner (originally the P. Burns Meat Market) are just some of the remarkable stores lovingly restored with the help of a provincial government program in the early 1980's. Most of the buildings in the downtown core date from 1908/09 and emanate an air of permanence rarely found in small town BC. Their original function, whether it was hotel, bank, theater, or livery, in most cases has been replaced with the likes of gift shops, drug stores, coffee bars or sports and clothing stores.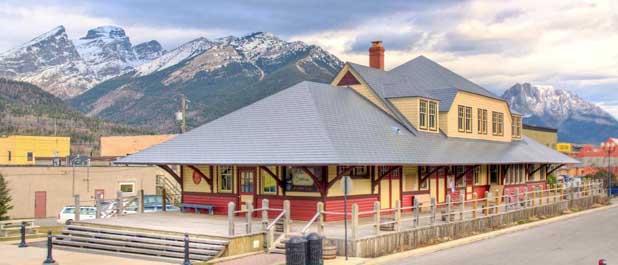 Probably the crowning jewel of downtown Fernie is the Arts Station, a Van Horne mountain style railway station that has been moved and set on a new foundation where it was restored. It now serves as a home for the Arts community complete with restaurant and theater.