Fernie's recreational trails can provide you and your family with access to a diverse natural environment. Choose from over 60 local biking and hiking trails that range from extreme high-alpine routes marked by stone cairns to easy strolling city paths along the Elk River shoreline dike. Be aware that some short and easy trails can take you into wilderness areas.
The key to an enjoyable outing lies in being well informed and prepared for all eventualities. A good start is to purchase a Fernie trail guide from local sporting goods stores, coffee shops or bookstores. Select a trail that matches your experience level, the season and time of day. Many high alpine trails have muddy approaches or are snow-covered well into the summer; others dry up soon after the snows are gone.
Island Lake Lodge has become Fernie's permier hiking area with well maintained trails that are appropriate for families. Island Lake Lodge is 10km's from Fernie and sits at the edge of the Alpine just over 5000ft. The Lodge has great food, award winning accommodations, a spa and a wide selection of trails that meet everyone's hiking ability.
The Fernie Ridge Walk , a strenuous all-day adventure route for mountain-wise hikers, rewards your efforts with stunning views west to the Rocky Mountain Trench and east into the Front Ranges of Alberta. Keep a sharp weather eye: thunderstorms can blow in quickly; these 2000-metre limestone ridges and summits receive snow, even in July. Start from the Fernie Alpine Resort, 5 km south of town, make it easier with a lift at the resort.
Other trails combine less demanding walking or cycling with interesting natural or historic highlights. The Coal Creek Heritage Trail starts at the Aquatic Centre and follows the abandoned Morrissey, Fernie and Michel Railway grade to the ghost town of Coal Creek. The entrance to the Elk Valley's first coal mine is visible from the townsite ruins. Imagine what life was like in 1905 when 1000 people shared the confines of this narrow valley: find out more about the people of Coal Creek from the historical marker located downtown at the corner of 2nd Avenue and 4th Street. Informative booklets on local history are also available at Polar Peek Books. Round trip is 14 km with a modest 200 metre elevation gain.
Remember, these are Rocky Mountain trails: being prepared means a small day-pack with warm and waterproof clothes, sturdy footwear, a snack or lunch, water, a compass and map, and last but not least, your first-aid kit. Your host or innkeeper will be glad to know your plans and when to expect your return.
Bears: visitors and locals alike are always talking about them. Where and when last sighted, their behaviour and how best to avoid them. Books on bear/human interaction are available downtown from Polar Peek Books while other merchants carry bear spray. Best of all, avoid areas where bears have recently been sighted. If you find evidence of ongoing feeding activity, such as a carcass, immediately leave the area. Hike in a group to reduce the risk of a bear encounter and keep young children close at hand. Dogs are best kept on a leash.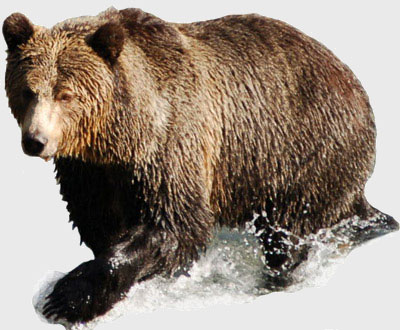 The Fairy Creek Falls trail makes a refreshing outing on a hot summer day. This easy 2.3 km one-way hike (90 metre elevation gain) starts at the small bridge over Fairy Creek east on Highway 3, just before the Visitor Info Centre. The trail crosses an open meadow, traverses the lower forested slopes of 2391 metre Mt. Proctor, then drops down to the water's edge. Watch for birds, particularly the water dippers that feed in the stream. Be aware that moose and grizzly have been spotted in this area.
A pleasant 1 km loop, Mt. Fernie Provincial Park Interpretive Trail offers an opportunity to experience a diverse forest plant community and the many birds that frequent this moist area. Cross the bridge over Lizard Creek then climb a forested slope to gain a clifftop view into the upper Cedar Valley. If you have more time and energy, hike or cycle approximately 6 km up the Cedar Valley road to reach a centuries-old Cedar grove. Use Island Lake Lodge's trail network to explore this dark and solemn remnant of an old- growth Columbian forest. In mid-summer, a delicious brunch is served at Island Lake Lodge, 2 km up the road; keep an eye open for vehicular traffic. To reach the Interpretive Trail, follow the Mt. Fernie Provincial Park signs, approximately 1 km south of town on Highway 3.
Detailed guidebooks to Fernie and other Southern Rocky Mountain trails are available from town merchants. Please remember to treat other trail users with courtesy. If you pack it in, pack it out. Enjoy.