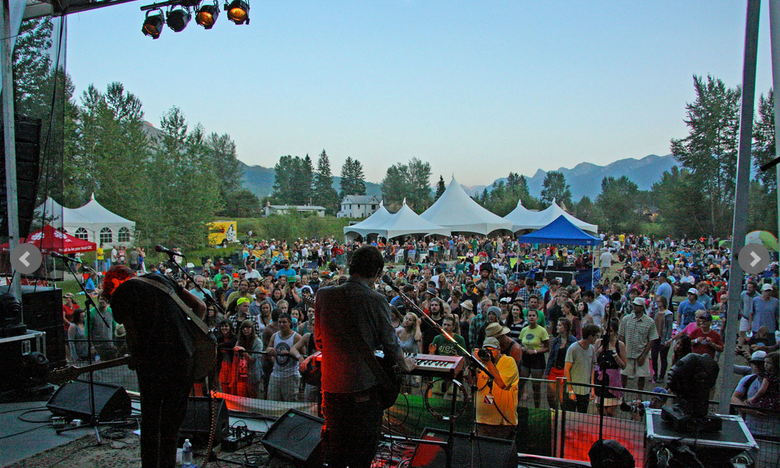 The Wapiti Music Festival will be back in Annex Park for 2023. Last year Wapiti relocated to James White Park. The dike protecting the Annex area of Fernie underwent extensive upgrades so the Annex Park was inaccessible.
The Wapiti Music Festival Society would like to acknowledge the incredible support of the City of Fernie, especially the Parks, Facilities and Recreation department, in assisting Wapiti's relocation. Repurposing the James White baseball diamonds into a festival and bike lockup area took a lot of effort, but it paid off.
By all accounts the move to James White resulted in a very successful festival. Patrons definitely enjoyed the more panoramic layout of the baseball outfield. There were logistical challenges with locating vendors, porta-potties, and other components of the festival, but in the end it all more or less worked.
So, why the return? James White is a lovely park but Annex Park is Wapiti's home. It's where the festival had its start. The first Wapiti needed to include directions to Annex Park as it was a bit obscure to those not living in the Annex. Today, it's a vibrant park with daily picnics, weddings, and other events. It is an event location.
Wapiti organizers met in November to discuss the options. While there was support for continuing at James White, the majority wanted to return to Annex. Most commented on the aesthetics, the clearer separation of festival and vendors, easier access for a needed refrigeration truck, and a shorter and better lit exit from the park.
Wapiti 2023 will happen on August 11 and 12 in Annex Park. The organizers are excited about the return and hope to see you there!
Wapiti Volunteer Information Party – Wednesday Feb 8th 7pm @ The Arts Station
Do you have skills to share with your community?
Learn all the different areas we are looking for help with and meet the organizing team.
Wapiti is a grassroots volunteer organization founded with the purpose of bringing and enhancing arts and culture in Fernie. Are you passionate about this?
The team is inclusive, supportive and loves music. Arts and culture are vital to community and Wapiti is an amazing way to support and grow this.
Expect music, beverages, snacks, good people and inspiration. And just for popping down you can enter to win a $150 Yamagoya gift card!