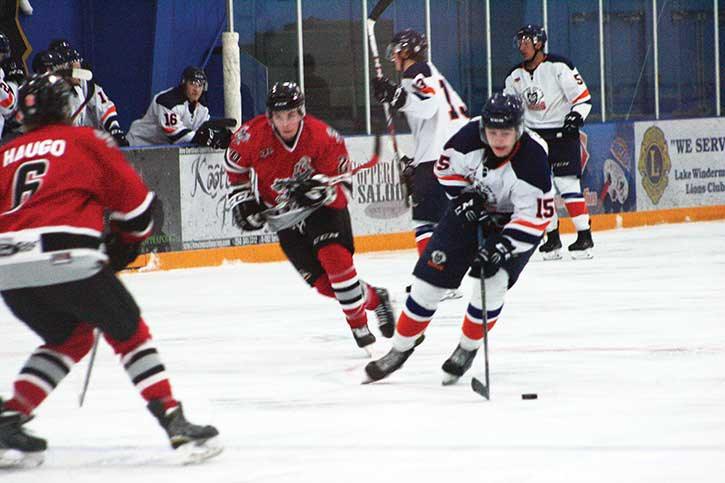 The Ghostriders managed three of a possible six points on their Okanagan road trip last weekend. They won 3-0 in Kelowna, lost 3-2 in overtime in Princeton then fell 5-1 in Osoyoos.
Newly acquired goalie Reed Mclennan shutout his former team 3-0 in Kelowna. Mclennan was named as the first star and stopped 25 shots. The Riders had 50 shots and Kaden Slobodian (PP), Kort Kisinger and Sean Jacobs (PP) scored the goals.

The Riders were aided by meatheads Brett Joseph and Mattias Reha who took 34 and 19 penalty minutes and were each rewarded with three game suspensions for kneeing and head contact, thus the two PP goals.
In Princeton the much improved Posse who only won 15 games last year gave the Riders all they could handle and even outshot them 34-32. Dylan Lacroix was in net and both teams had glorious scoring chances but Andrew Karam got the 3-2 overtime winner and Josh Hager the win in net.
The Riders had goals from Taylor Haggerty (PP) and Kaden Slobodian who each scored their second goals.
Three games in three nights proved too much and in Osoyoos the Riders lost 5-1. Several minor penalties in this game but the Rider power play was cold while the Coyotes PP was hot and they scored three.
Kort Kisinger scored the lone Fernie goal and last year's KIJHL scoring leader Jack Henderson had a goal and an assist and his goalie Rhett Harkot was the first star.
An age old problem continues to plague KIJHL road teams, Sunday night games. The Riders played at 7:00 Fernie time Sunday in Osoyoos so were on the road all night long to trying to get home after a three game weekend.
Fernie treats their visitors even worse by starting at 7:30. Maybe the league should mandate 2:00 Sunday games ? Look at the schedule and you will see that most teams play afternoon games on Sunday. But what do I know.
Things don't get any easier for the Riders, they play in Kimberley Friday and play Kimberley in Fernie Saturday.
Come out and support the Riders play their arch rivals!
KIJHL opinions are George Hurlbut's and not approved by anyone