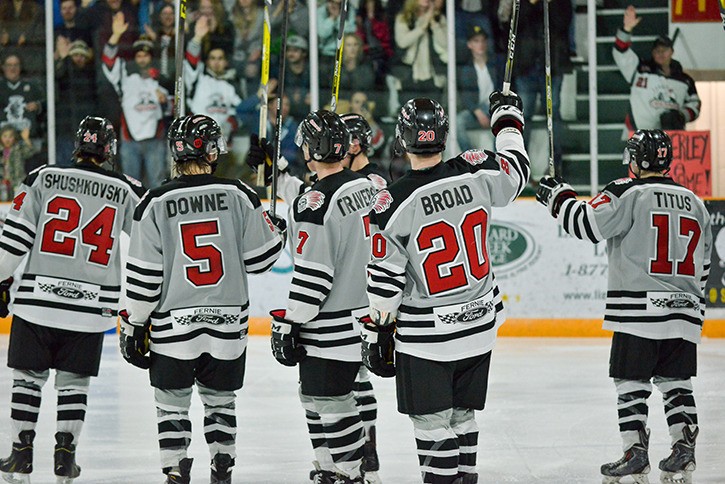 The Ghostriders played two games last weekend, they lost 3-2 in overtime in Kimberley and 5-2 at home here in Fernie.
The Riders were down 2-0 after two periods in Kimberley but in the third they fought back and Kort Kisinger scored his fourth of the season then Jacob Vanlerberg scored the game tying goal to earn the Riders a point and a chance to get two. Vanlerberg's goal was his first of the season.
Kimberley's Cash Regan ruined the comeback when he stole the puck off the opening face-off and scored just seven seconds into the overtime.
Rider net minder Reed McLennan and Kimberley's Cash Regan were game stars and Taylor Haggerty had two assists.
On Saturday in Fernie with a different referee it was the Monty Python "And Now For Something Completely Different" movie and we went from five to fourteen power plays. But only one team took advantage of the Flying Circus and it wasn't Fernie. Kimberley went 4-7 on the PP and the Riders 1-7. Fernie goals were from Jack Karpyshyn and Michele Romeo (PP) who each scored their first goals.
Reed McLennan was named a game star in his first two starts on the road but the wheels fell off at home and down 5-1 after two periods Dylan Lacroix took over for the third and he stopped the bleeding, and looked good doing it.

Kort Kisinger led the team in scoring last season.
Six hundred and sixty fans at the Riders second home game last Friday.
Next up is Kamloops here in Fernie on Friday.
KIJHL opinions are George Hurlbut's and not approved by anyone