Fernie's Best Western ballroom was pulsating with conversation on Friday March 6, as ski enthusiasts and special guests gathered to celebrate the 2020 inductees to the Fernie Skiing Heritage Wall of Fame.
The room was full of legendary figures including ski Olympians and high achievers. Heli-ski great Mike Wiegele was in attendance, he is celebrating fifty years of "ultimate heli skiing covering more than 1000 peaks over the Cariboo, Monashee and Rocky Mountain ranges" with his family owned business at Blue River. Linda Socher, well known for her and late husband Heiko's achievements with skiing and business in Fernie, and organizer of the event, Mike Delich and daughters Julia and Jennifer.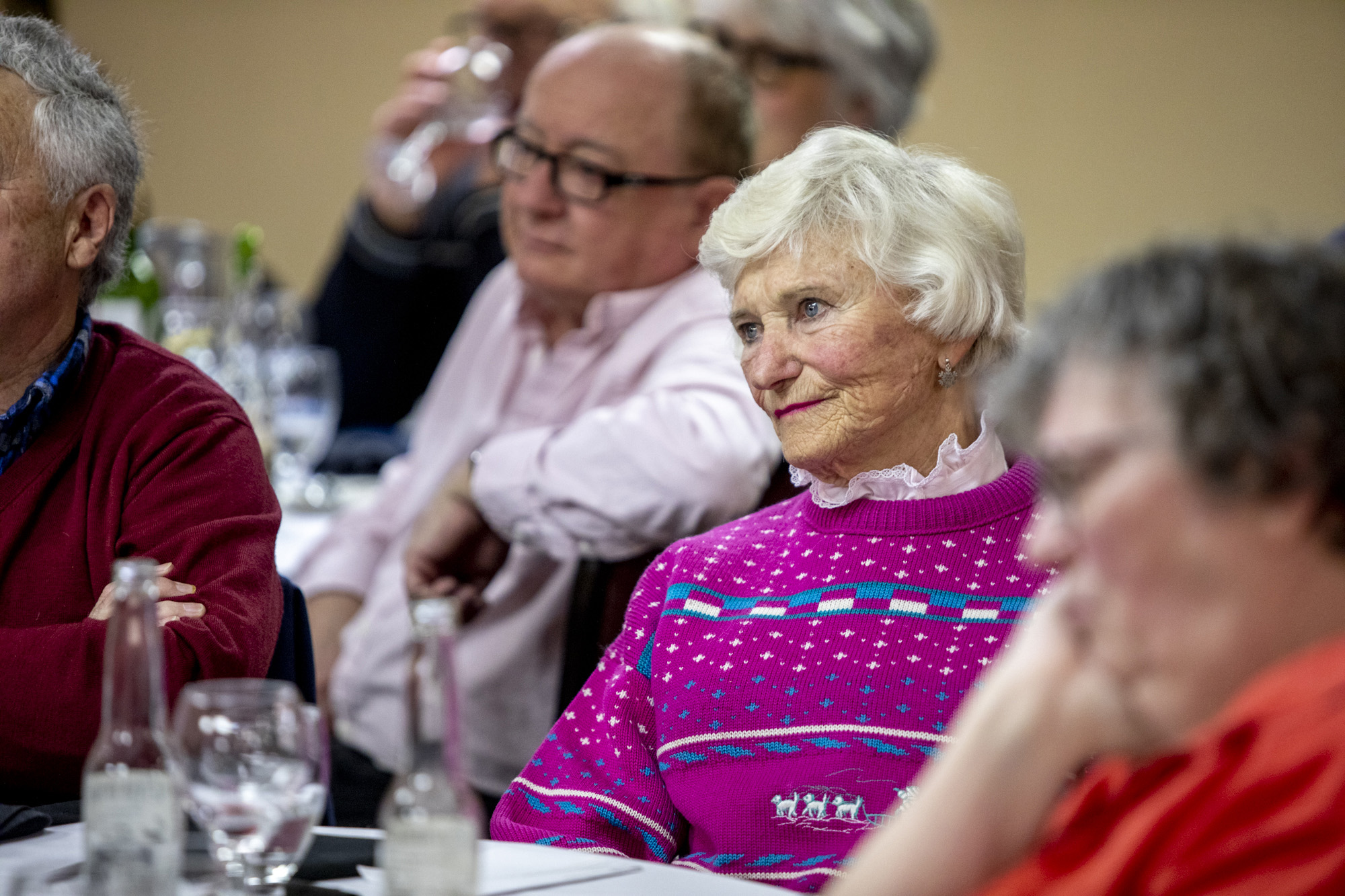 Matt Mosteller, VP Resorts of the Canadian Rockies and Lenka Hawrys, Community Manager for Fernie Brewing Company, were co-hosts for the evening. They began by extending welcome greetings to everyone, recognizing that Area A Director Mike Sosnowski and Mayor Angela Qualizza were in attendance.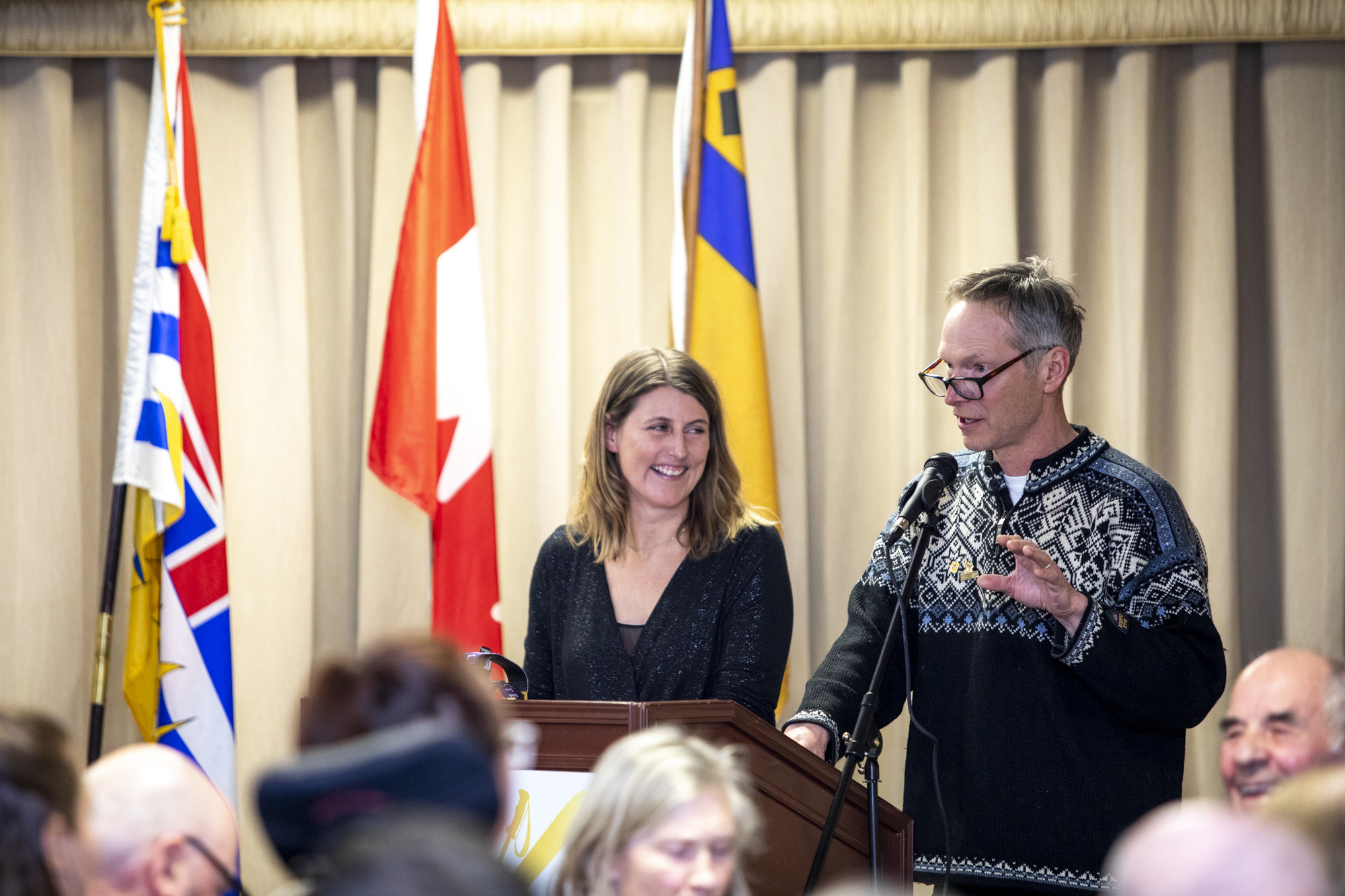 Matt commented that skiing gets people inspired to get outside and brings community together — Lenka adding that she had been coached by many in the room. Elders of the community were introduced with the caveat that "Elder didn't mean old, but wise and sage" and how important the community and the role of team building has been to the industry.
Elders introduced were myself Mary Giuliano, former mayor of Fernie, and my husband Nick, Jim and Isabelle Wright — Jim is still teaching skiing at age 79, and Dr. Geoff Seagram who is a long time Fernie ski coach.
Moving tribute of remembrance were said for Dan MacDonald, Founder of Island Lake Lodge, Heiko Socher, long-time owner of Fernie Snow Valley Ski Ltd, and Tom Stokie, emeritus ski instructor.
Dr. Seagram gave a toast to the Socher family, mentioning also Andy Cohen, FAR and Mike Delich. He said lots of young people from here have done well representing, coaches and contestants deserve thanks for teaching many lessons in life to everyone and for significantly contributing to skiing in Fernie. He complimented Lori Bradish on organizing Griz Days.
Inductees were as follows:
Pioneers — Griz and Ski Base Fernie, Henry Georgi
Builders — Fernie Adaptive Ski Program: Grace Brulotte, Scott Courtemanche, Andy Cohen, Chris Slubicki
Sport Leaders — Julia Delich Obrien and Danielle Sundquist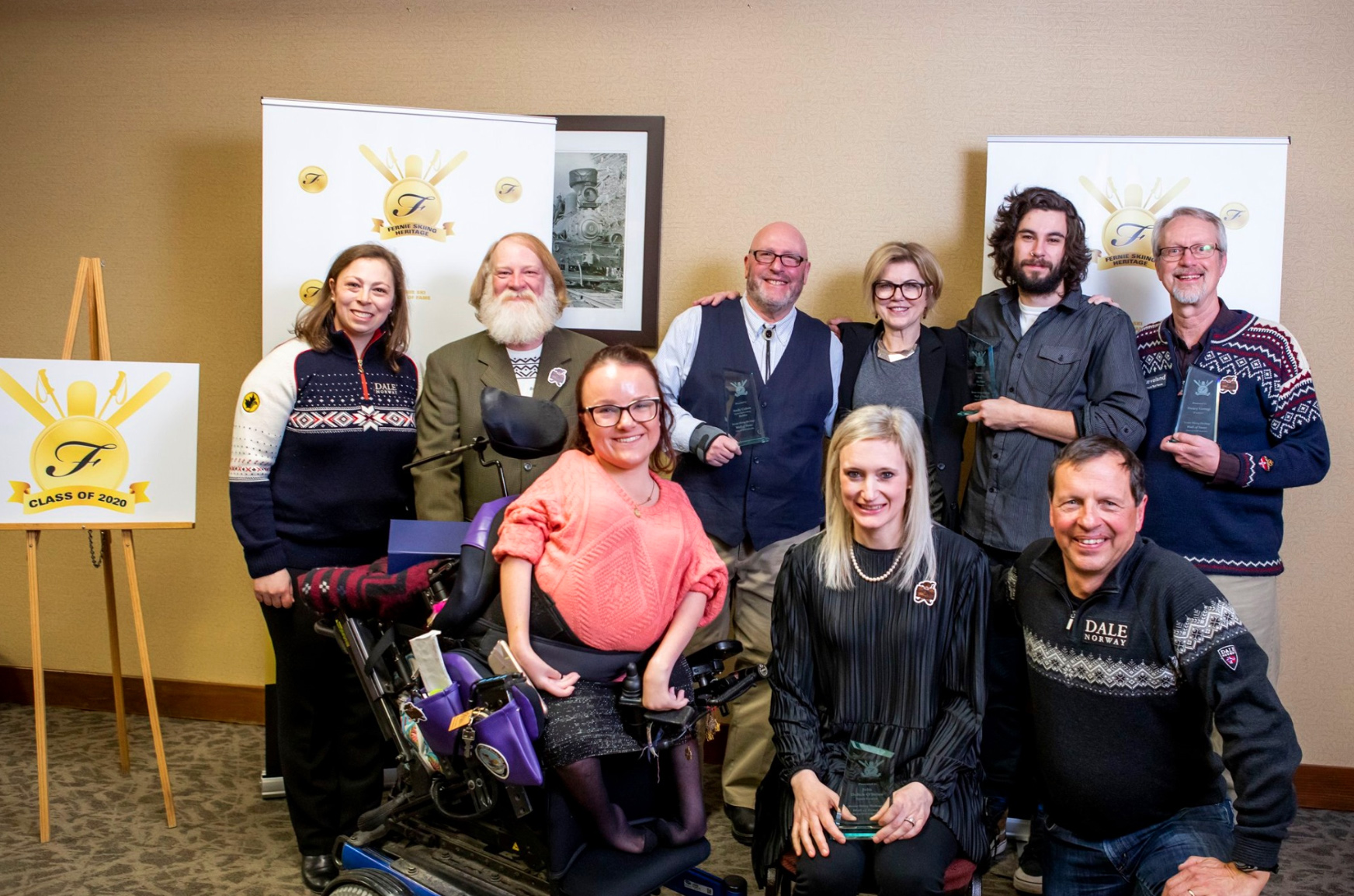 Front L-R, Grace Brulotte (Fernie Adaptive Ski Program), Julia Delich O'Brien (Canadian Alpine Ski Team, Denver University NCAA Ski Team), Chris Slubicki (Ski Coach, former Chair Alpine Canada, philanthropist)
Back L-R Danielle Sunquist (Canadian Skier Cross Team, 2010 Olympian), Scott Courtimanche (Fernie Adaptive Ski Program ), Andy Cohen (Fernie Alpine Resort and Fernie Adaptive Ski Program), Zuzanna and Garyk Simpson ( GRIZ and Ski Base Fernie ), Henry Georgi (Adventurer, Outdoor photographer)
The evenings presenters included Dave Rogers, Blair Craig, Dave O'Haire, Nic Milligan, Ian Stokie, Shirley Timm, Grace Brulotte, Scott Courtemanche, Chris Slubicki, Max Sherwood, Rod Geddis, Dr. Seagram, Sam Edney, Troy Maclachlan, and Dave Ellis.
All had interesting comments with Blair Craig saying he first heard about the Griz when Heiko was promoting Fernie at a Warren Miller movie. Then he told an amusing tall tale of a snow night far away on Snake Ridge when he heard loud laughter. It was three am and someone was on the top of the ridge charging through the trees shredding snow, when this figure got to the bottom he saw the silhouette of this huge guy covered in fur with an enormous musket on his shoulder ending with "that's when I knew the Griz was real."
Nic Milligan commented on Henry Georgi having 200 cover shots in Ski, Skiing, Paddle, Explore, Men's Journal, Canadian Geographic, and Powder Magazine. His photos have been world famous, he inspired generations of young photographers, his photos motivated people to embrace a mountain lifestyle, and he helped market Fernie as a ski destination.
All inductees received glowing commendations, Chris Slubicki was described as a "supporter of communities, a philanthropist and humanitarian. A long time ski coach and President of the Fernie Alpine Ski Team, his leadership developed the club to be recognized as the best ski club in Canada in 2007. He continued his leadership and dedication to the sport, serving on the Board of Alpine Canada. Chris was responsible for hiring Vania Grandi as the first female CEO of Alpine Canada and all sport organizations in Canada."
"Raised and educated in Fernie, Julia Delich started skiing at age two, learned the passion of skiing and skills at Fernie Snow Valley. She graduated from Fernie to the Provincial Team Canadian ski team. After memorable years with the Fernie Ski Team, Julia gained a spot on the British Team and then the Canadian Ski Team competing in Europe and North America. She enjoyed her personal bests and podiums, winning Nor Am downhills 1997, Julia elected to attend attended the University of Denver and was member of their NCAA ski teams. She was a four-time All American, each year at Denver and, was Captain of their NCAA Championship ski team in 2002. Upon graduation from Denver, she graduated with a Master's Degree in Business from Yale University. Julia is now living in Boston with her husband and four children. She devotes her time as a volunteer to their local ski club, working at ski swaps, being a gate keeper and keenly watching her children on race courses." Mike Delich says that following Julia success in Denver, nine other Fernie skiers were awarded NCAA scholarships in Vermont, New Mexico, Colorado, Montana and Nevada. No other ski club in Canada has had this many athletes join the NCAA.
"A dedicated athlete, skilled and competitive even as a youngster, Danielle Sunquist became involved in Fernie Alpine Ski Racing after attending a Fernie Snow Valley Racer Christmas Camp in 1995. She was in Fernie every weekend and occasionally during the week to train with Fernie athletes at the Pass Powder Keg in Blairmore. Head Coach Rod Timm recognized her passion for ski racing , her determination and athletic ability and the Return to Snow in 2011/2012 following a ski cross accident was directed by Rod. He helped her relearn to ski at a competitive level so she could return to the World Cup Ski Cross Circuit. Because of her skiing ability and success in racing she made the BC Team. She later switched to the Alberta Team at age 19. At age 20 she made the Canadian Development Ski Team for two seasons, the last of which was spent with the World Cup Speed Team. While involved with Alpine Racing Danielle represented Canada at two World Junior Championships, received the Nancy Greene award for top Canadian at the Whistler Cup and was on the Canadian Team at the Topolino International Race. She also had a third in the Canadian National Downhill and won two Super G Races at Panorama and Apex . In Ski cross Danielle represented Canada at three world ski cross championships , had 3 Nor -Am Ski Cross Podiums, had 10 top 10 finishes, a bronze at Grindelwald Switzerland in 2010 and represented Canada at the 2010 Olympics in Vancouver .
Danielle married Chance in 2012 and they have a daughter Brooke age 4 and son Austin age 2. She retired from Ski cross in 2014 and finished a Bachelor of Business at MRU in 2019. She says "I want to give back to FAST Athletes and try to create a lasting impression on their lives, like Rod did on mine, so I coach."
Acknowledgement was given to the new generation of leaders in the community dedicated to their goals:
Coach Rod Timm and the FAST team – at the Canadian Ski U16 Championships that were in Sun Peaks this past weekend
Gord Reese – International FIS Technical Delegate
Nathan Savage – athlete, at the BC, Western Canadian and National Nordic Championships
Sam Goodison, – Freestyle skier competing in Calgary this weekend
Seth Amundsen – number 1 ranked Free Skier on the Free Ski Circuit
Que-Vay Heavey (age 15) – Slope Style Skier, 9th in the recent Nor Am events
Andrea Byrne – Pro Athlete with Solomon Skis
Brylee Geddis – apparel designer for Arcteryx winter clothing in Vancouver
Nicole Galbraith – outdoor clothing designer MEC in Vancouver
Dylan Siggers – videographer and social media guru
International Snow Science Workshop (ISSW 2020) Committee that is bringing 1000 snow scientists to Fernie this October
Names of recipients for all three inductions will be exhibited in the Cornerstone Lodges ground floor hallway at Fernie Alpine Resort. The next induction for the Ski Wall of Fame will be in April 2022 which will be the 60 year anniversary celebration for Fernie Alpine Resort.
Special thanks to Mike Delich for organizing a great event to commemorate the dedicated and amazing individuals who have contributed greatly to the community.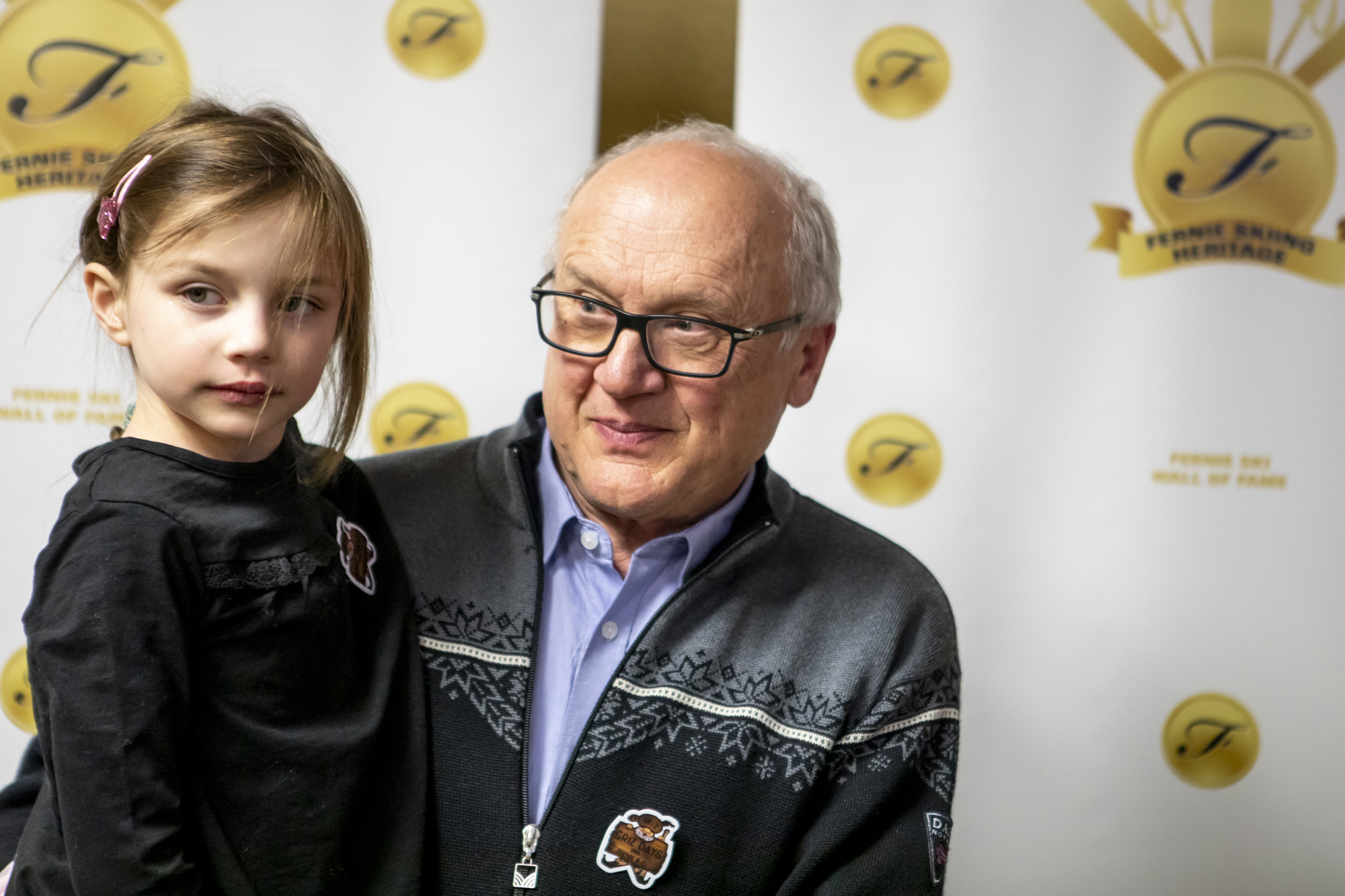 Mike Delich with grand daughter Elizabeth OBrien, from Boston.
Photos Matt Kuhn