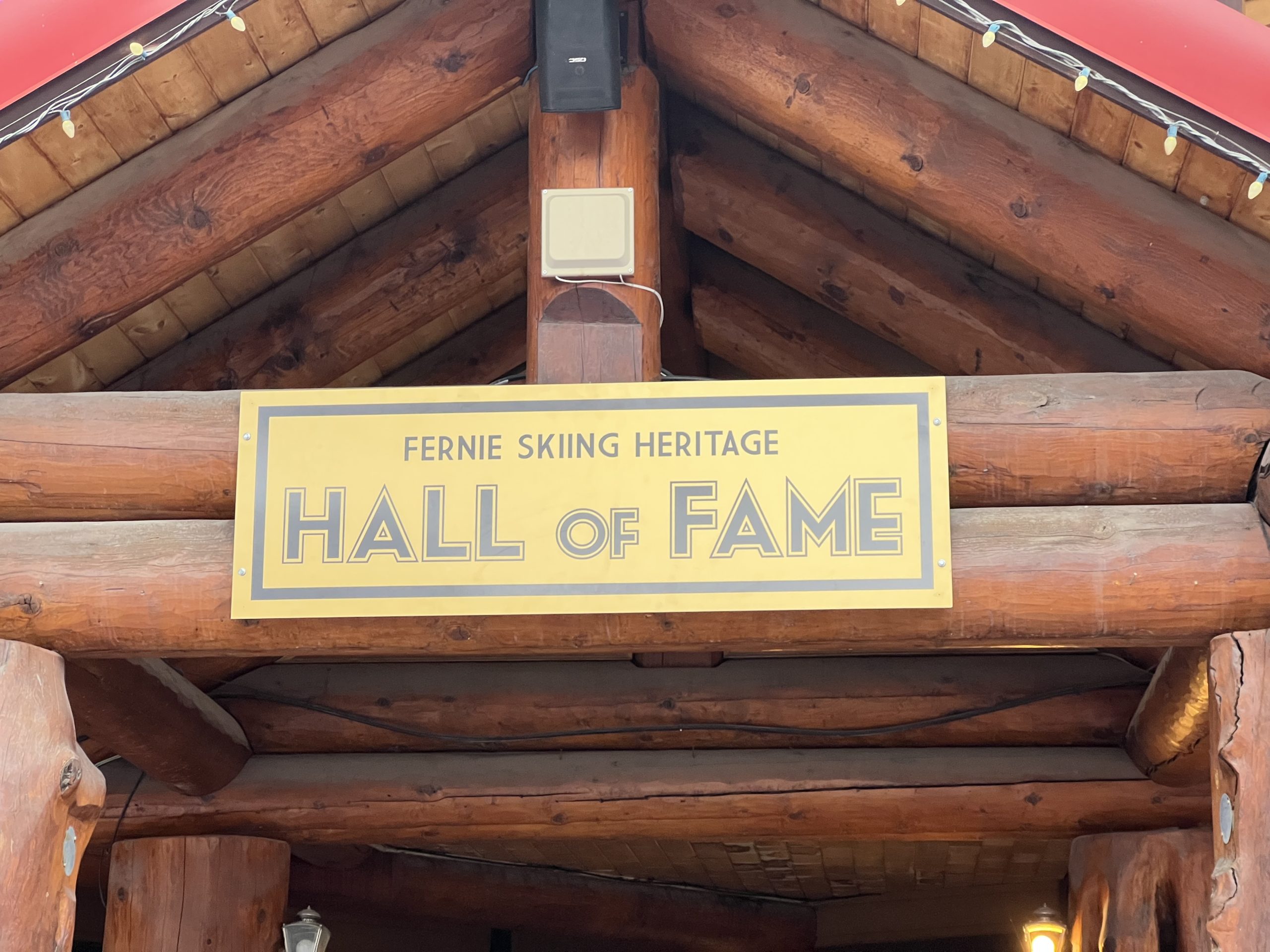 Friday February 10, 2023, had ski Fernie legends and enthusiasts gathered to honor inductees in the new home of Fernie Skiing Heritage Museum Hall of Fame.
Held at Slopeside Café, hosts were Lenka Hawrys and Karen Pepper. Lenka said this event was established in 2012 during the 50th anniversary of Fernie Snow Valley now Fernie Alpine Resort.
She provided a short introduction on her cohost stating that "Karen is originally from Ontario, attended Western University and was member of the Varsity Swim Team, she is a Sport Development Coordinator with Waterski and Wakeboard Canada. Husband Ian Larsen, is a builder of homes in summer and ski coach with Fernie Alpine Ski Team in winter. Their son Mathias, an avid skier is finishing his senior year at FSS, Karen is Marketing manager at FAR".
Karen then introduced Lenka who was "born and raised in Fernie, is a Fernie Alpine ski Team alumnus, coached by many of Fernie's best, graduated from FSS and University of Calgary. Recently started her own company, Spin Branding. Husband Dave Hawrys, a former Ski Patroller and dog handler at FAR is now undertaking avalanche control as a helicopter pilot with Ascent Helicopters, son Jack is a great skier with Fernie Freestyle and a big fan of the back flip".
In her welcome Lenka said Mayor Nic Milligan and Area A Director Thomas Mcdonald were unable to attend due to previous commitments. She then introduced former mayor Mary Giuliano , John Shea , President, Resorts of the Canadian Rockies, Mike Palamarek, President, Fernie & District Historical Society, Jim Takenaka, Fernie & District Historical Society, Rod Timm, Head Coach, Fernie Alpine Ski Team and his wife Shirley, Chris Ebbern, Program Director of Fernie Freestyle, Norm Fraser, Leader, Indigenous Initiatives, Teck Coal, Dave Morrison, CEO, Island Lake Resort Group, Wendy McDougall, Executive Director of Fernie Chamber of Commerce,Jikke Gyorki, Executive Officer Tourism Fernie, Barrie McDonald, former school trustee, Heinz Wexelbaum, German National Ski Team, top 10 result in Kitzbuhel and his partner Judy McMahon.
She continued "we would like to take a moment to remember those that have passed since the 50th anniversary and the 2012 induction. The Snowsports community has lost four friends, please take a moment to reflect on: Heiko Socher, Doug McDonald, Dan McDonald and Tom Stokie. Thank you Fernie Museum and to Fernie Alpine Resort for hosting the Hall of Fame."
Mike Delich and Andy Cohen were invited to express Words of Appreciation.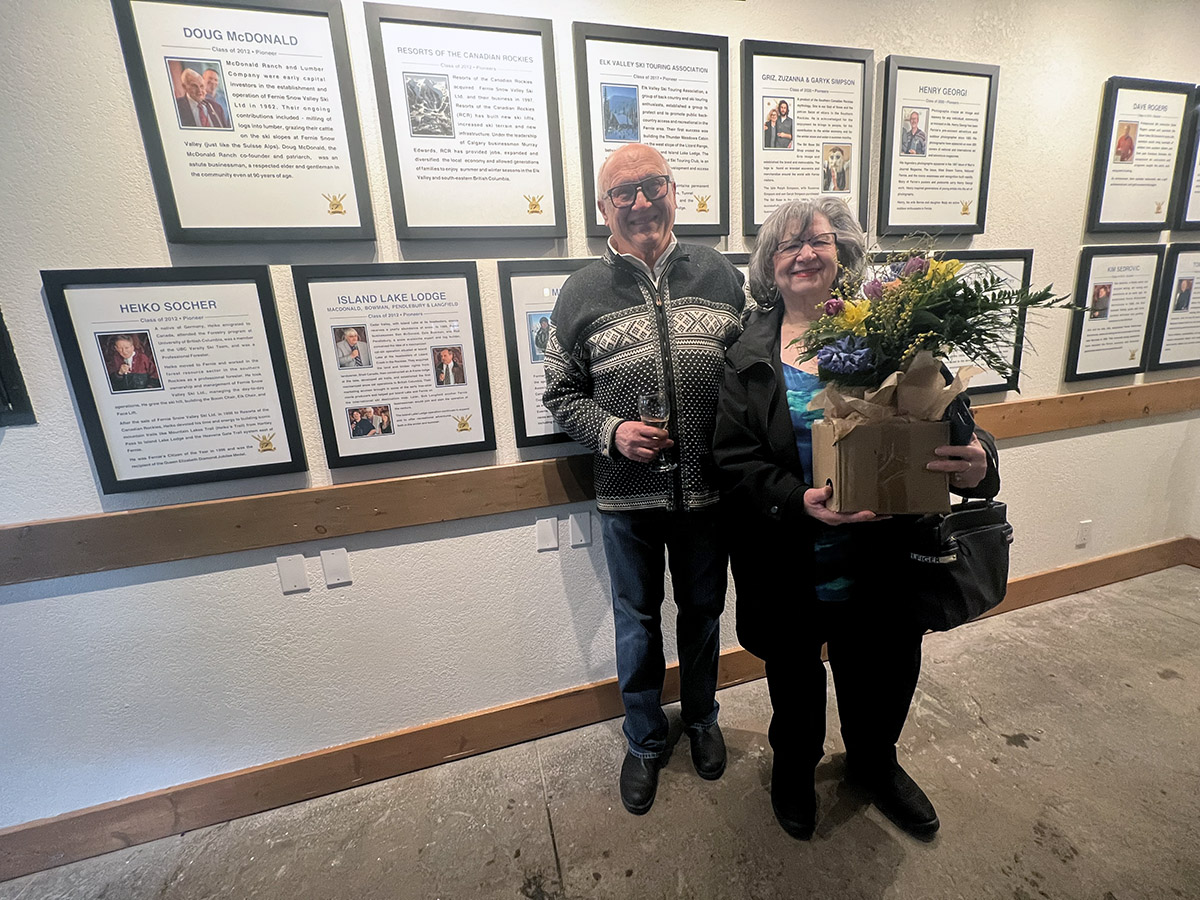 Mike spoke about a person who cared about greatly community and it was a total shock to hear my name called out. Andy presented me with a beautiful bouquet of fresh flowers. Mike went on to say that during my tenure there was something most people didn't know about. He went on to say that he had been present when Telus executives held a reception after completion of the installation of the high speed fibre network which at the time they said was faster than even Vancouver had and how I was the first mayor to accept their offer of this complimentary service ($10.5 million).
I had asked Telus why others hadn't accepted and they cited that the mayors believed it would be too inconvenient for citizens during the work to place fibre in the ground. It was my belief that whatever annoyance it could cause would be worth it to have that service in Fernie. Thank you, Mike, and Andy, for your thoughtful consideration of my contributions to Fernie.
Karen said the Hall of Fame, "was built on the foundations of Community Spirit & time spent in the mountains with friends and neighbours. Three celebrations have been held and now this permanent home showcases 30 inductees that have positively contributed to ski & mountain culture in our community."
There are three categories, "Pioneers, a category recognizing individuals, entities or institutions that built or started an enterprise, have contributed to the development of skiing in Fernie and have established Fernie with a strong skiing heritage in British Columbia.
Builders- This category recognizes individuals or entities who have contributed to the development of skiing and Snowsports in Fernie, have maintained a long-term dedication to the sport and have contributed to the proud heritage of Snowsports in Fernie.
Sport Leaders- is a category recognizing the athletes from Fernie who distinguished themselves in national and international competitive Snowsports and who have represented Canada at international events. In each category, inductees must have made a sustained & unique contribution.
Lenka then drew attention to individuals who have already been inducted into the Wall of Fame.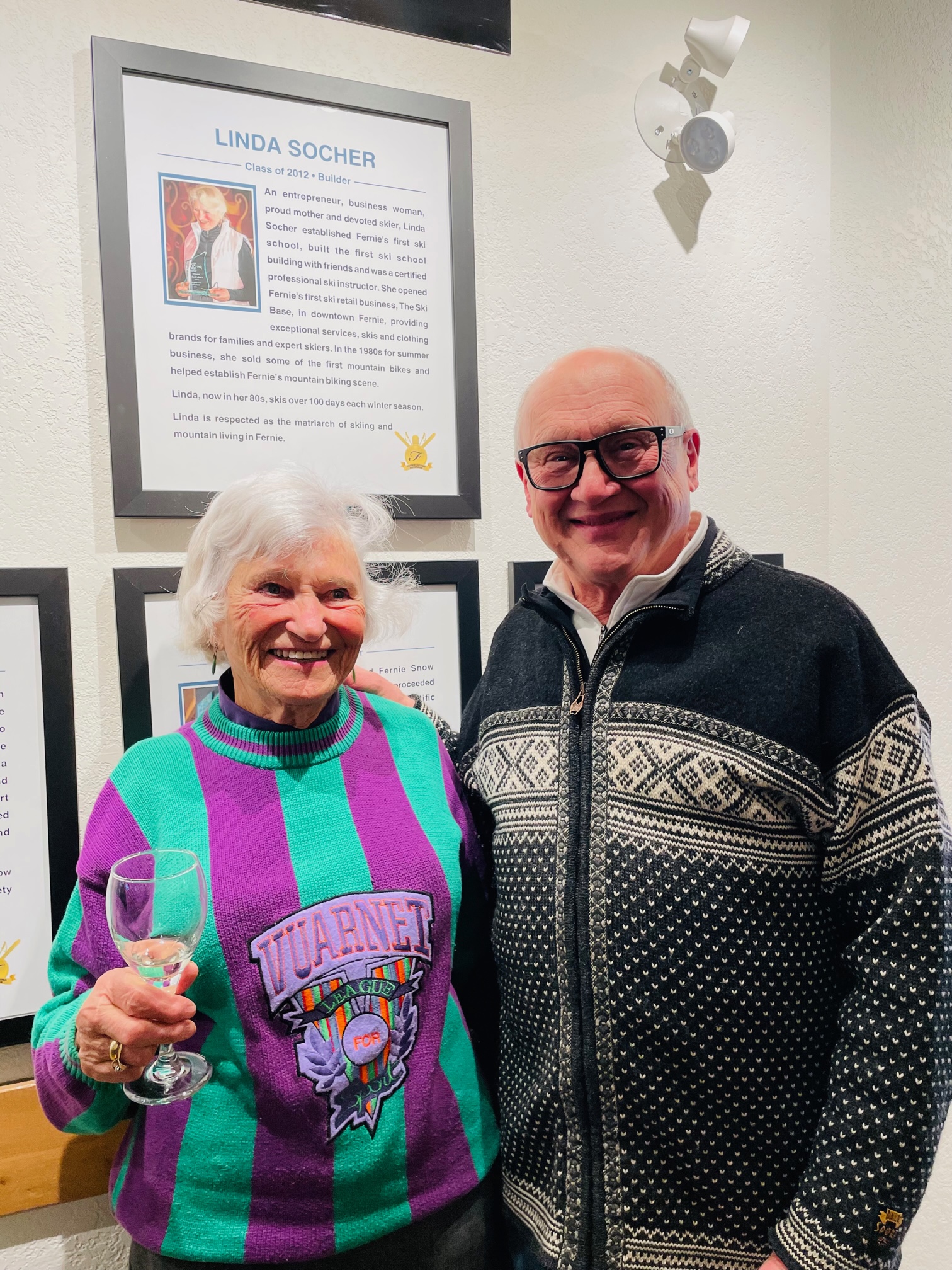 Firstly Linda Socher, entrepreneur, businesswoman, proud mother, and devoted skier. She established Fernie's first ski school, built the first ski school building with friends and was a certified professional ski instructor, she opened the first ski retail business in downtown Fernie, providing exceptional services, skis, and clothing brands for families and expert skiers, In the 1980's for summer she sold some of the first mountain bikes and helped establish Fernie's mountain bike scene, she still skis over 100 days each winter, she is respected as the matriarch of skiing and mountain living in Fernie.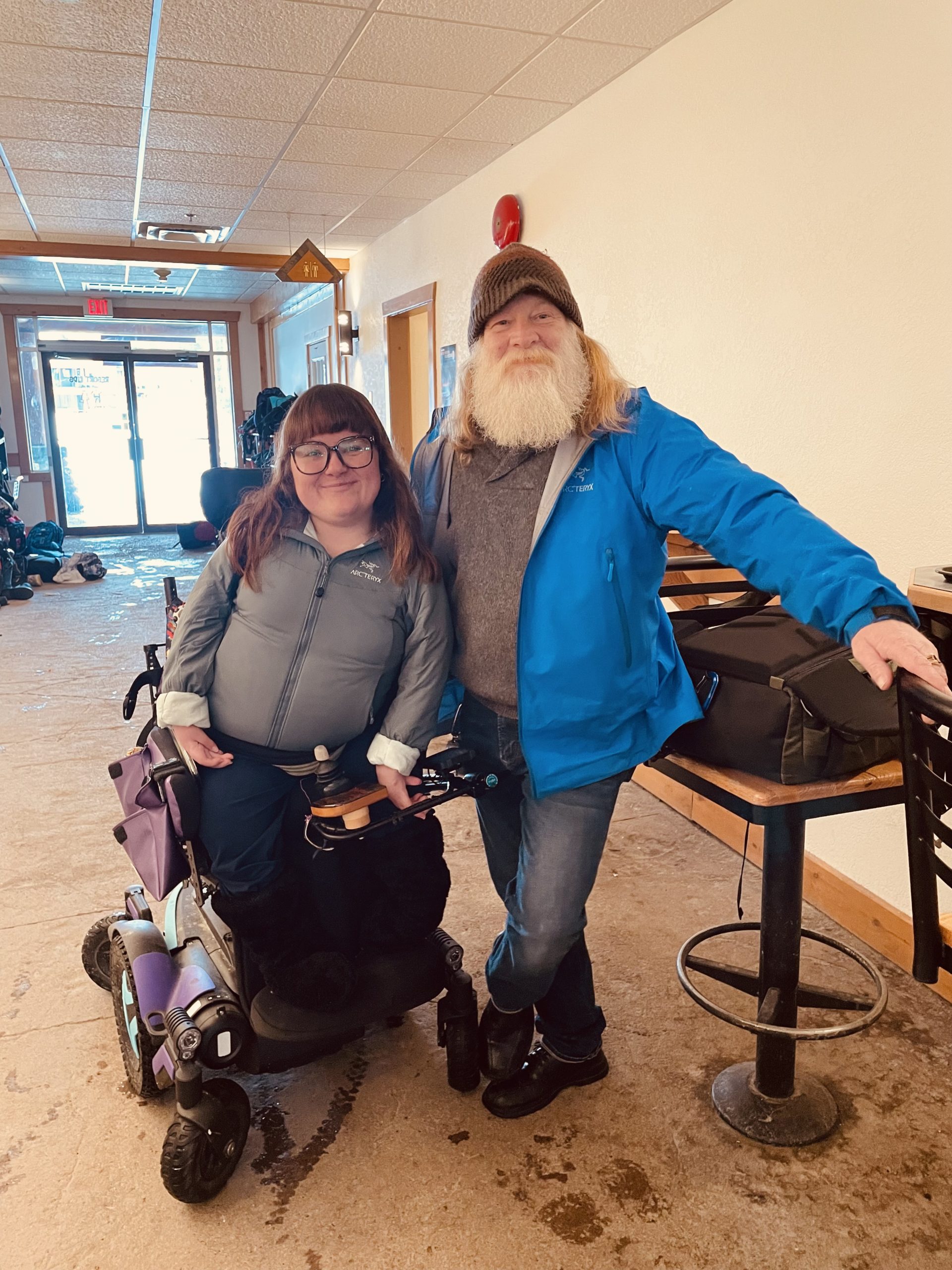 Karen then introduced the Sport Leader Category: Fernie Adaptive Ski Program, an inclusive organization helping all individuals to get access to snow sports and skiing. "Grace Brulotte, Scott Courtmanche and Andy Cohen made sure that all had accessibility to the outdoors and the activities that most take for granted. Accessibility hasn't always been easy for individuals with impairments or challenges. Grace Brulotte wanted to help all individuals with disabilities enjoy the snow sport of skiing, she sat in retail businesses sharing vision and raising funds. Rod Timm, Fernie's local ski coach supported the program with their first equipment of two sit skis. With Grace and Scott's unselfish donation of time, many youngsters and individuals have accessibility to snow sports and skiing in Fernie".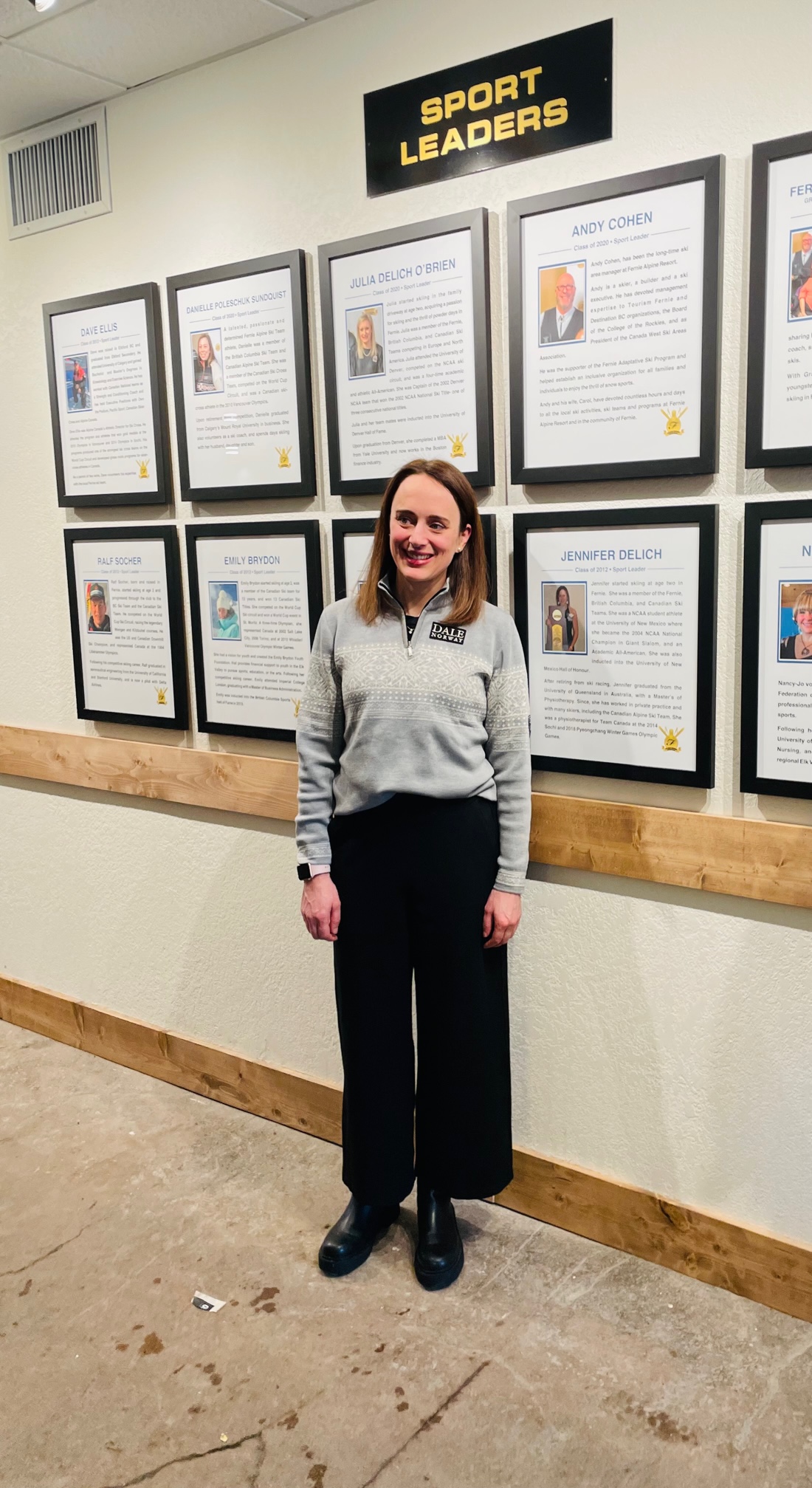 In the Sport Leader Category, a woman born, raised and now working in Fernie who has been recognized for competition Nationally & internationally. Karen said that in "any athlete's journey, they have 3 milestones in their career: A Personal best, a podium, and life after competitions. This Sport Leader is Jennifer Delich". Educated in the Ridgemont Elementary and Fernie Secondary Schools she obtained world class training and experiences, now back in Fernie practicing physiotherapy, helping people of all ages to stay healthy. Fernie is fortunate to have her and her skills in Fernie. Jennifer started skiing at age two, she was a member of the Fernie and Canadian ski teams and a NCAA student athlete at the University of New Mexico where she became the 2004 NCAA National Champion in Giant Slalom and an Academic All- American. She was inducted into the University of New Mexico Hall of Honour. After retiring from ski racing Jennifer graduated from the University of Queensland in Australia with a Masters of Physiotherapy. She has worked in private practice and with many skiers including the Canadian Alpine ski team. She was a physiotherapist for Team Canada at the 2014 Sochi and 2018 PyeongChang Winter Olympic games."
Lenka gave an acknowledgement to the "new generation of sport leaders in the community, who are dedicated to their goals of personal bests and podiums. There are numerous snow sport athletes currently competing and representing their sport.
Caoeme Heavy, a member of the BC Freestyle Team competing in Slopestyle. Travelling throughout North America, Slopestyle Events, winning NorAm competitions in the United States. This week she is Colorado. When in Fernie, she can be found helping her parents, James and Mary, in the Bean Pod, serving and selling their legendary chocolate.
Dylan Timm, a Member of the BC Ski Team, recently won an international ski race in Austria. Dylan is the son of the Rod and Shirley Timm. Their daughter Jessie Timm is also a ski racer and is a Member of the Kootenay Zone Ski Team and stood on the Podium this past week in Nakiska.
Katie Anderson, Winner of now 2 Freeride World Tour Snowboard Events. Earlier this month in Andorra and last year in Spain. Katie is the daughter of Anne Aitken, Fernie artist and co-founder of Polar Peek Books and John Anderson, long-time employee at Fernie Alpine Resort.
Sam Goodison, NextGen Moguls Team with Canada Freestyle. Competing nationally, in NorAm races & completed his first World Cup at Val St. Come in Quebec last month. Sam is a graduate of FSS, and an outstanding human and excels in the dual moguls.
Dylan Siggers, A Line sponsored athlete, and a filmmaker. Dylan has been nominated in two categories in the New Schoolers Awards for 2023. Skier of the Year and Movie of the Year categories. Dylan grew up at FAR, his father is Robin Siggers, the Operations Manager at FAR, and his mother, Helen Siggers. Dylan's wife is also a high achiever. Sophie Perrault is an LPN at the Fernie Hospital and was recently awarded the "Excellence in Nursing Practice Award", Award from BC Nursing. Fernie is lucky to have her here.
Dylan and Evan Marineau, twin brothers, who are both former Fernie Freestyle Athletes, on the Freestyle Canada World Cup Halfpipe team. Dylan most recently had a personal best, claiming 5th place at a World Cup event at Mammoth and they are guest coaches with Fernie Freestyle.
Ryan Oakden, continues his free ski career, with an appearance in the movie "Shaped By Wild", a documentary style movie supported by Arcteryx.
Ryan's segment is shot in Bralorne, BC and the movie will be screening tomorrow night at the Arcteryx Academy in Squamish.
Maddox Johnson, On Team BC Alpine Skiing and competing in the Canada Winter Games in Prince Edward Island. Maddox attends Fernie Secondary and his mother is Glynis who runs a small business in Fernie.
Fernie Nordic Club athletes competed in Kimberley last weekend at the Western Canadian Cross Country Skiing Championships, with some great top ten finishes.
Congratulations were extended to all athletes with Thanks to the clubs, parents, volunteers, and FAR.
Karen went on to Thank everyone for attending and supporting the Fernie Ski Heritage events. She also thanked the businesses who helped make this event happen, Wylie Wolfe – Kootenay Signs, Lori Bradish, Char Hornquist – Fernie Printing Co
Jim and Karen Oakden, Photographer Matt Kuhn, Vanessa Croome, RCR staff Andy Cohen and Jeff Boyd, and Mike Delich – for making this Hall of Fame vision a reality.
Lenka introduced 2017 inductee Dr. Geoff Seagram who has been an dynamic and dedicated ski coach for many youngsters. After his success as the first Pediatric Surgeon in Alberta and Chief of the 1988 men's ski events at Calgary Olympics and member of the Rocky Mountain Trauma Institute Geoff and wife Shirley moved to Fernie and embarked on his ski coaching career. Geoff coached young age groups and volunteered on race courses, he has been a valued mentor and supporter of post secondary education for former athletes especially in medical and health careers. Geoff has been recognised by the Pediatrics Residency program at Calgary Children's Hospital and was recipient of the Queen Elizabeth Diamond Jubilee Medal.
Lenka then called him up to say a few words. He thanked everyone especially Mike Delich and Andy Cohen and said that "we live in a special part of the world, we have all amenities and a very good small hospital, and I know as I have been a recipient of their services a few times".
The event ended with the unveiling of the framed photos of the recipients whose photo and information is proudly displayed beautifully on the wall of the hall. It was very moving to see descendants of some of the pioneers attending and standing next to the photos. Glen and Barrie Macdonald and family were there to stand next to their father who donated much of the lumber that built the original buildings. Glen made the comment that it had been his responsibility to haul all the lumber from his father's mill in Grasmere to the hill. A precious memory to be sure.
Congratulations to the inductees and families, thank you for all of your contributions.
By Mary Giuliano
Mary arrived in Fernie in May of 1953 and has lived here ever since, by choice, because she loves the Elk Valley and everything it stands for. Read more from Mary here.