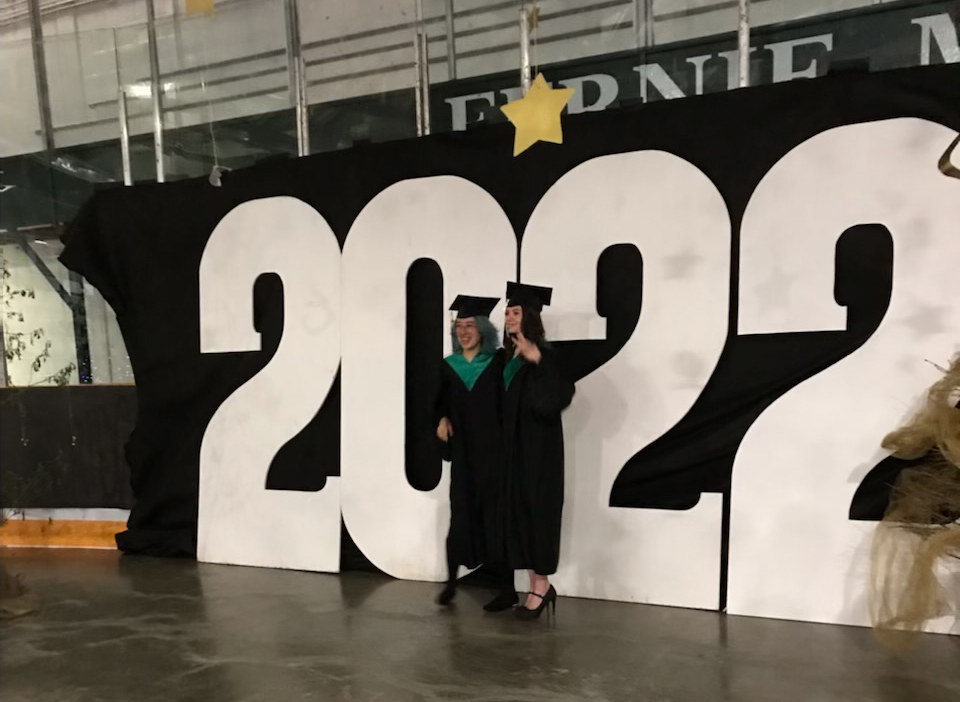 Fernie Memorial Arena was a sea of people, bright lights, trees and decorations on Thursday June 23, 2022 as the 2022 graduation class of Fernie Secondary School celebrated the end of one part of their lives and the beginning of another.
The event began with a processional by the graduates to their designated seats, followed by the national anthem. Master of Ceremonies was principal Erin Hay who introduced the speakers and welcomed Heidi Gravelle of the Tobacco Plains Indian Band. Gravelle was visibly moved as she spoke explaining that she had a child that was also graduating. In her speech she included that for each person there's two paths to follow, one being the traditional one that includes of how "You have been brought up and the other being your education. They will combine at some point and be the fuel to your success. Each one has something within you that will help get you to the success you desire."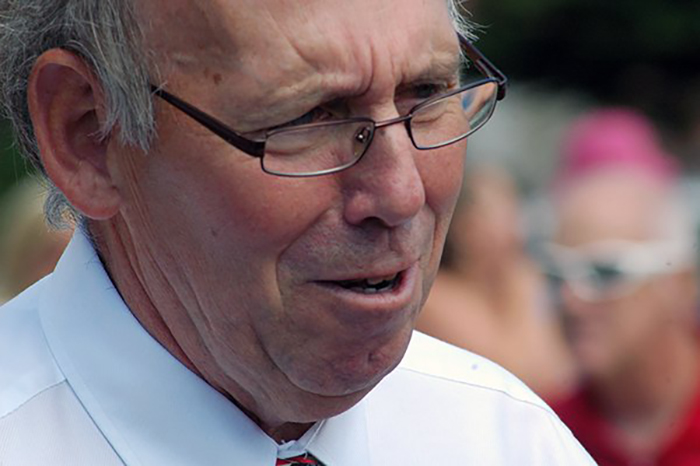 Next speaker was Frank Lento (pictured above), Trustee and Board Chair of School District #5 who said he was grateful to the educators and families for their understanding of the time during the pandemic, they had been nothing but extraordinary. He gave background on who he was, where he was born and his accomplishments which are many. He was fifty-five years an educator serving as vice- principal, principal trustee and chair of the board. He has a long history with Hockey Canada and has been inducted in the Canadian Hockey Hall of fame. His family has six generations of living in Fernie. He then added that in school he had never been a recipient of scholarships and his point was that for those that didn't get recognized with awards today it doesn't define what they can achieve in the future, that they still have ability to accomplish so have beautiful dreams today and tomorrow because you can succeed.
Mayor Ange Qualizza brought greetings and congratulations from City and the community saying there are good people every where so have fun and do all things.
Principal Hay said since this was a grade nine class she had sought after building positive relationships, it wasn't always positive, there were challenges but they loved making connections, and so she was honored to see them grow and mature into the young adults they are today. She said that "you shouldn't forget to appreciate family and your teachers who taught you, there have been many layers to support you to this day, you are a product of experiences that make you strong".
The presentation of certificates, scholarships and bursaries were read by Ms Rachel Romero and Mme Danielle Gibson, with each graduate called up and presented with their certificate and awards.
The Governor General award was presented to Sasha Kelleher and Valedictorian address was given by Ms Mataya Canlas, who said she was honoured to be chosen and that the class had reached an important time and soon would be thrown into the real world. She joked that she "would soon be stressed and homeless while her parents reveled in their newly felt freedom while she had to look for food. On a serious note she expressed her thanks to the many people who helped the class achieve where they were today, families, school staff and office ladies, coaches, custodians and bus drivers. Thanks to each special supporting group who was accepting of who each one you are, they have been our rock, thank you friends who were with us through all the times of joy and sadness, two years of covid where not kind to us, but we made it through to the end despite stress and loneliness. Life is not going to be easier but we must persevere , its now time for new beginnings, we are the future, let's be the change we wish to see in the world. Congratulations everyone.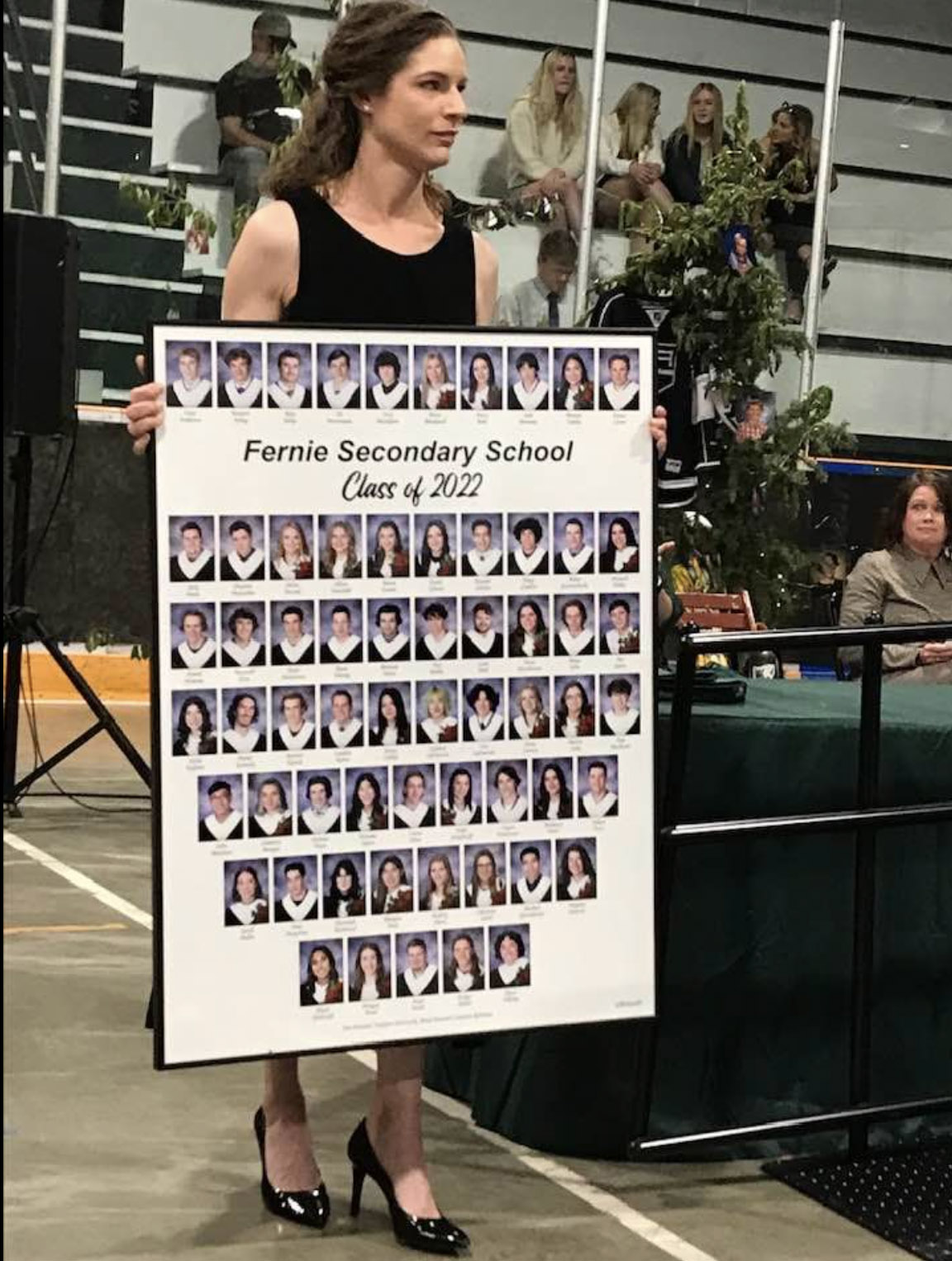 Students presented the composite photo of the grads to Principal Hay who then gave closing remarks and asked all the grads to come up to the front for the traditional hat toss and recessional.
The grad ceremonies began at ten in the morning and went very smoothly. The grads looked formal in cap and gown.
It was announced that all the trees would be donated for planting in the community. Thanks goes to the many generous donors of scholarships and bursaries awarded to graduates.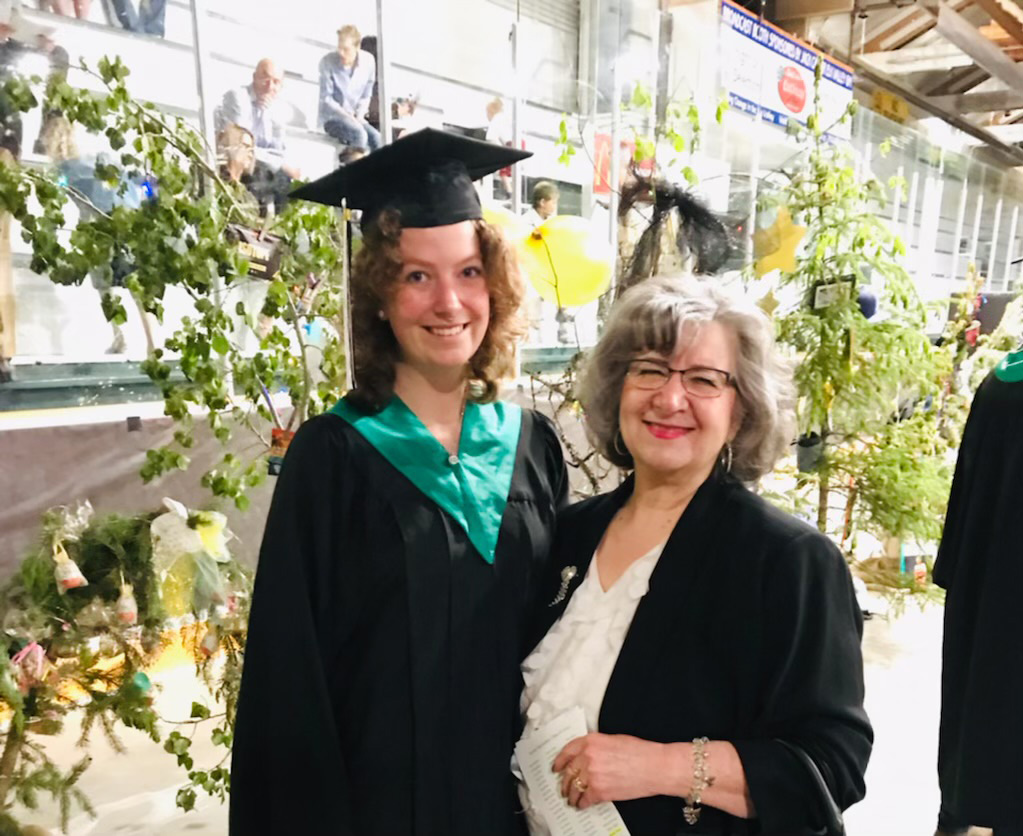 Three years ago, I received a request by the children of the late Dr. Sparling East and Mary East to present the award in their father's name. Having respected and known both it was an honor to do so. This year I presented the Dr. Sparling East award to Megan Stewart (photo above).
Congratulations and Best Wishes to all the Grads of Fernie Secondary School. May your future be bright and may you achieve all the desires of your heart.