Over 2,000 people showed up to the rodeo grounds on Labour Day weekend to the annual Fernie Demolition Derby to see dozens of specialised machines put on a smashing spectacular. However, with the lease on the rodeo land now expired and development plans being made, the future of the derby is uncertain. 'We have tentative places we could go, but we don't want to move out of town', says Rick Ganter, Lions Club member and long time derby organiser.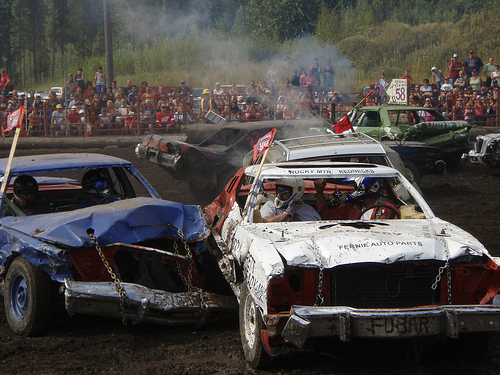 This year's derby showcased specially modified cars being pitted against each other in heats including SUV trucks, small cars and the ladies only powder puff. People of all ages came dressed in their creative derby outfits to show their support for this event which has now become a tradition amongst locals.
The Demolition Derby has been a Lions Club event since the early 1970s and is the biggest fund-raiser on their calendar. 'Without the derby our funds to support the community would be cut by 70 per cent, says Rick. These funds go to help support local groups and events including scouts, minor hockey, figure skating, family day and kids and seniors who need a helping hand.
Throughout the history of the derby, it has been held in a number of different locations including Hosmer and Coal Creek but has found a home in Fernie. "When it's so close to the town, you get people just walking in which means more numbers and less problems." says Rick.
The Lions Club have been speaking with the mayor and council members about finding new land for the derby and even about having a designated space for these sorts of events including rodeos and snowmobile races. Rick believes that these types of events are important to the community and that the council need to look towards a permanent solution, "We should have exhibition grounds in town, we need it."
The council have so far been unable to propose a suitable space that the Lions Club can use to keep the derby in Fernie. Unless this is resolved they will have no other choice than to move the derby to Hosmer or even cancel it all together. 'If the derby doesn't go ahead next year, we are going to have to come up with something else to raise funds and I just don't know what that would be,' says Rick.
This year's derby was a huge success as always with Marty Garret taking out the top prize. With dozens of cars well and truly demolished and hoards of happy people walking away, the dust settled on the rodeo grounds for the last time. Lets hope the derby can find a new home and that this well-loved Fernie tradition continues for years to come.
Here is a video of this years final round: