Fernie.com/blog is here for you to lay out some fresh text.
You the reader can now leave fresh text, photos, videos and audio on your own private blog.  Come join this exciting dimension of communication, blog now!
Here is a quick summary of new blogs to check out: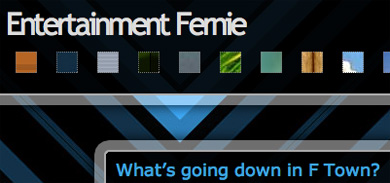 Entertainment Fernie
A weekly update on all things going down in F town.  A detailed down low on all bands, dj's, concerts, art shows and events visiting Fernie.  Want to know where to go this week?  Visit Entertainment Fernie today.
Off the Street
A written record of a year in Fernie.  Keith Leggett, a Fernie newbie, poetically recounts his thoughts, experiences and personal insights of all things Fernie.  If you are new to Fernie, or simply visiting, be sure to read this weekly blog.
Locals Report
Local tips on local conditions from locals who definitely know where to find the fresh tracks.  Be sure to check out this snow report before leaving home.
Burgers, Pizza & Chicken Wings
Yo bras!  If you're wondering where to get a pimpin' burger, a taut pizza or a few chicken wings, have no fear Kev is here.  Our decorated and distinguished burger, pizza and chicken wing critique is hot on the trail of the best, biggest and cheapest cuisine.  A must read, weekly restaurant showdown.
The what, when, why, where and how of Fernie.com/blog:
What?
Blogs are outreach tools.  They are important sources of news and information.  fernie.com/blog is a user generated website, they often provide commentary or news on a particular subject.
When?
Now!  You can read the blogs that are up and going or set up your own blog today.
Why?
Blogs are a way for you to communicate your opinions, your personal interests, upcoming events, business news and so much more.
Where?
fernie.com/blog
How?
It's as easy as 1-2-3.  Anyone can set up his or her own blog.  All you have to do is follow the easy steps provided for you on fernie.com/blog.
Create your own blog with custom graphics and upload everything from music, pics, video–you name it.  Lay out some fresh text now!