Winter is returning to the Elk Vally this weekend with two days of snow forecast and Mainroad Contracting is reminding everyone to please drive safe and to slow down and be especially cautious when approaching a highway maintenance vehicle. Please have a safe drive home following this especially wonderful holiday season.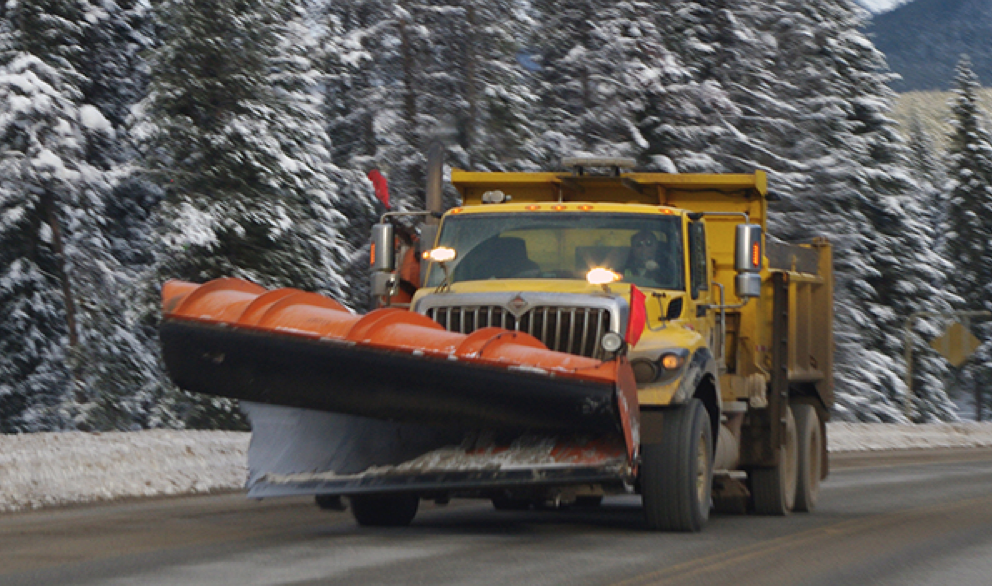 When drivers attempt to pass a plow truck, they put themselves, their passengers, the truck operator and the driving public at risk.
Keep a safe distance and always stay alert. Though you see the plow truck, the plow truck operator might not see you.
Mainroad Plow
– Drivers may not be aware that plows are wide and can extend across the centre line of the highway.
– On some highways and bridge structures, two or more snow plows may be staggered across multiple lanes with the plow in front pushing snow towards the plows behind. This is an effective way to quickly clear wide areas so we want to remind drivers to stay behind these plowing operations and to not try to pass.
– Snow plows and salt or sand trucks throw up snow and spray making it difficult to see. Snowplows have limited visibility and plow truck operators cannot see directly behind their trucks.
– Please give road maintenance crews room to do their work.
– Remember the road surface ahead of the plow hasn't been plowed yet therefore please slow down and be patient. The operator will eventually pull over and let you pass safely.
Please drive to the conditions, SLOW DOWN, and increase the distance between yourself and the vehicle in front of you.
Slow Down Move Over regulation protects roadside workers
Failing to adjust your speed appropriately or failing to move over can result in a $173 ticket and three penalty points.
Visit here for road and weather information. Report changing road conditions to Mainroad's 24 hour hotline: 1-800-665-4929.
Highway maintenance by the numbers:
3,673 lane kilometers;
Over 50 pieces of snow removal equipment;
Up to 100 employees during winter operations;
5,500 tonnes of salt in ten (10) sheds;
60,000 tonnes of winter sand;
106 bridges;
Over 700 animals are removed from the highways within the service area annually;
8,700+ call centre operation hours;
seven yards, 11,000 signs.
Mainroad Contracting is a division of the Mainroad Group, a 100% employee owned company providing road maintenance, products, and construction services for civil infrastructure works and commercial building projects. For comments and feedback you can visit them online at www.mainroad.ca.