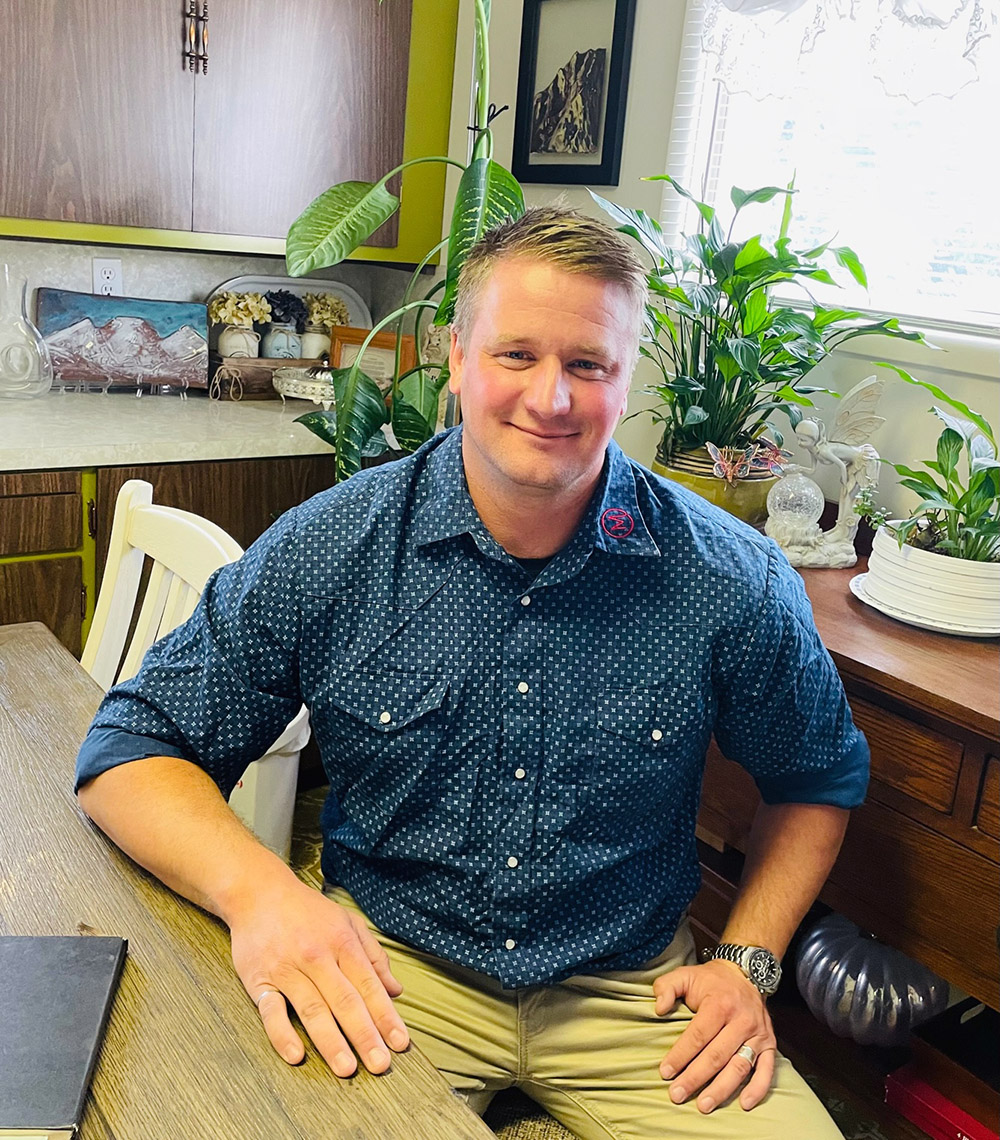 On meeting Thomas McDonald, you immediately notice two things, his good looks and the warmth emanating from his blue eyes. He's articulate, looks at you straight on and conveys confidence and insight. This might be the outcome of earning a degree in BSc Civil Engineering and starting his own business while in university. He is quick to add that his wife Holli has a degree in education and is a teacher.
Thomas said that he met Holli Dilts at the University of Alberta in Edmonton, in the gym. Thomas grew up in rural Alberta and he fell in love with Holli, a fourth generation Elk Valley resident, and during family visits to the area, he also fell for the Elk Valley's beauty and rural lifestyle.
Thomas was a varsity athlete while completing his degree at the U of A, a combination that for him reinforced the value of hard work and determination. Thomas is passionate about community and community building. Over the last 20 years he's built businesses, supported thousands of employees, and created legacies. Thomas and his partners bought buildings and turned them into restaurants and pubs, his core business was hospitality, and at one time they had 1200 employees. "I built my business from the ground up and was only possible with the support from my wife".
Thomas added that you can always make time to do something you want to do so during the seven years in university he built his business and later when he was traveling too much he "longed to return to rural life on a ranch". Five years ago, he did just that, moving his family full-time to the Elk Valley area so his children could also be raised rooted in a rural community, steeped in the values that are part of the lifestyle.
By this time, they were having their fourth and fifth child and so he opted to stay home and farm. "It's a way to raise kids with principles. Holli is a teacher, I'm very logistical but she is all love" he said. Adding that, "When my daughter was five, she said, "Dad you'd fight a lion for me." "That's how I want to be remembered, as someone who stands up for the people who need it the most."
Thomas is running for Area A Director to give back and use his talent for building community and ensuring the Elk Valley's character is not lost. He believes it's vital to protect the rural lifestyle for the next generation while at the same time, supporting smart, balanced growth. He knows that without any growth, services like education, health care, fire and flood protection, will be compromised.
Currently, Thomas farms full time in the Elk Valley and owns a seasonal campground on Lake Koocanusa. He and Holli own two farms, one in the South Country and one in Cokato. They are building their forever home in Cokato and will be raising their five children Soleil 13, Nixon 12, Medow 9, Winter 5 and Harrison 3 there.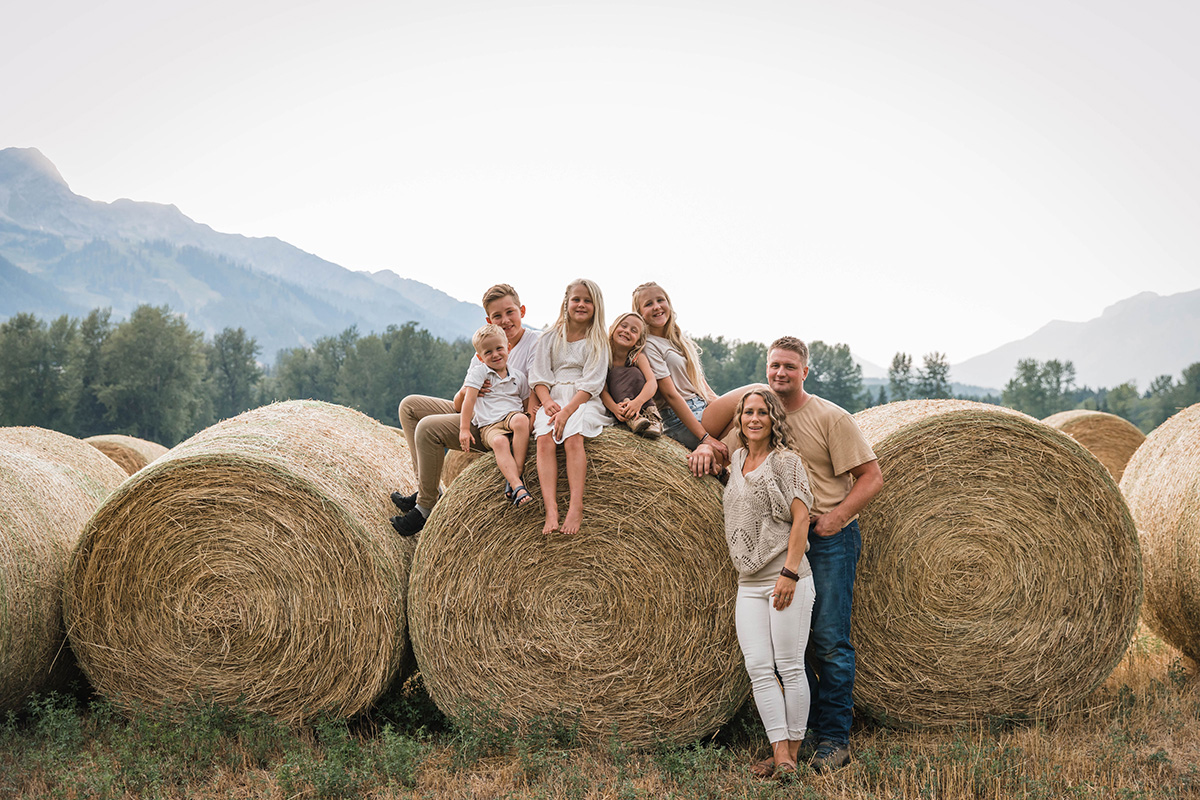 Thomas and Holli have 240 acres in Cokato and will be breaking ground soon. They waited four years for Hydro to bring services across the tracks to their property, then covid hit, and last year flooding in Cokato brought problems for homes in the area. Roads were washed out and broken and homes flooded.
Thomas loves helping his neighbours and they know they can count on him. During this time he got calls for help to bring his skid steer equipment. He went but although it was an emergency he wasn't supposed to drive equipment on the road so CVSE fined him six hundred dollars. He managed to get permission the next day and was able to help safeguard property. He cares about his neighbours and is always willing to help put up fence and selling their hay locally first.
Thomas says his children love it here because even before coming to live here they made regular summer trips to visit their mother's family. Today the children are busy with a variety of sports interests, hockey, biking, trail hikes, skiing, soccer, and baseball. The farm has chickens, donkeys, goats, cows, pigs, horses, dogs and cats. The kids are in 4 H, and when home from school, they have little time for screen time as, they have chores to do.
Thomas is passionate about running for the Area A director position, he has been attending meetings to immerse in learning what the job entails. His career began 22 years ago by partnering on a restaurant called the Globe in Edmonton, he also involved himself with many other pubs, music festivals, and Calgary stampede events working with the Big Hearted Mavericks Charity Event and other charities that helped children. He said he has no fear in a room full of people, he likes to "help the people that need it the most and organize others to give back". He was especially busy during Stampede week where he put up a festival tent and brought in famous musicians to entertain.
Thomas was born in Innisfail 40 years ago to dad Randy who was the owner of an insurance business, and mom Cathy, who was a nurse. His brother Tyler took over the family business to make it a third generation one. He has two sisters Kristine an engineer and Katie a teacher.
Thomas wife, Holli, was born in the Fernie hospital and has roots in the Elk Valley and South Country from the generations of Dilts that have made this area their home.
Although not currently an elected official, his work put Thomas in the political scene dealing and networking with politicians about political issues for several years. He says that he values what Mike Sosnowski accomplished as a director, one of the reasons he has sat at board meetings to learn.
I asked Director Sosnowski about Thomas and he replied that Area A is lucky to have a person of this caliber come forward and want to do the job of Director.
During my conversation with Thomas it became obvious that he is educated, has proven business skills and will be great at communicating with the public. He is also knowledgeable in farming and has vision for a future that is bright for area A that will continue the good work of previous directors and that will provide what his family and other residents of Area A want to see, keeping taxes low and protecting the rural character and lifestyle.
Best of luck Thomas McDonald!
By Mary Giuliano
Mary arrived in Fernie in May of 1953 and has lived here ever since, by choice, because she loves the Elk Valley and everything it stands for. Read more from Mary here.