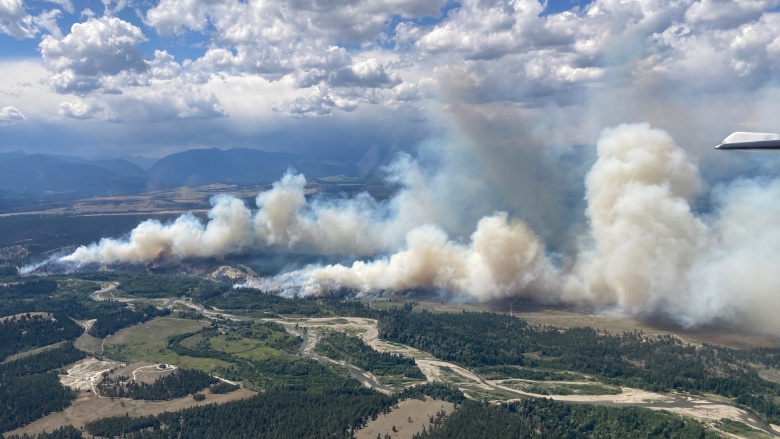 The BC Wildfire Service and the Cranbrook Fire Department are working alongside the ʔaq̓am Community – St. Mary's Indian Band and RCMP in response to the St. Mary's River Wildfire (N11805) located on the Kootenay River IR no1 and traditional territory of the Ktunaxa First Nation.
This wildfire is currently estimated to be 4,093 hectares in size and is suspected to be caused by downed powerlines. Fire size is based on the last known mapped size in hectares. The fire was mapped at 4,093 hectares as of Saturday morning and the size has not increased since.
As the BC Wildfire Service continues to make progress on the St. Mary's River Fire, which this afternoon was classified as BEING HELD, the RDEK is rescinding a number of the Evacuation Alerts.
"The RDEK is rescinding the Evacuation Alert for 667 dwellings in proximity of the fire. We are so grateful to the BC Wildfire Service for their tireless efforts throughout the past 12 days," says Information Officer Loree Duczek. "This is another positive step forward and I know residents who have been on Alert will be excited to hear this news."
Evacuation Alerts have been rescinded in the Wasa, Ta Ta Creek, HaHas (Stoney) Lake, Old Airport, Lakit Lake, McGinty Road, Clearview Road, Sommerfeldt Road, Woods Corner West, Campsall Road and Fort Steele areas, including Fort Steele Heritage Town and the Canadian Rockies International Airport. The full list of rescinds can be viewed at www.rdek.bc.ca.
Evacuation Alerts and Orders in the community of ʔaq'am remain in effect and details will continue to be available on their status on the ʔaq'am Facebook page.
The latest updates on the St. Mary's River Fire can be found on the Wildfire of Note page on the www.bcwildfire.ca.