As winter recreationalists unwrap new outdoor toys this Christmas, search and rescuers also have new gadgets to help keep everyone safe this winter.
Fernie and District Search and Rescue team has a new avalanche transceiver which hangs below a helicopter and detects avalanche beacons and RECCO safety reflectors buried under snow, allowing them to fly over an avalanche site and detect where people might be buried.
Search and rescue president Chris Thomas said the equipment allows rescuers in the air to identify a smaller area to be searched by a ground team.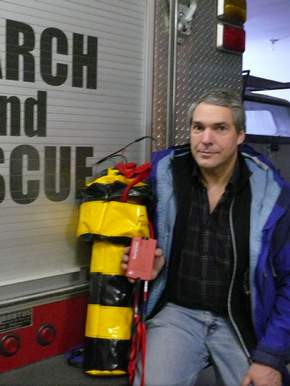 He added: "In the long term we are planning to put together a long-line helicopter rescue team. If there was an inaccessible place or a dangerous place that had to be searched, we could lower someone down on a line and they could dig while still attached to the helicopter. Then if anything happened they could be lifted out of there quickly.
"This would be a much quicker way to respond and potentially safer."
The team has also purchased simulators to help team members practice avalanche searches – and they are inviting community groups to borrow them for their own rescue practices.
Thomas said: "The boxes are buried underground and have beacons, RECCO reflectors and a probe detector. The simulation leader can control how many of the boxes are switched on so that the team has a realistic experience of searching in the snow."
Thomas said that the team's new equipment should not deter people from being properly prepared for their backcountry trips.
"Check www.avalanche.ca for the avalanche bulletin for your area before you venture out and be aware of your surroundings and the snow conditions. There are a number of avalanche skills training courses being run in the area at the moment and I was pleased to hear that a lot of people are taking them."
Thomas has visited local backcountry clubs to ask members to help improve knowledge of local avalanche conditions by reporting snow conditions to the Canadian Avalanche Association.
He said: "If we can get better avalanche bulletins for where people are going, it will be much safer for everyone."
Snow observations can be reported to Canadian Avalanche Centre forecasters at forecaster@avalanche.ca
The search and rescue team is now operating as a society again. Earlier this year the board of directors resigned due to fears of personal liability following a lawsuit against Golden Search and Rescue team.
Thomas said there are now only three directors on the board but the society is fully operational. The province has paid for directors insurance for search and rescue societies.
• Fernie and District Search and Rescue is a supporter of The Free Press Prepare to Love Winter campaign. We want you to enjoy winter activities in the Elk Valley by having the training, equipment and knowledge to stay safe at all times. To sign up as a supporter and enter our prize draw visit thefreepress.ca/prepare