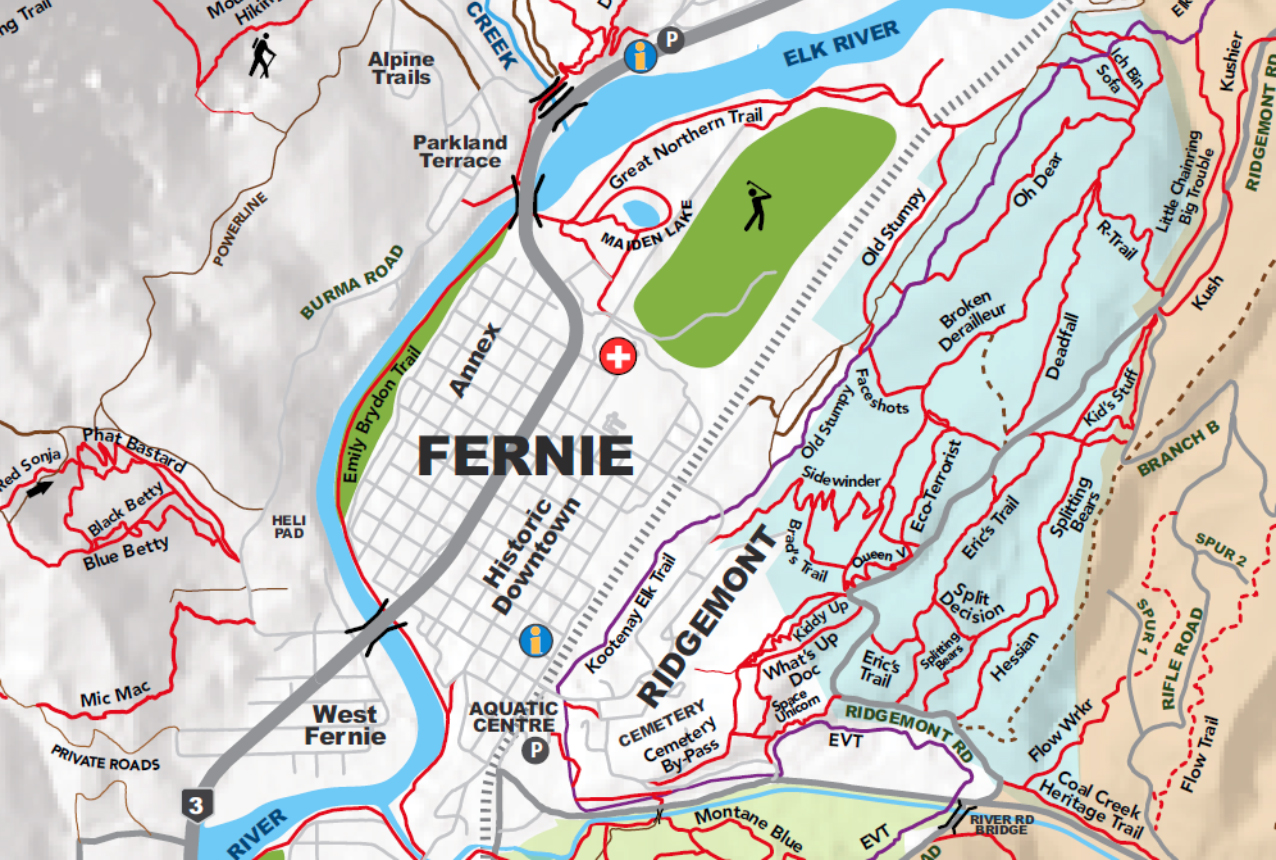 This is promising news from Parastone for trail users in Fernie. Parastone has committed to working towards a resolution with the Fernie Trails Alliance to reinstate public access to the Ridgemont trail network. The network remains closed to the public (see map above) until further notice.
See more on Ridgemont Trails Closed to Public
Here is Parastone's news release:
In the fall of 2019 a new trail was constructed on City of Fernie lands, adjacent to "Space Unicorn". The City of Fernie provided authorization to build the trail by hand construction. Unfortunately, the construction of the trail encroached 160 metres onto private land owned by Ridgemont Holdings and was constructed using an excavator into an area identified in the official Community Plan (Schedule J: Slope Hazards) as a steep slopes hazardous area. As a result, Ridgemont Holdings instructed Parastone to immediately restrict access to Ridgemont trails.
"Parastone understands the frustration felt by trail users," said Simon Howse, General Manager, Parastone. "However, this is the fourth unauthorized activity since 2017 and therefore the owner, Ridgemont Holdings, felt justified with their actions."
"We also recognize the value the various trail networks bring to Fernie residents and visitors. Parastone has constructed and supported many kilometres of multi-use, bike and cross-country skiing trails and will continue to do so. Our goal is to resolve this matter as soon as possible and work toward rebuilding the relationship between Ridgemont Holdings and the FTA."
Parastone has outlined to the FTA the necessary remediation work required by the owner, Ridgemont Holdings. Details of the request include that the FTA work with an approved third-party contractor and B.C. licensed Geotechnical Engineer to remediate all work.
"We are hopeful that we can reach a resolution and remediation can be completed in order to reinstate public access to Ridgemont Holdings' private lands," added Howse.
About Ridgemont Holdings LTD
Ridgemont Holdings LTD is a holding company owned and operated by the Pollyco Group of Companies. Pollyco is a residential and commercial development company formed in 1993, with offices throughout western Canada. Pollyco is currently working on over 5,000 acres of residential, commercial and mixed-use development properties in B.C. and Alberta, including town centres, shopping malls, hotels, apartments, townhouses, and single-family homes. In 2017, Pollyco engaged Parastone to be their community liaison and manage their local Fernie interests.