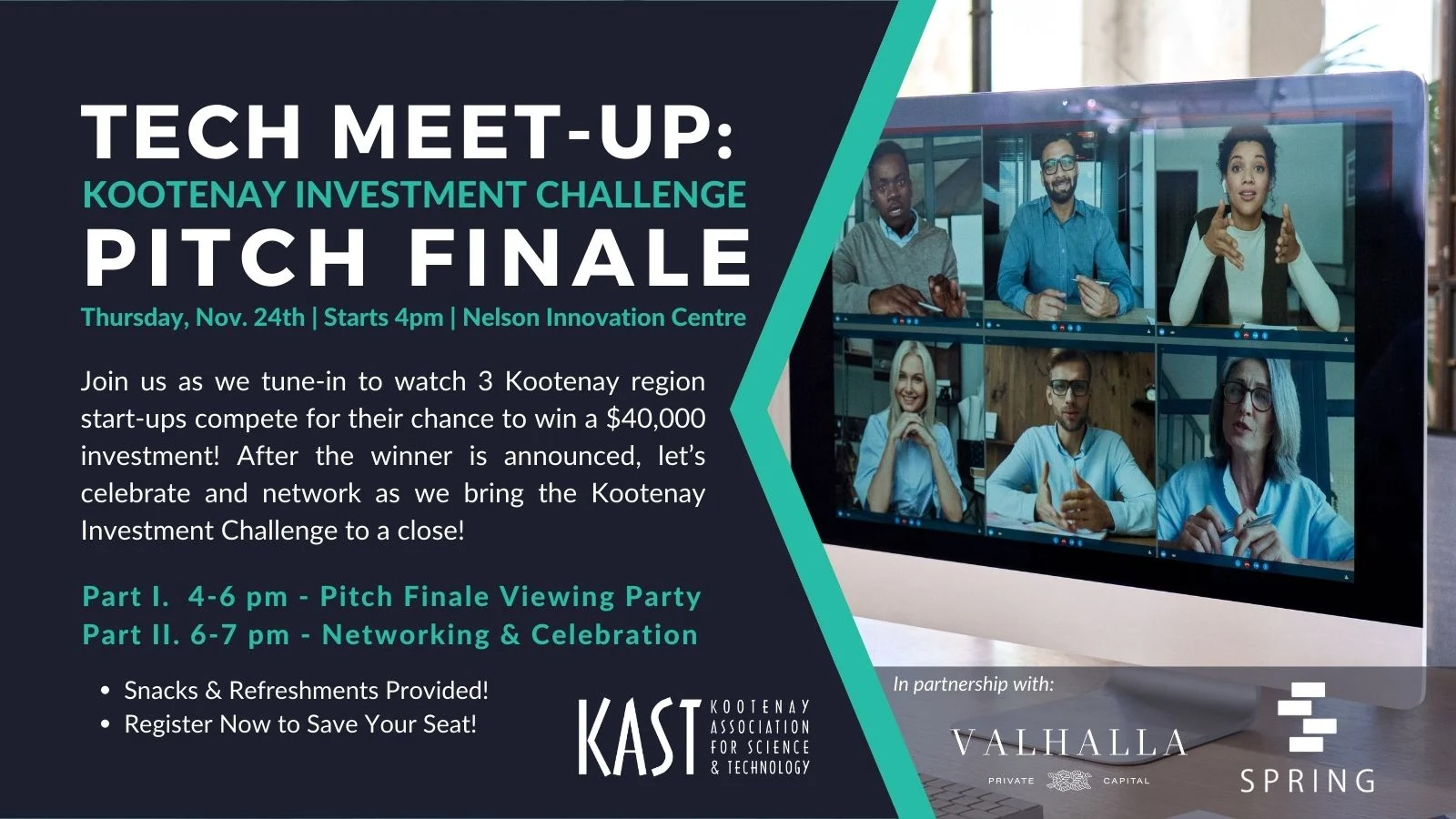 Cheer on your local entrepreneurs as they go head-to-head in the final pitch event of the Kootenay Association for Science and Technology's (KAST) Kootenay Investment Challenge. Starting at 4 pm PST on Thursday, November 24th, three tech startups will pitch their businesses to a group of Kootenay investors with the hopes of receiving a single investment worth over $40,000. KAST collaborated with Spring Activator and partnered with Valhalla Private Capital to bring the Challenge to the region to help strengthen the connection between Kootenay entrepreneurs and the local investment community.
Attendees can watch this FREE Pitch event in person at the Nelson Innovation Centre at 91-D Baker Street Nelson or virtually through Zoom. KAST will showcase the pitch event during their regular monthly Tech Meetup, scheduled at the same time. The combined pitch event and tech meetup will take place on Thursday, November 24th, from 4 – 7:30 pm. The pitch event will run from 4 – 6:30 pm, followed by an hour of socializing for in-person attendees. Registration is FREE, and you can sign up for the Zoom event here or in-person event here. In addition to watching the three live pitches, attendees of this event will hear from keynote speakers Randy Thompson and Keith Ippel. Thompson is the CEO and Chairman of Valhalla Private Capital, and recipient Angel of the Year for Canada twice. Ippel is Co-CEO and Co-Founder of Spring Activator with over 25 years as a leader in tech and impact businesses, where he has helped to accelerate companies, ecosystems, and raise over $30m in investments.
"It is fantastic to participate in KAST's inaugural Investment Challenge and see the knowledge gained by the startup founders and the investors." said….. "the finale will be an exciting one and one which I am sure other attendees will be wanting to write cheques for the finalists".
The Kootenay Investment Challenge is a place-based version of Spring Activator's successful Impact Investor Challenge. This Challenge allows regional entrepreneurs and investors to access a place-based investment readiness program. The two cohorts started the program separately, in either the venture or investor track, before coming together to work through the nitty-gritty of the due diligence process. The highlight of the Challenge will be when the investor cohort selects one Kootenay startup to receive an investment of over $40,000.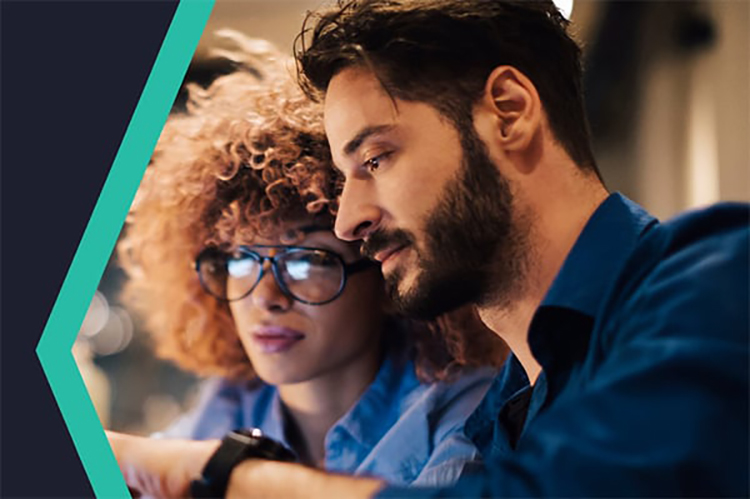 "It has been such a privilege taking the entrepreneurs and investors through this journey. They are building a community together, a community of startups raising locally and investors investing locally. It is just the start of a journey we hope many will also embark on after this inaugural program. Well done to all the entrepreneurs and investors who have participated in this exciting adventure over the past months. We hope you join us on Nov 24th to meet them all." Davina MacPhail Program Manager for the KAST Investor Challenge for Spring Activator
The Kootenay Investment challenge started with 7 Kootenay region startups vying for one of three spots in the final event. Join us at the grand finale on Thursday, November 24th, as we watch the Top 3 Ventures, Leeza Zurwick from Happy Gut Pro, Darren Peloso from VersaFile Inc, and Sami Majadala from CertiCraft Technologies Inc pitch their businesses to the investor cohort.
"It's been a joy to be part of the Kootenay Investment Challenge! It's been super cool meeting the rad entrepreneurs and investors in the area. In the Kootenays, being a huge rural area, it's been a challenge to connect with people passionate about startups, so I'm thankful to KAST for putting this program together and facilitating the creation of this entrepreneurially-oriented network of sorts." – Sami Majadla, CertiCraft Technologies Inc.
"I have found the Kootenay Investment Challenge to be an amazing experience. It has given us further insights into due diligence tasks, questions and expectations investors have. Doors have been opened to other connections, partnerships and growth opportunities and it's been eye opening to see how many other great entrepreneurs there are in our area." – Darren Peloso, VersaFile Inc.
To learn more about the Kootenay Investment Challenge and apply, please visit: www.kast.com/kic/