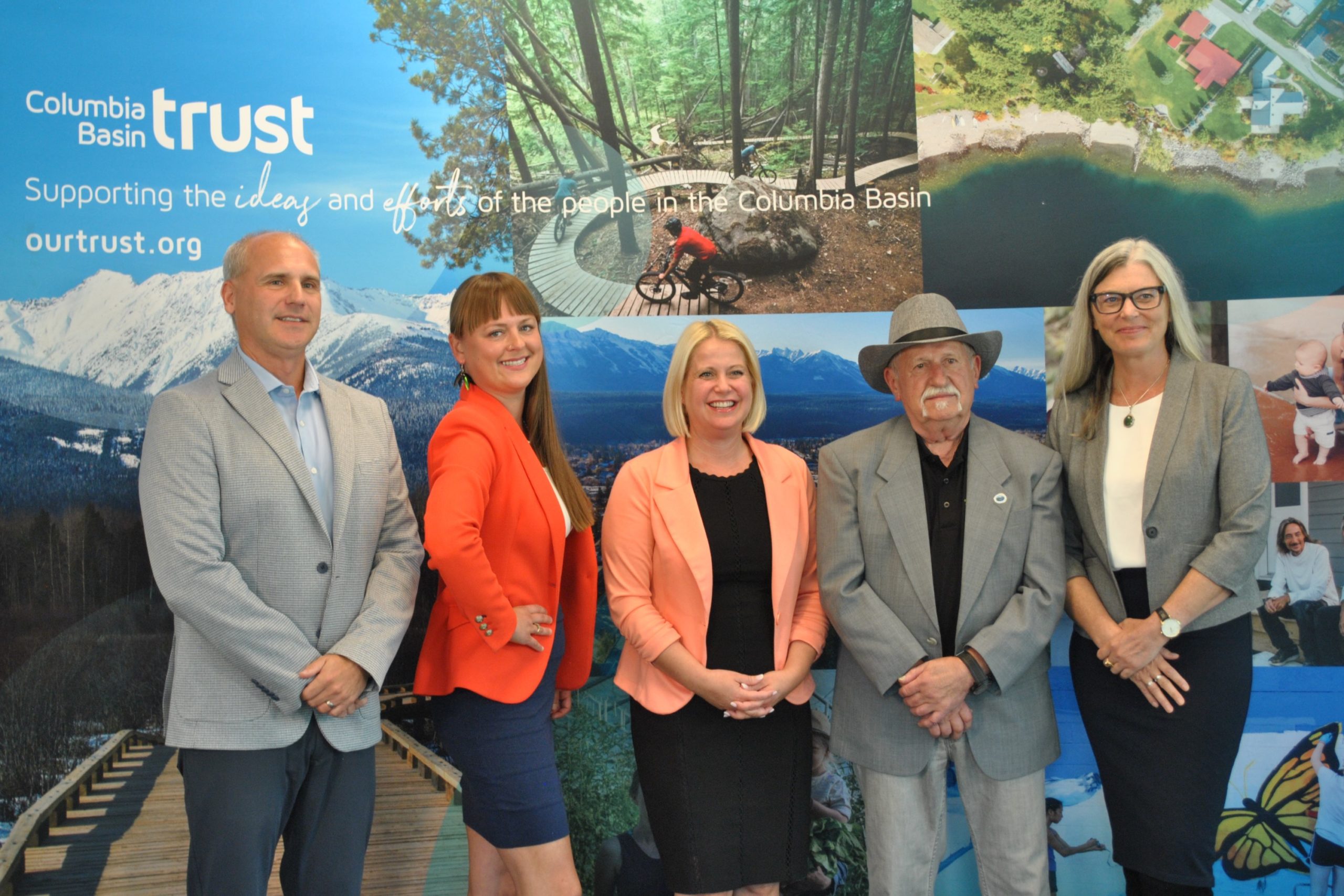 Funding has been announced for rural communities and areas in the Columbia Basin—encompassing 5,429 homes—to create access to high speed Internet. This new multi-year, $82-million project is being funded by the federal and provincial governments, the regional districts of Central Kootenay, Columbia Shuswap, Kootenay Boundary, East Kootenay and Columbia Basin Trust.
"The Internet is an essential service for all of society, but unfortunately, we still have areas of the Columbia Basin that do not have access to the same level of high-speed connectivity and reliability as more populated communities," said Johnny Strilaeff, President and CEO, Columbia Basin Trust. "The Trust is pleased to partner in addressing this gap and in helping bring fibre optic infrastructure to over 5,400 rural households across the Basin."
To better connect more rural households, this project includes some expansion of the Trust's current fibre optic network and will establish a last-mile network, infrastructure that Internet service providers can use to deliver high-speed Internet to rural communities and areas of the Basin. As communities are connected, people can get in touch with an Internet service provider to sign up for service. This project has an overall scheduled completion date of March 2027. First steps are finalizing project design and permitting.
"Connecting rural communities to affordable high-speed Internet service has been an ongoing vision of the Regional Connectivity Committee and our regional districts," says Southeastern BC Regional Connectivity Committee Chair Rob Gay. "We are deeply grateful for this significant infrastructure investment and know it will have a profound and lasting impact on our region."
The communities that will benefit include: Appledale, Baynes Lake, Blaeberry, Brandon, Burton, Caithness, Carrolls Landing, Cassimayooks No.5 (ʔaq̓am), Castledale, Donald, East Arrow Park, Edgewood, Elko, Erie, Fauquier, Field, Forde, Fort Steele, Galloway, Grasmere, Hall, Harrogate, Hills, Jersey, Kicking Horse, Kragmont, Lebahdo, Lemon Creek, Makinson, Mayook, Meadowbrook, Meadows, Moberly, Monroe Lake, Nelway, New Denver, Nicholson, Park Siding, Parson, Passmore, Perrys, Porto Rico, Roosville, Rosebery, Ross Spur, Rural Slocan, Rural Salmo, Silverton including Red Mountain Road, Skookumchuck, Slocan Park, Spillimacheen, Summit Lake, Sweetwater, Ta Ta Creek, Tobacco Plains (Yaq̓it ʔa·knuqⱡi 'it First Nation), Vallican, Wardner, Winlaw and Rural Ymir. For more details, visit ourtrust.org/CTB.
Here is the funding announcement from the federal and provincial governments:
All Canadians need reliable and affordable high-speed Internet, no matter where they live. The governments of Canada and British Columbia are bringing high-speed Internet access to underserved communities.

Today, the Honourable Gudie Hutchings, Minister of Rural Economic Development and Minister responsible for the Atlantic Canada Opportunities Agency, together with the Honourable Lisa Beare, British Columbia's Minister of Citizens' Services, announced over $58 million in federal and provincial funding for Columbia Basin Trust to bring high-speed Internet access to over 5,400 households in 59 rural and remote communities in the Columbia Basin area of British Columbia. Two of these communities are Indigenous.

This funding is part of an existing agreement between the governments of Canada and British Columbia. In March 2022, both governments announced a historic partnership to invest up to $830 million to connect households in all remaining rural, remote and Indigenous communities throughout the province to high-speed Internet.

Today's announcement builds on the Government of Canada's progress toward ensuring that 98% of Canadians have access to high-speed Internet by 2026, and 100% by 2030. The Government of Canada will continue to make investments in infrastructure to build strong communities and a more competitive and resilient Canada for everyone.
Columbia Basin Trust supports the efforts of the people in the Columbia Basin. To learn more about the Trust's programs and initiatives, and how it helps deliver social, economic and environmental benefits to the Basin, visit ourtrust.org or call 1.800.505.8998.
Pictured above left to right: Johnny Strilaeff, President & CEO, Columbia Basin Trust; Brittny Anderson, MLA for Nelson-Creston; Hon. Lisa Beare, Minister of Citizens' Services; Walter Popoff, Director Area H, Regional District of Central Kootenay and member of the Southeastern BC Regional Connectivity Committee; and Jocelyn Carver, Board Chair, Columbia Basin Trust.