When you arrive in Fernie, you've landed in powder paradise. What you may not realize is that you're traveling the Powder Highway. The Powder Highway (Crowsnest Highway #3) connects some the best powder skiing destinations in the world, in this special pocket of the Canadian Rockies.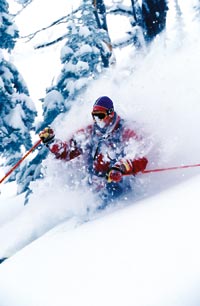 In recent years, Fernie has become a kind of powder "mecca", because of its fantastic snow and awesome terrain that it covers.
When you're experiencing powder in FErnie, you'll quickly learn that the terrain lends itself very well to powder. You're skiing the "hero snow" that is so renown locally – the deep powder helps increase your ability with less carving and more floating. It's a feeling unlike any other – and one that keeps skiers and boarders coming back year after year.
One of the outcomes of this unique snow crop has been the development of catskiing in the areas in and around Fernie. Catskiing was pioneered in Fernie by Island Lake Lodge, followed by Powder Cowboy and Fernie Wilderness Adventures. The appeal of catskiing is pretty clear – zero crowds, thousands of feet of untracked powder, and small groups of families and friends along for the adventure.
Whenever you find yourself in Fernie, if you are lucky enough to spend it in powder, you're in a paradise all its own. Welcome to the Powder Highway.