A 60cm snowfall was all it took to create a frenzy in Fernie and alpine skiers and snowboarders were solely accountable.
To put it in perspective, most locals and visitors are in Fernie for the powder and this has not been a stellar powder season. Sure there's snow but not epic days when the powders so deep that you choke on it. Saturday was the first really deep blower powder day of the season.
Nordic skiers, backcountry skiers, fat bikers and snowshoers were peacefully enjoying the beautiful snow in solitude and tranquillity with friends and family. They experienced no ropes, no lineups, no pushing, no crowds—just peaceful outdoor recreation.
Fernie's alpine Skiers and snowboarders however were in a very different state. They created a powder frenzy similar to a school of Amazonian Piranha feeding on a fresh carcass.
The frenzy began on the highway. Vehicles were lined up from Fernie Alpine Resort to the City of Fernie, that's 5kms of stop and start traffic. It took people over an hour to get to FAR and then they had to find parking.
The frenzy continued at FAR. Parking restrictions were in effect with staff however that didn't free up enough space for the urban push as the lots were full. Powder day parking has become an issue at resorts.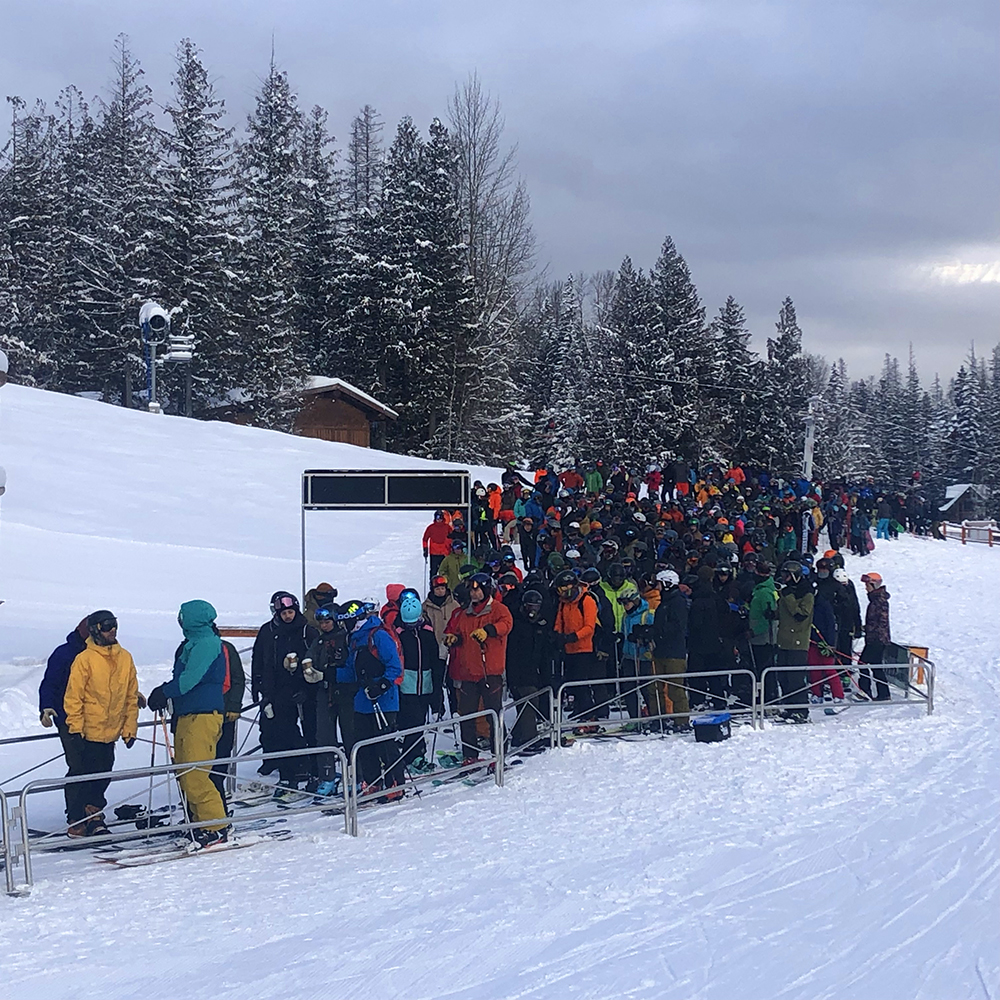 Many returned to town and those who found parking were lining up at the lifts. When the skiing's good the coffee shops are empty. Everybody was on the mountain and a large percentage of the 5000 plus skiers and boarders at ended up at Currie Bowl for the opening. Curry Bowl offers a lot of great terrain and was completely untracked.
The Currie Bowl opening, aka Currie 500, is already infamous and everyone has an opinion. Some like to charge and be in the lead and others wait for the crowd to clear and slowly ease in for their powder. Some of us have been run over, others elbowed in face. Fortunately it's all good fun.
Last Saturday was different, the crowd was bigger that anyone imagined, except for those who ski in Whistler or any major market US ski resort. Large crowds gather every powder day at those resorts.
It was a frenzy—however a happy and fun frenzy. Nobody was hurt and everyone got to play in the deep powder that they search for and cherish.
Hopefully we'll get a few more days of deep blower powder this season and preferably without the frenzy. The Griz is obviously happy with his celebration starting this week, things are good in Fernie!