In honour of World Environment Day, the Nature Conservancy of Canada is announcing a new conservation project in the Elk Valley. The 43-hectare (106-acre) conservation area protects land in an active wildlife corridor used by grizzly bear, elk and other wide-ranging animals.
"The safe movement of large mammals through the valley-bottom land is essential to their long-term viability in the Elk Valley," said Richard Klafki, Canadian Rockies Program Director for the Nature Conservancy of Canada. "We were excited by the opportunity to close a gap between provincial land and other NCC conservation lands. Building connectivity between protected and provincial land is a key strategy for strengthening conservation in this region."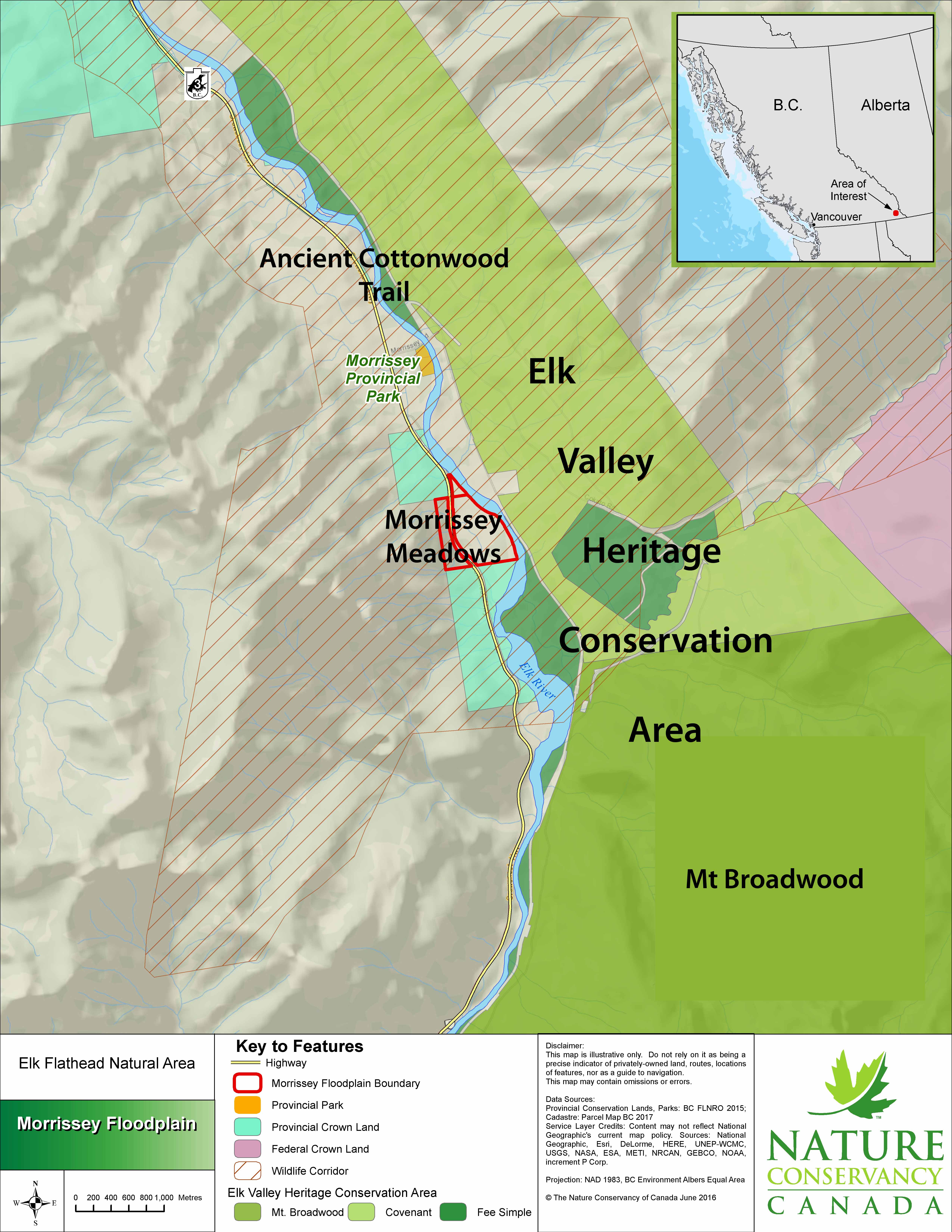 Located along Highway 3 in southeastern BC, the property is situated south of Fernie and connects a vast expanse of provincial land to the west with NCC's Elk Valley Heritage Conservation Area to the east.
The former homestead of the Fitzen family was acquired by the Nature Conservancy of Canada as a partial donation and partial land purchase, facilitated by Deb de Hoog, granddaughter of Charlie and Ruth Fitzen, who lived and farmed on this land for most of the last century.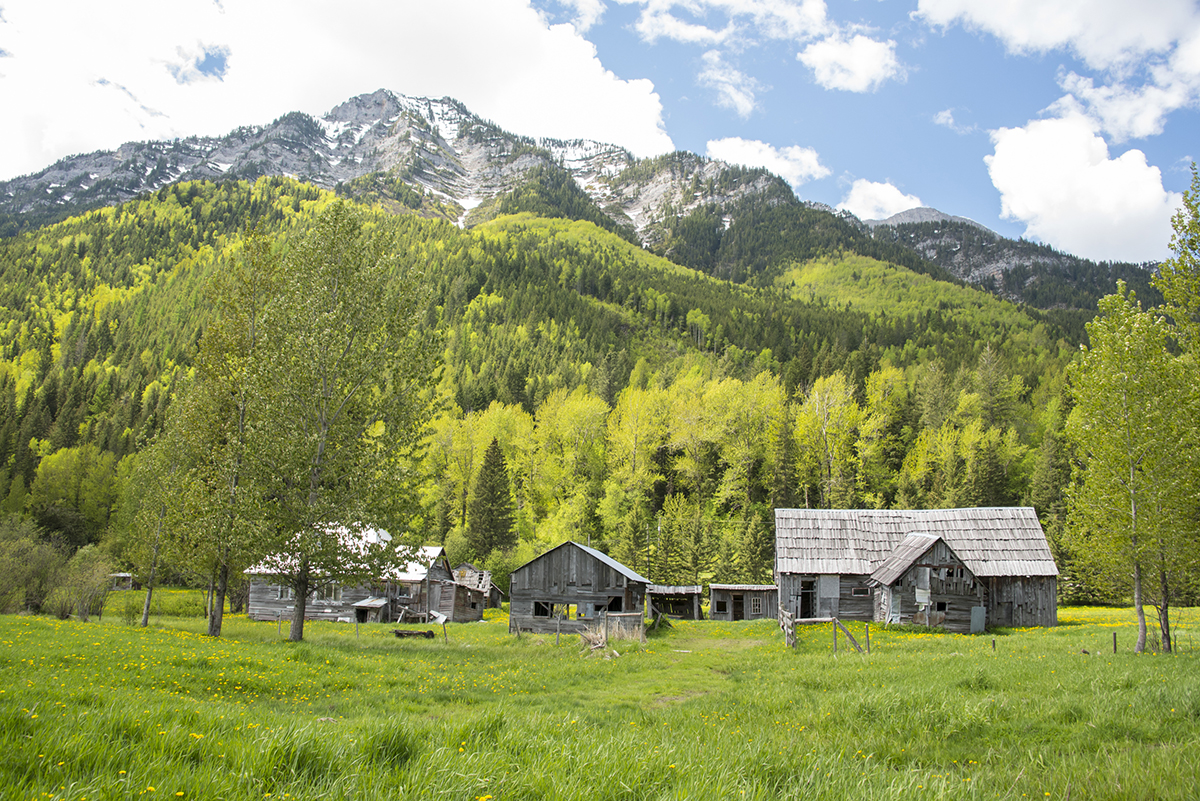 A community event will be held on Morrissey Meadows on Saturday June 23, from 11 am to 2 pm. The public is invited to join NCC staff and project supporters for a celebratory barbecue on the new conservation area. Guests will have a chance to tour the land and learn more about its ecology, history and future use.
The Morrissey Meadows Conservation Area is frequented by grizzly and black bear, mule and white-tailed deer, elk and moose as they travel across the Elk Valley. The Elk River flows through the conservation area, creating meandering, braided wetlands that provide vital spawning and rearing grounds for fish.
Five wildlife species known to use the conservation area are designated species at risk by the Committee on the Status of Endangered Wildlife in Canada (COSEWIC): grizzly bear, American badger, little brown myotis, bull trout and westslope cutthroat trout.
This conservation project enhances a globally-important network of conservation and provincial land that continues to support the full complement of wildlife that have inhabited the region for thousands of years. By securing this valuable valley bottom piece of land that links provincial land with the Nature Conservancy of Canada's Elk Valley Heritage Conservation Area, the acquisition of Morrissey Meadows enhances this network of protected lands in an important wildlife corridor.
This conservation project was made possible through the Government of Canada's Natural Areas Conservation Program. Generous funding contributions were made by the Fish and Wildlife Compensation Program, the BC Conservation Foundation, the Fitzen family and Ellen Almond Stuart. The U.S. Fish and Wildlife Service (under the North American Wetlands Conservation Act) also provided funding.
Homestead Facts:
About 70 per cent of the conservation area is mapped as core grizzly bear habitat.
The conservation area also contains mapped moose and elk winter range.
Waterfowl that use the wetland areas include hooded merganser, mallard, Barrow's goldeneye and common merganser.
There are mature spruce and cottonwood forests on the property, with an average age of 100 years.
Old farm buildings remain on the property, including the original chicken coop built in 1926.
The property's location near the popular and fast-growing city of Fernie put it at risk of intensive development had it not been purchased for conservation.
About The Nature Conservancy of Canada
The Nature Conservancy of Canada is Canada's leading not-for-profit private land conservation organization, working to protect our most important natural areas and the plants and animals they sustain. Since 1962, NCC has helped to protect more than 1.1 million hectares (2.8 million acres) across the country, including almost 400,000 hectares (1 million acres) in British Columbia.
The Government of Canada's Natural Areas Conservation Program (NACP) is a unique public private partnership to accelerate the pace of land conservation across southern Canada. The Nature Conservancy of Canada manages the program. Federal funds are matched by contributions raised by NCC and its partners. Habitat conserved under the NACP enhances natural corridors and other protected areas.