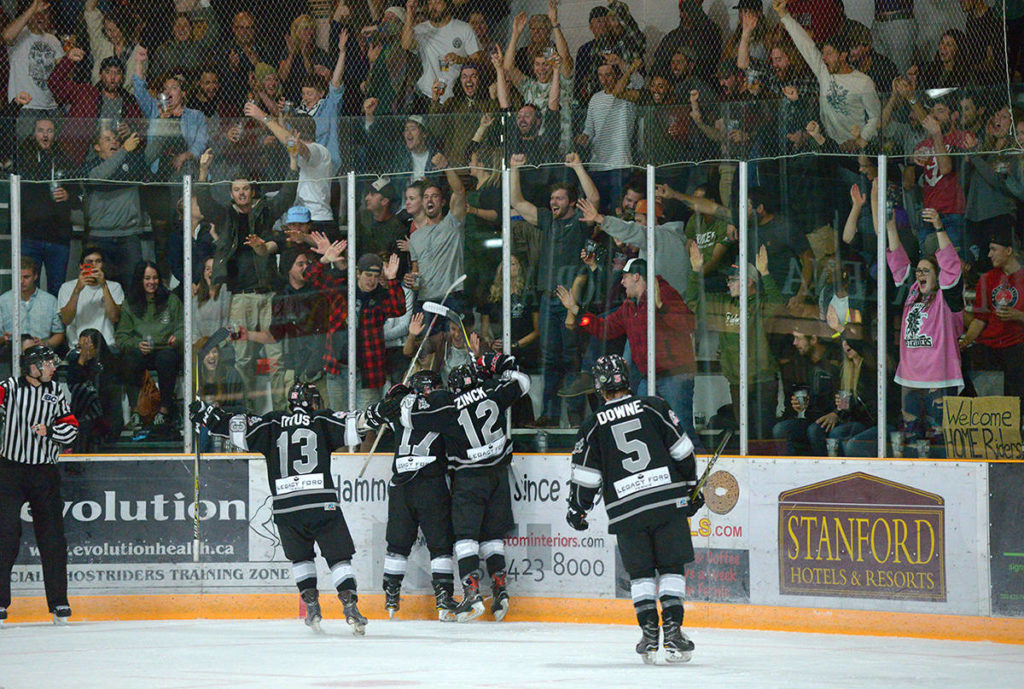 The Fernie Ghostriders got three of a possible six points on the weekend that gives them a little bit of space with the Creston Valley Thunder Cats sitting just behind them. The future is uncertain but the end is near!
So the big question is…will the Columbia Valley Rockies finish in first, or will Kimberley Dynamiters overtake them?

See the full league standings here.
I think the Riders match up better against the Rockies…but the blood thirsty fans want something completely different (explanation for Kimbo fans, that means you Fernie fans) and a Riders / Kimberley series also keeps the trigger happy KIHJL discipline committee in the spotlight…look at us, we mean business, yeah whatever.
Most of the suspension penalties are cumulative so just when you hope the games are at their most intense…they have an answer for it.

Nelson 5 @ Fernie 1
To me Nelson is the best team I have seen this year, but they aren't perfect and the if the Riders got an A1 defensive game and an A1 goaltending performance they could give them a go in the playoffs… if it ever got to that point… The Riders didn't have those attributes or much else going for them last Friday.
Fernie 5 @ Golden 6 in a Shoot Out
In Golden the Riders had a 5-2 lead in the third but allowed a power play and two even strength goals that gave the Rockets the tie and a chance to win in the shootout and they did… It was a point on the road but probably a quiet four hours on the bus afterwards.
Grand Forks 2 @ Fernie 4
The Bruins were just what the Riders needed and the two points could end up being very important… but I think the Riders will end up in third anyway…

Notes
The youngest player on the team is Owen Johnson, he scored his first goal and it was the game winner against Grand Forks.
Liam Samyica chipped in with the assist and finished the weekend with a goal and three assists.
Rylan Cardinal had two assists in Golden and Kolby Hennessy had the lone goal Friday and two in Golden
Cole Fisher had a goal and an assist on the weekend as well… we don't usually see these players on the score sheet.
Next up is Golden in Fernie this Friday, then Saturday in Golden. Golden will be the Riders last regular season road game of the year.
The game I want to see is Tuesday's, Feb 15th Fernie home game vs the Rockies… who are in a battle for first place.
Rider News by George Hurlbut – KIJHL opinions are his own and not approved by anyone