Spring sprung, and now summer is fast on its way to Fernie! And with the change in season, comes a whole load of new IPA's from Fernie Brewing.
Over the past couple of years, FBC been catering to the hop head with their IPA Bucket List – a series of four strong, unique and distinctive IPA's, launching over the course of a year. However, with summer on the horizon and a busy patio, yard, lake, camping and golf season ahead , they are catering to the lighter side of life. Thus was born Slingshot Session IPA, the newest member of the FBC family.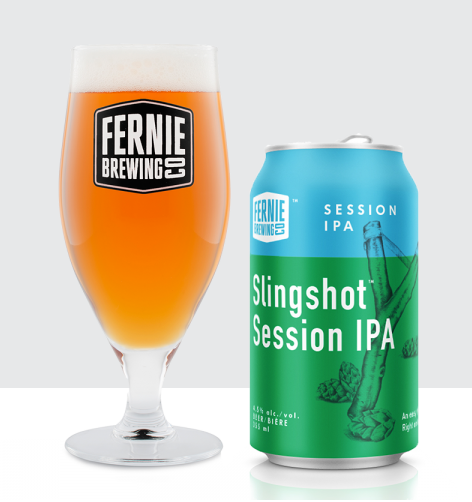 Slingshot Session IPA, is a lower alcohol alternative IPA. Regular IPA imbibers will not be disappointed with the selection of traditional and some of the newest available hop cultivars. The Brewmaster has selected Australian Galaxy and North American Mosaic varieties, which provide a citrusy, tropical fruit and some pine flavours and aromas. It results in a refreshing and easy drinking Session IPA. At 4.5% alc./vol., and 45 IBU, it's certainly proving to be right on target.
So far Slingshot has appeared on two "Top Beers for Summer" lists, by the infamous Joe Wiebe. "Fernie Brewing has been exploring a wide range of "Bucket List IPAs" over the past year or so, and this "little brother" might just be the best of the bunch, even if it's not officially part of the series. It's surprisingly full-bodied for a 4.5 percent ABV beer, and the blend of Australian Galaxy and American Mosaic hops (at 45 international bittering units [IBU]) gives it a fruity and citrus-y hop aroma and flavour," says Wiebe.
Whilst CBC's Beer Columnist Rebecca Whyman, jumps on the beer-fuelled bandwagon too, listing Slingshot alongside Moon Under Water, Parallel 49 and Four Winds as her top summer picks.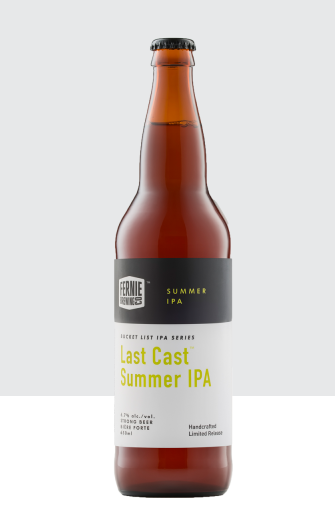 The final fling in the Bucket List IPA Series is casting off! To time with the June 15th opening of the infamous Elk River, here in Fernie BC, the Last Cast Summer IPA is back…

It's slightly lighter in body than our previous Bucket List offerings, at 70 IBU and 6.7% alc./vol., but this helps expose a wonderful combination of new hop varieties, flavours and aromas. "Primarily derived from Falconer's Flight, Amarillo, Ahtanum and Galaxy varieties, it results in a refreshing stone-fruit, citrus & pineapple flavour. Tropical fruits and grapefruit prevail," says Gord Demaniuk, FBC's Brewmaster.


With as many people lining up to hit the Elk River, as keen to stash away some Last Cast IPA, this Limited Release IPA won't be around for long!