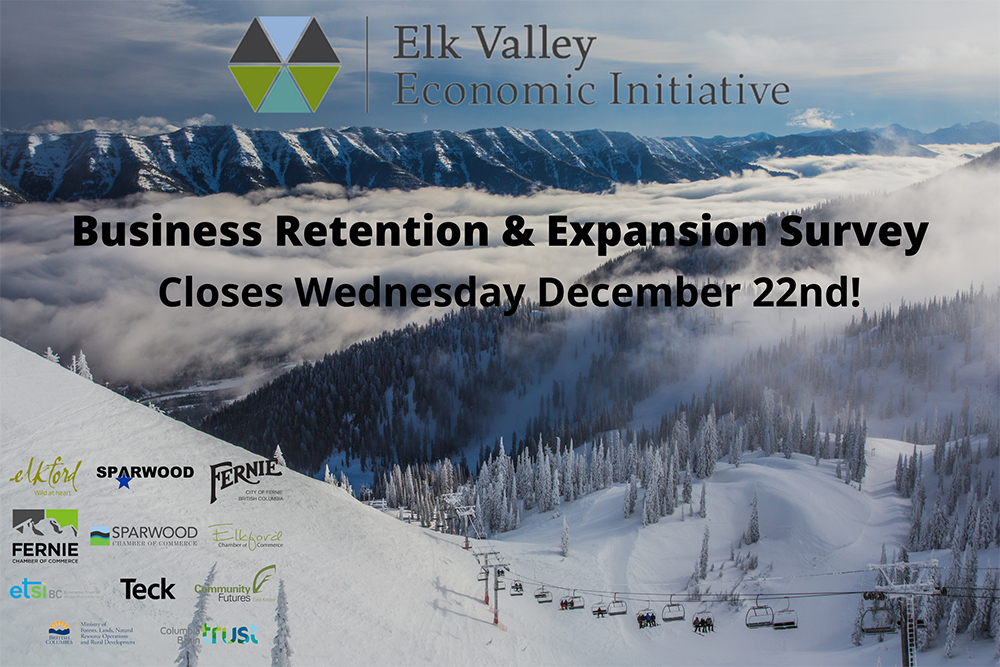 The Elk Valley Economic Initiative (EVEI) is looking for businesses to participate in the 'Business Retention and Expansion' survey of all businesses in the Elk Valley.
The survey is focused on identifying local business needs, challenges, and opportunities, and will be the largest survey ever attempted of businesses throughout the Elk Valley. The results will produce key economic data for the Elk Valley to help businesses and local agencies make informed and data-driven decisions for long term success.
The survey is open to any licenced business operating in the Elk Valley communities of Elkford, Sparwood, and Fernie. To take the survey as a business owner or representative, please visit here – the survey should take approximately 20 minutes at most to complete. The opportunity will be heavily advertised with email invitations and mail-out postcards with QR codes being sent to directly to businesses. As an extra incentive for businesses to participate, every completed survey will enter the draw to win a grand prize for a 2-night deluxe accommodation stay at Island Lake Lodge next summer.
Taylor Jenkins, the Economic Recover Advisor with the EVEI states, "The more businesses that complete the survey, the more accurate data we will have to make efficient, localized, and meaningful improvements to the Elk Valley business environment. I believe this is the first step in making long term positive economic growth in the Elk Valley, driven by local business." Once the survey is completed, an action-oriented report will be publicly published on the EVEI website and reviewed with all committee members to set priorities to address the business needs identified.
The survey is the first ever for the Elk Valley as a corridor and is the result of collaboration at the EVEI table between of all 3 local municipal governments, Yaq̓it ʔa·knuqⱡi 'it (Tobacco Plains), Teck (as an industry partner), and each local chamber of commerce. These groups are supported by the BC government, Community Futures East Kootenay, and Columbia Basin Trust. Funding for the project was made available through the Economic Trust of the Southern Interior (ETSI-BC).
ABOUT EVEI
The Elk Valley Economic Initiative (EVEI) was formally established in 2013 to collaboratively develop regional economic development projects and initiatives in the Elk Valley towards the improvement of the region's economy. The EVEI has eight voting seats representing the District of Elkford, the Elkford Chamber of Commerce, the District of Sparwood, the Sparwood Chamber of Commerce, the City of Fernie, the Fernie Chamber of Commerce, Yaq̓it ʔa·knuqⱡi 'it (Tobacco Plains) First Nation, and Teck. The partnership is administered under contract by the Fernie Chamber of Commerce and is currently core funded by the Inter-Community Business License arrangement between Elkford, Sparwood and Fernie. For more information, visit www.theelkvalley.ca ABOUT ETSI-BC ETSI-BC is the Economic Trust of the Southern Interior, formerly known as the Southern Interior Development Initiative Trust (SIDIT). The organization was created by the Province of British Columbia on February 27, 2006. Through the SIDIT Act, the Trust was allocated $50 million to assist in the growth and diversification of the economy in the Southern Interior of B.C. The Trust is governed by a 13- member Board of Directors which includes local elected officials and provincial government appointees. Two Regional Advisory Committees of elected officials from the Thompson-Okanagan and Columbia Kootenay regions also provide input. ETSI-BC's service area spans nine Regional Districts ranging from Hope in the west, Clearwater in the north, the Alberta border in the east, and the U.S. border in the south. For more information, visit www.etsi-bc.ca