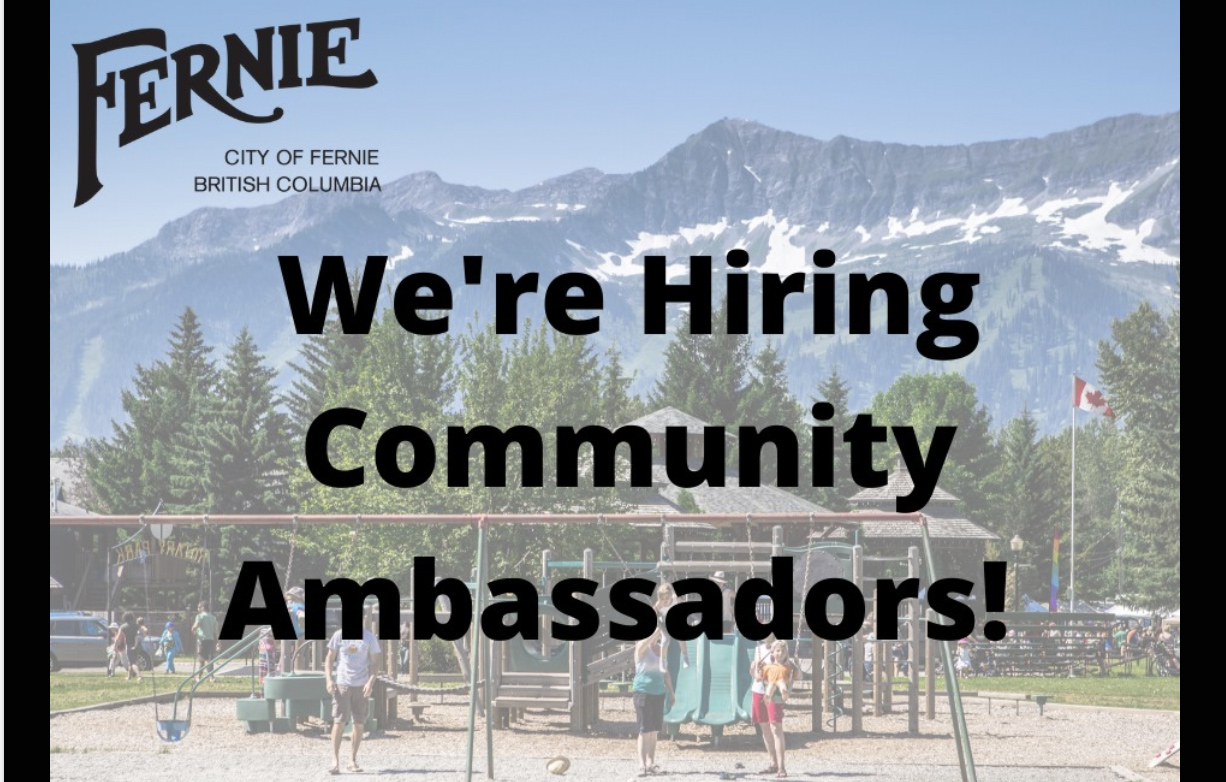 Looking for some work, passionate about supporting the next phase of the pandemic–love speaking to the community at large and being outside? Read more about this opportunity!
The City of Fernie is looking for seasonal Community Ambassadors to join their team. As part of the phased re-opening plan, Community Ambassadors will help create awareness and educate on the importance of physical distancing, and the safe use of shared spaces.
Here is the their Internal/External Job Posting from May 15, 2020:
COMMUNITY AMBASSADOR
Janitor/Labourer (Temporary Seasonal) – Includes Evenings and Weekends
The City of Fernie is inviting applications for the position of Community Ambassador. This position is included in the
Collective Bargaining Unit for CUPE Local 2093 and is classified under the description of Janitor/Labourer (Temporary
Seasonal), in the Parks and Facilities Department. This is a seasonal position working weekends and evenings. Reporting
to the Parks and Facility Manager, the Community Ambassador promotes public awareness, provides education, and
reminds the public on the importance of physical distancing within the community and assists with maintenance tasks in
City-owned parks and facilities.
DUTIES AND RESPONSIBILITIES:
We require energetic individuals with strong and diplomatic interpersonal skills with an ability to comfortably relay information to others and to diffuse conflicts. Successful applicants will have physical ability and agility to perform manual work in a variety of cleaning and related duties in and around City-owned buildings, facilities, and property.
ILLUSTRATIVE EXAMPLES OF WORK:
• Janitorial in designated building areas (dusting, sweeping, vacuuming, mopping, restocking, emptying garbage's, disinfecting etc.).
• Carry-out minor repairs and painting to buildings, parks, and related equipment
• Perform outdoor upkeep as necessary, including sweeping, watering, mowing and weed whacking.
• Operate equipment such as self-propelled and/or self-riding lawn mowers, weedwhacker etc.
• Safely engage with members of the public to make residents aware of the physical distancing directives, park rules and bylaws.
• Provide education on public etiquette and courtesies for the shared use of outdoor spaces with the goal of voluntary compliance
• Observe, record, and submit observations and interactions on a regular basis to supervisor and/or Manager
• Report any defined serious matters or incidents to Bylaw or the RCMP.
• Maintain good public relations.
• Maintain simple records, inspections and log sheets.
• Responsible for building security and equipment, property, buildings and vehicles.
• Other related duties as may be assigned from time to time.
Applicants shall be performance orientated individuals who are able to work well with others as well as independently
with little supervision.
MINIMUM REQUIRMENTS:
• Valid B.C. Driver's License, minimum Class 5.
• Strong and diplomatic interpersonal skills with an ability to comfortably relay information to others and to diffuse conflicts
• Ability to use sound judgement
• one-year work experience involving extensive interaction with the public required; two years of experience working with the public is preferred.
• Physically fit to meet the demand of manual tasks for long hours.
• Cleaning experience and knowledge (BSW Level 1 preferred).
PHYSICAL AND STRESS LEVEL REQUIREMENTS
• Good basic health and physical condition as the job requires strenuous physical activity.
• Frequently communicate verbally
• Good mental health as the job has short lead times and deadlines.
• Exposure to loud mechanical noise is frequent to this position.
Salary and benefits will be in accordance with current CUPE contract ($32.34/hr). We thank all applicants for their interest, however only those candidates selected for interviews will be contacted. Please submit detailed applications containing cover letter, resume and references by 4:00 P.M., Friday May 29, 2020. Applications should be addressed to:
Brett Logan, Parks & Facilities Manager
City of Fernie,
PO Box 190, Fernie, BC, V0B 1M0
brett.logan@fernie.ca