Yoga instructor and Kinesiologist Marlene Vale had a dream. Her dream was to open a Yoga and Dance Centre with a focus on community and a unique business model based on inclusion. After years of working from her home and in others studio's Vale decided it was time to go out on her own and when she saw The Castle on First, she knew in her heart, it was the place she had always dreamed of.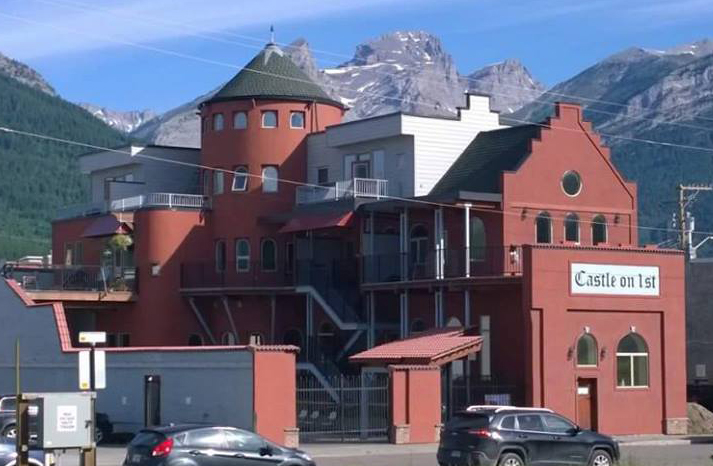 Challenging the prevailing model of top-down leadership, Vale hoped to realize a business that offered a different experience for herself and her fellow instructors. She created a collaborative, where each instructor runs his or her own business. She believes that the impact on the health and well being of the community is enhanced and magnified when each collaborator is given this opportunity for personal and professional empowerment. "I was immediately approached by many yoga and fitness instructors who were all enthusiastic and supportive about this new and fresh approach to business. We pooled our resources and together built a place for the community of Fernie to enjoy" explains Vale.
The Castle on First is located in what was once a historic garage, recently converted into a four-story residential and commercial zoned building, modelled after a castle (with turret and all) in Fernie's historic downtown. With two large studios and a boutique upstairs, and Soar Cycle Studio downstairs, the Castle offers a variety of opportunities for health and wellness all under one roof. Yoga disciplines include Iyengar, Hatha, Adaptive, Vinyasa Flow and the newly launched PranaDance are all currently on the schedule. Latin Dance, Burlesque, Hip-Hop, Cize, Streetdance, and Fitness Conditioning are also available. Eastern philosophy and Martial Arts such as Tai Chi, Qigong and Meditation round out the offerings upstairs in the Sun and Moon Studios at the Castle. Soar Cycle Studio is a new and unique indoor cycling experience in Fernie, offering a complete all-level workout that complements both the off-season cycling clientele and anyone seeking an alternative to their ordinary fitness routine.
The Castle runs classes seven days a week and is also available for rent as a meeting and event space.