It's been 20 years since Angela Morgan first hung her art at Fernie's Art Station. I remember seeing that showing and being inspired by her whimsical and joyful artwork creations, so much so that I immediately purchased one of her magical pieces. That very first show displayed the clarity and objectivity that would define her success.
Angela commented, "I was flipping through my old albums and couldn't believe it was going to be 20 years since my first exhibition at the Arts Station!" Here is a Fernie article on Angela from April 15t, 1999.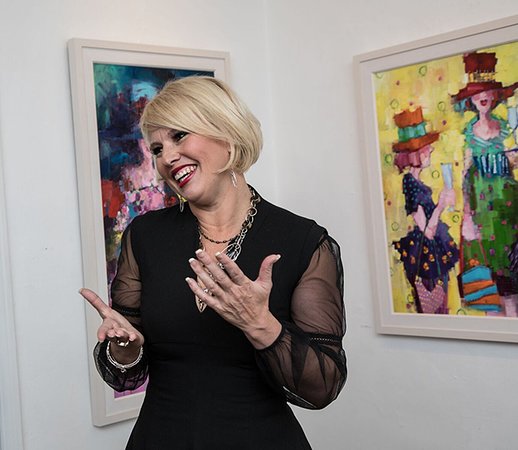 The memory inspired her to have a 20 year anniversary show at the Arts Station to celebrate her working career as an artist who has lived in Fernie.
Angela attributes much of her success to that very fact – Fernie has been a great place to launch her professional artistic career. She feels the support of the Fernie and District Arts Council and the community of Fernie has been integral to her success. Those first shows helped her hone in the skills of creating a cohesive body of work, compiling display skills, and approaching her artistic career with a sense of the business aspect of running a studio.
"I have a lot of gratitude for the opportunity to show and display my work at an early stage my career", says Angela. "I was busy with my young family at that time but having goals and deadlines was important for me – to both achieve, and to keep me going."
To celebrate the anniversary and support those who supported her, Angela will be donating 100% of the shows sales back to the Arts Station for their use. She is amazed and grateful for the many programs they run, the wonderful space they provide for the guilds, and their commitment to the arts and to the community of Fernie.
Her anniversary works will include some of her collectors favourites including; ski and winter paintings, biking, picnicing, swimming, and celebrations – bubbly and flowers and good company – all the things we have to enjoy in our beautiful town – of course there will be a few other subjects to put in the mix. The show will be comprised of 20 works – of all sizes and price ranges.
Angela commented, "I'm feeling especially blessed that this is my community that I have grown in – artistically speaking of course, but as a parent I am grateful for all the opportunities we have here for our children – not least of which is the Arts Station and all it has offered me and my family in the last 20 years."
Angela is Fernie's most recognized artist and her support and appreciation for our community is seemingly unsurpassed. See the anniversary show details here, you won't want to miss it.
About Angela Morgan:
Angela Morgan (nee Harlton) lives and works in Fernie, BC. The completion of her bachelor in fine arts degree (BFA) in April of 2000 ended a ten-year stretch of university education. Angela attended Bismarck State College in North Dakota, Concordia University in Montreal, University of Regina, and finally the University of Calgary.
Angela Morgan's work celebrates humanity through the use of colour, pattern, and line. Her human figures express the poses of life; the jubilation of dance, the contemplation of parenthood, and the melancholy of summer's end. Colours fuse and meld to achieve gesture, transforming abstract images into living moments.
Angela is represented in galleries across Canada, the United States, and Switzerland.
The posted art will be part of the Arts Station 20th Anniversary show.