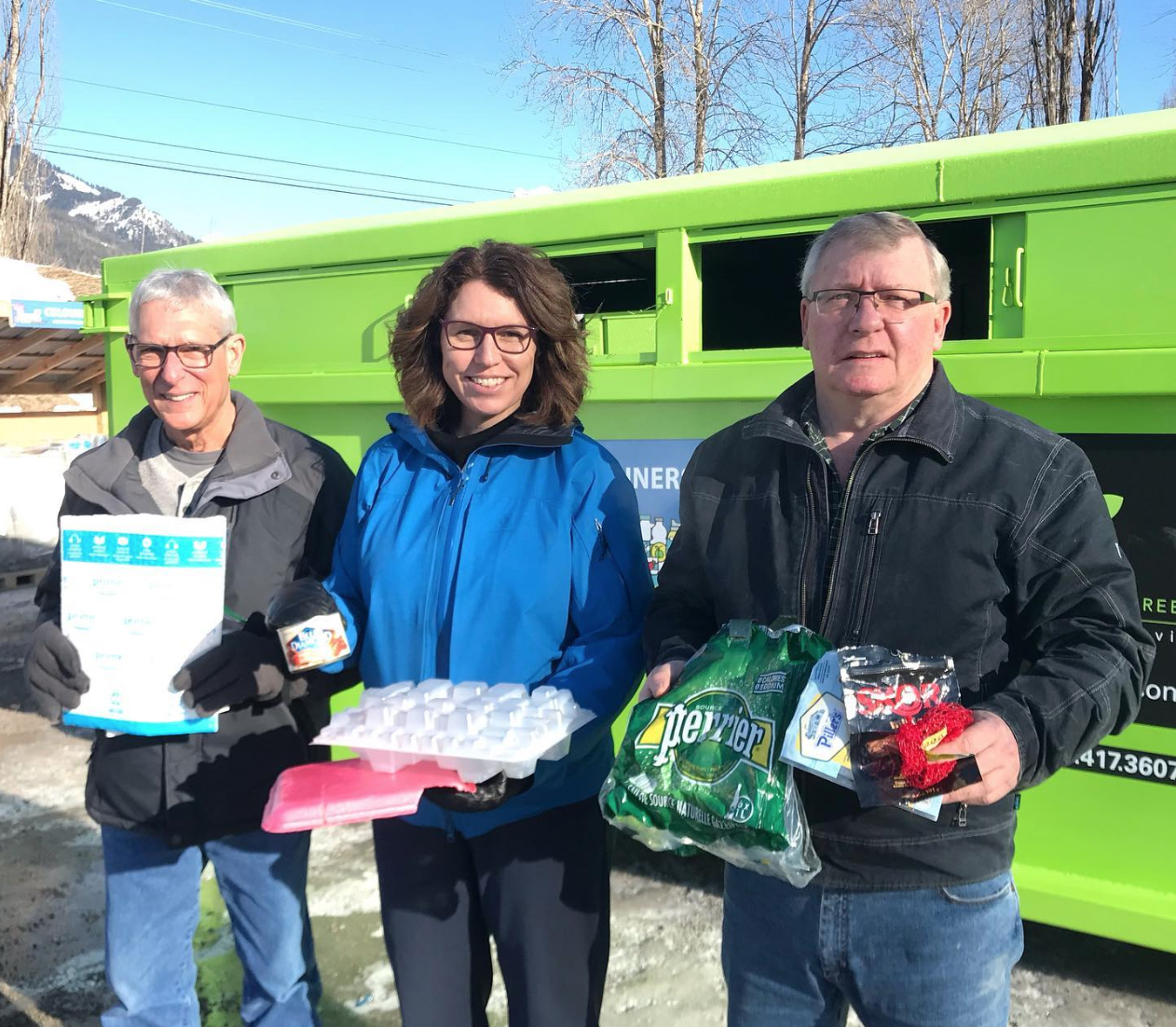 The new Recycle BC Depot is open at the Fernie Transfer Station.
Fernie Mayor Qualizza, RDEK Chair Gay and RDEK Area A Director Sosnowski were there this morning to celebrate. They are all holding items that can be recycled at this Depot and are not accepted in the yellow bins / Fernie blue bag program.
The new depot provides residents with an opportunity to easily recycle many more items than are accepted in the yellow bin system. Stay tuned for more info on how these opportunities will benefit the region.
The Recycle BC program is an Extended Producer Responsibility (EPR) Program aimed at printed paper and packaging. It is funded by producers, like retailers and manufacturers that supply packaging and paper product to BC residents, keeping the costs away from homeowners. By opening Recycle BC Depots, the RDEK is classified as a collector, and gets paid per tonne directly from Recycle BC for all materials collected at the Depots.
The benefit to residents is that the Recycle BC Depots take all the same materials as can go in the yellow bins – plus over 76 additional items! PLUS, the RDEK gets paid per tonne collected (we have to pay per tonne for all materials collected in the yellow bins). It saves your taxpayer dollars and you can recycle WAY more…it's a win, win!
Elkford's Recycle BC Depot will open February 18th and Sparwood's on March 2nd.
The RDEK have already opened Recycle BC Depots at the Cranbrook & Kimberley Transfer Stations and Columbia Valley Landfill. The Cranbrook Bottle Depot also has a Depot.
In addition, there is now a Regional Household Hazardous Waste Depot at the Cranbrook Transfer Station.
To download information on the new Elk Valley Recycle BC Depots guide click here: 19.03.29_Recycling_Guide_ELK_Valley_PRESS