Aerialist Ryan Blais of Grande Prairie, Alta., collected his first-ever gold medal in NorAm freestyle ski competition Sunday, to lead a Canadian sweep of the men's medals.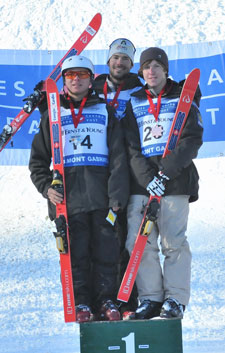 Olivier Rochon, Ryan Blais, Travis Gerrits
"It was kind of a standing joke that I'd never won a NorAm, but had won World Cups," said Blais, 29, who was here training, at Ski Mont Gabriel, during a break in the World Cup schedule.
Blais, who finished second Saturday to national development squad member Olivier Rochon of Gatineau, Que., reversed those positions with a score of 225.31 points.
"I didn't even know if I was going to compete. The original plan was to compete once and do lots of training," said Blais, who, until this weekend, hadn't competed on the NorAm circuit for several seasons.
"But the weather was perfect and I had to take advantage," added Blais, who said he had an excellent weekend of training, but felt that his jumps in the final weren't quite World Cup level.
Rochon, with his fourth medal in four NorAm starts this year, was second in 204.73.
"I'm a little disappointed because I missed my landing on my second jump," said Rochon, 19, of his triple-twisting triple flip.
Related posts: