Posted by admin in : Fernie Ghostriders , comments closed
The Fernie's Ghostrider Junior Hockey Club will play Kimberley in the first round of playoff hockey in the Eddie Mountain Division.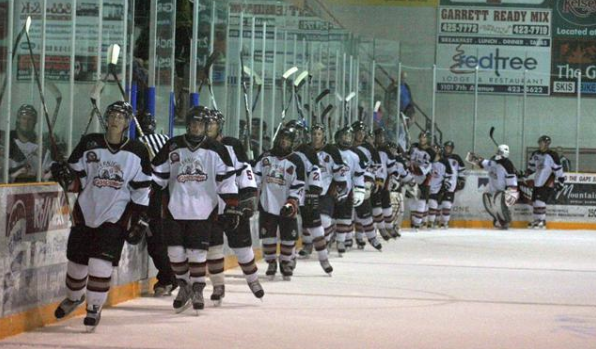 The Riders ended up in fourth place with 34 points, Kimberley in the first place, they finished with a league leading 78 points. That means Kimberley will have home ice vs Fernie and every other team (if any) they play this season.
With a 44 point lead on the Riders it will be a tough series. The Riders lost all 8 games they played against Kimbo this year but most of them were one goal games. So it is more than possible to win this best of 7 series.
The Riders match up well on the gritty side of the puck but are behind on the scoring side, a couple of big losses put them at -17 in that department against the KD.
Not many people think the boys have a chance in this series so the Riders will have to use that as a motivational tool and try and channel the Vegas Golden Knights with their shockingly successful "Us Against the World" mantra. Anything can happen and you don't win on paper.
I believe that systems help a bit but if a team plays a basic defensive game and each player "really want's it more in every situation", they can win. That is what Mike Sullivan convinced the Penguins they needed to do two years ago when he was brought in to a failing team mid season, and they won everything, twice.
The Riders are in Kimberley Friday and Saturday then come here Sunday Feb 25th and Tuesday the 26th. Game 5 is in Kimberley Wednesday and Thursday March 1st game 6 is in Sparwood. Game 7, if necessary, is Saturday in Kimberley.

The Riders lost the first three games in the series however won game four in overtime and forced game 5 into overtime in Kimberley before loosing 2 to 1..
It was a tough year for the Ghostriders however they showed their grit in the playoffs.
Posted by admin in : Fernie Ghostriders , comments closed
As a result of the Arena tragedy, the Fernie Ghostriders have moved all home games to the Sparwood Arena until further notice.
The Ghostriders commented, "The board, staff and players of the Fernie Ghostriders send their heartfelt condolences to the loved ones of those lost in the incident at the Fernie Memorial Arena today. We are deeply saddened by the news, and our thoughts and love are with you."
The facility was closed at the time and no players or staff were injured in this tragic event.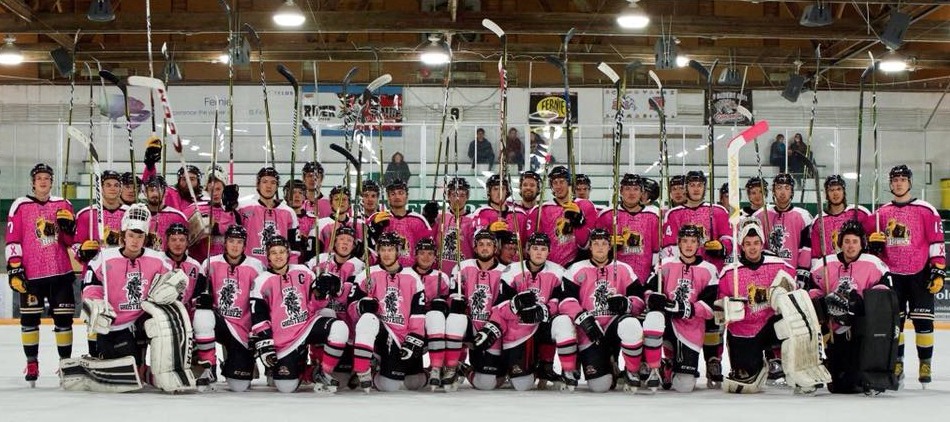 The Fernie Ghostriders would like to extend a huge thank you for the immediate assistance to our team. Your thoughtfulness and consideration for the team is truly amazing.
To the District of Sparwood Leisure Centre staff, the welcoming to your facility was second to none. We really appreciate how you have went the extra mile to make us feel like we are at home. A special thank you to Sheri Taylor who has went above and beyond to help us and have everything so well organized, everyone on our team as commented as to how you made us feel welcomed, meeting us the first practice and just being there, thank you! Also, the District has allowed us to put a C-Can at the arena and connect to the internet in order for us to have our webcasts. A big thank you to Isoceles for hooking us up!
To the Causeway Bay for helping us out with our ice requirements. This will be a huge help for us to serve our customers, thank you so much!
Cummins Creek Containers, Rayco Steel and Apex! Thank you so much! The C-Can will help our team so much, being able to store our hockey gear, truly amazing!
And a general overall thank you to all of Sparwood! Thank You for welcoming our team to Sparwood, your kindness is so appreciated! This has helped our team feel like they are home and cared for!
Posted by admin in : Fernie Ghostriders , comments closed
The Fernie Ghostriders will soon be back in action with their exciting Junior B Hockey at the Fernie Memorial Arena. The community of Fernie has a history of supporting it's Ghostriders, the passionate following is based on a history of winning a majority of their games. If your visiting Fernie be sure to take in the popular Rider games–there is no better action and or entertainment in town!
The Riders began their season with four exhibition games and two away regular season games. They split their exhibition games and lost both regular season games, one in overtime against Grand Forks and the powerful Beaver Valley Hawks rolled them over with a 6-0 win.
The first home regular season game will be on Friday, September 22nd against Golden–be sure to catch the live action and support the Riders!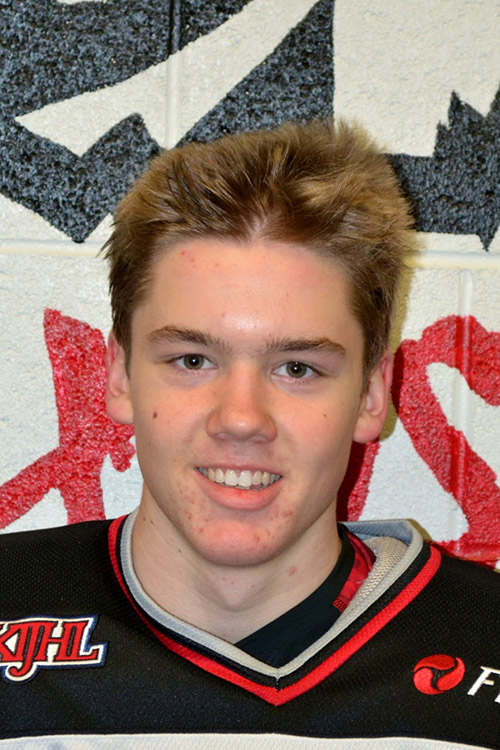 Rider Team News
The Rider top scorer Mitch Titus has been named as Captain for the upcoming season. Mitch is a former Rider Rookie of the Year who has proven to be a durable and talented player who gives his all when he's on the ice. Brendan Nemes and third year defense player Kevin Pierce will be wearing the A's. Another A may be announced in a couple of weeks.
Rider GM Craig Mohr says local Fernie players Jake Beranek (injured) and Cory Caldwell will be here at the start and likely for the full season. Meanwhile Chase Rayman and Kris Wert are still battling it out for the final roster spots.
A noticeably thinner Brandon Youngson is the likely Rider starter in net but Zak Larson, who the Riders acquired from the Chase Heat a few weeks ago, may have something to say about that.
The Riders have several new players and we will be talking about them when the season starts up. Mohr, as usual, has to play the waiting game with BC Hockey and Hockey Alberta to get all his player releases. This happens every year but should be complete by Friday. Fans though can see this year's lineup right away it's here .
Rider fans can listen to away games on our local radio the Drive 99.1 or 93.5 in Sparwood or watch them on the KIJHL webcasts.
Follow all their scheduled games and results at: FernieGhostriders.com
Posted by admin in : Fernie Ghostriders , comments closed
The Fernie Ghostriders Junior Hockey Club finished their regular season and are advancing into the playoffs. The Riders finished in third place in the Eddie Mountain Division with 55 points and will play Kimberley Dynamiters in the first playoff round. Kimberley finished second with 67 points and is Fernie's biggest rival in the league–the games will prove to be very exciting.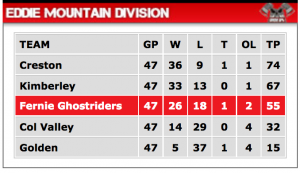 The rivalry is deep however we'll only go back to last years playoffs.
In game one of last years playoffs the Riders were blasted 6-0 by the Dynamiters. After that game the coaches convinced the boys to play a lot more physical and from then on it was much closer, but they still lost in five. Perhaps believe the lesson was learned… we'll find out in the next week.
Both teams won four games this year and one of them even featured a line brawl that resulted in a few suspensions. You can expect expect some fan friendly action coming up.
Kimberley had an easier time scoring this year and have a better GAA but it is a 50/50 series, the Riders could even win 4 straight, or the opposite… who want's it more is the question… Kimberley is not as good as last season and Fernie is a little better equipped to win this season… but they sure could use a couple of defensive men back from the injury list.
Kimberley won the series in six games and is now playing Creston in round two.

Game 1 Fernie 3 Kimberley 8
Game 2 Fernie 4 Kimberley 2
Game 3 Kimberley 5 Fernie 6
Game 4 Kimberley 3 Fernie 2
Game 5 Fernie 1 Kimberley 10
Game 6 Kimberley 3 Fernie 2
See the Events Schedule for more game times.
Go Riders Go!
Posted by admin in : Fernie Ghostriders , comments closed
The community of Fernie has a history of supporting the Fernie Ghostriders, it's Junior B hockey team. The passionate following has a great history as the Riders consistently win a good share of their games. If your visiting Fernie be sure to take in the popular Rider games.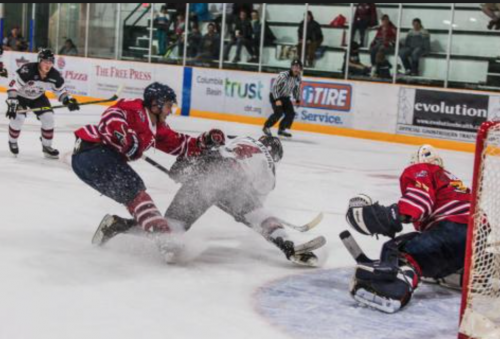 The Spokane Braves are in Fernie Friday night and they will be hungry for a win after losing 7-2 to Kimberley and 4-1 in Nelson last weekend. The Braves are only 4-10 but they have some firepower, their top two scorers are two Spokane locals, Paxton Malone and Mason Jones, and they lead all KIJHL scorers with 23 points each. The Riders played in Spokane on October 7th and the Braves defeated the Ghostriders by a 5-4 score despite being out-shot 53-30.
Here is the current league standings: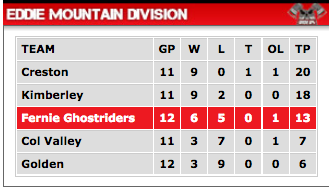 Home games are played at the local arena on Highway #3. Tickets are $10 for adults and $5 for seniors and children and you can purchase tickets at the arena.
For the game schedule visit the Events page of this website or visit the Ghostrider Hockey Team website.
Ghostrider Action
Kevin Pierce and Evan Traverse will finish their suspensions from the Golden game Friday night and will be able to play on Saturday in Elkford. They were suspended 2 games each along with 2 Rockets and both coaches (1game each) because of multiple fights at the same stoppage of play. The league doesn't like two or more fights at the same time… cause the fans don't know which one to watch ? The fights started after Pierce was hit from behind by the frustrated Rockets who were getting schooled in every part of the game. The referee called 3 fights and Trevor Broad was the first fight so he wasn't suspended… another ref may have just given ruffing or chocolates to the other participants and no suspensions, but that's the way it goes.
The Rider game wasn't the only penalty filled game, Summerland and Revelstoke also duked it out (check out the 2nd period here) and a few other teams also had their share of PIM's as well, all in all 16 suspensions were issued after last weekend's games… you couldn't tell here in Fernie with all the rain, but it was a full moon, at least according to the bloodstains, I mean calendar.
We hope to see you at a Rider game!
Posted by admin in : Fernie Ghostriders , comments closed
The Fernie Ghostriders and the Kimberley Dynamiters face off in the first round of the playoffs in the Eddie Mountain Division of the KIJHL. Fans of both teams know the Dynamiters and the Ghostriders have a longstanding rivalry between the two clubs.
This season Kimberley has lead the division with Fernie taking fourth spot.
Ghostriders Head Coach Craig Mohr says the rivalry just makes for more exciting hockey. "The Fernie-Kimberley thing has gone on for years and years and years and its a lot of fun," Mohr says. "As a fan and as a coach, I've enjoyed many years of a great rivalry. Both towns support their teams probably better than anybody else in the KIJHL."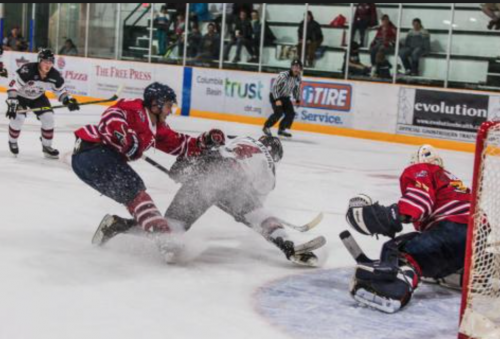 Mohr says the crowd is especially energized anytime they attend a Ghostriders/Dynamiters playoff game. "Its a special experience and that's what we tell our players when we are trying to recruit them," Mohr says. "We have a pretty unique thing happening out here between us and Kimberley and its growing. Nothing in the league compares to the Fernie-Kimberley games, meeting in the first round will prove to be exciting hockey.
The playoffs will start on the 23rd and Kimberley has home ice advantage. Get out and support your team and see some amazing hockey! Here is the round one schedule:
Tuesday, 23rd in Kimberley
Wednesday, 24th in Fernie
Friday, 26th in Kimberley
Saturday, 27th in Fernie
Monday, 29th in Kimberley
Tuesday, March 1st in Fernie
Thursday, March 3rd in Kimberley
Posted by admin in : Fernie Ghostriders , comments closed
The Ghostriders play the Kimberley Dynamiters Tuesday. Kimberley is the Ghostriders biggest rival team, this game will be more than exciting!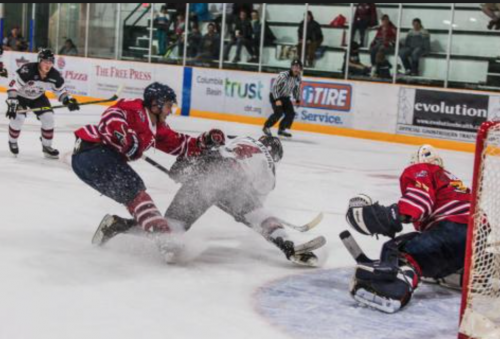 The Riders play in Kimberley Monday so this will be the fourth time these two teams have played this season. Kimberley won the first game 4-3 and Fernie won the second game 3-2 in OT, both teams won on the road. They will play each other four more times in February.
The Dynamiters entered the Christmas break in first place in our division and were first overall in the KIJHL with 55 points. Because Golden has only won four games the Dynamiters have already clinched a playoff spot.
Before the break Kimberley played two games, they lost 5-2 in Creston and won 8-0 against Golden. Their top scorers are Jason Richter, Jared Marchi, Eric Buckley and D-man Jordan Busch. Tyson Brouwer is their #1 goalie with a 20-4-0-1 record. Jerry Bancks is the Head Coach and Mike Reid is their GM.
The Ghostriders played two games just before the Christmas break, they won 7-4 when Creston was here but lost 6-2 when Beaver Valley visited us on December 19th.
Before the Christmas Break
Despite missing several games with an injury Cole Keebler was still in third place in KIJHL scoring with 48 points. Keebler was in second place in goal scoring with 24. Kimberley's Jason Richter had scored one more goal and leads the KIJHL with 25. Keebler was leading the KI with 4 shorthanded goals and the Ghostriders had an 8-1-0-1 record in their last 10 games. AP Dalton Bouvier scored his first of the year in the Creston game.
Zach Befus scored 10 power play goals and was in second place in power play goals scored. Kimberley's Richter also has 10 and Creston's Carson Cartwright, who will be here in Fernie January 2nd, has 11.
Cole Keebler, Ryan Teslak, Mack Differenz, and Dan Burgess are all listed as day to day with injuries.
The Ghostriders play in Creston New Year's Eve then return to Fernie for the rematch January 2nd.
Posted by admin in : Fernie Ghostriders , comments closed
The Fernie Ghostriders Summer Hockey School is returning to Fernie this August 9 to 15th!
Registration can be paid for by cheque or cash, mail to Box 178, Fernie BC, V0B 1M0 or drop them off to Craig Mohr at the Fernie Memorial Arena. The School is Aug 9-15
Players can download our registration page here then fax or email the completed form to Craig Mohr
Fax # 250-423-3214
Email: craigmohr9@hotmail.com

Or Pay online here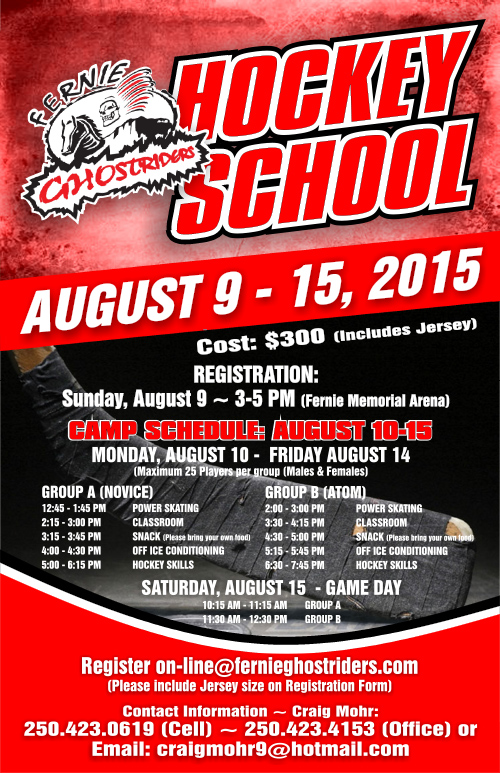 Posted by admin in : Fernie Ghostriders , comments closed
The Ghostriders lost the last two games against the Kimberley Dynamiters, 2-1 at home and 5-2 with (2 empty net goals) on the road in Kimberley. In the last two games the Riders turned it on and were easily as good as the Nitro's, and at times better, but had trouble solving Tyson Brouwer. The two games they won were when Brouwer was hurt and Brody Nelson was in net. Brouwer let in one bad goal in game 5 on a shot from the blueline… but turned out… it was an off side goal… it may have changed the series… The Riders didn't really show up for game 4 but still only lost 2-1. Jeff Orser kept them in that game and was as good enough in net to win the series.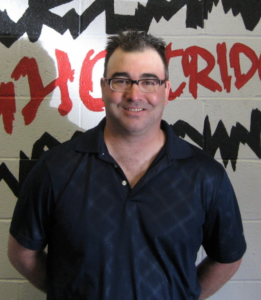 Overview
Coach Craig Mohr recruited a pretty good group of players in his first year back with the Ghostriders and he was also named as the Eddie Mt. Coach of the Year. Mohr's coaching style makes for a fun game for the fans to watch and the players he brought in, plus what was left over from last year, put on a pretty good show finishing second overall in the KIJHL while playing an entertaining style of hockey.
Jeff Orser won the Eddie Mountain Top Goalie Award this year and was great in net, he will be 20 this year so is a possibility for next year unless he choses to go to school.
Cole Keebler led the Riders in playoff scoring but was hampered by injuries all season… he may have contended for the KIJHL top scorer had he been healthy, and may have had an even better playoff as well.
Spencer Bender only played the last game vs Kimberley… he had assists on both goals, he would have made a difference had he been healthy. Bender had 5 G 2 A in the five P/O games he played…
When you come back from injuries it takes a while to get in sync… Doan Smith 95 was skating on one good leg after missing weeks with a knee injury and only had 1 A after a 35 G 62 pt regular season.
Sam Plaquin, Joel Burgess, Aaron Neufeld, Derek Georgopoulos and Captain Dylan Robertson, the twenty year olds were leaders off the ice and were in the top seven of Rider PO scorers… the Captain delivered several big hits on anything and everything and anyone including goalies. I know the fans and Coaches were liking it…the league, with help from Hockey Canada, seems to have gotten away from the physical game. Burgess and Robertson would have thrived a few years ago in the war zones. I would bet any of them would have a shot at playing in the BCIHL if that's what they wanted to do… more on the team and the 94's after the Banquet
Justin Peers with the big shot (could be the new McCulloch next yr) was just over a point a game in the PO and has developed nicely over the winter… and what D man want's to keep up to Jason Yan's foot speed.
Tayler Sincennes scored a few goals and had a few fights as well and David Kelly is a better player than he was in September and that's not bad after missing most of last year with a broken leg.
Travis Thomsen was the leader on the blue-line with a good mix of toughness and points and Evan Reid can definitely skate at the next level and had the most points of the D. Dustin Watt turned into a pretty good pickup from Golden early in the year and Matt Pronchuk is developing into a good all around D man but missed the last few games with an injury. Zak Kuchler and Will Lightfoot were the steady stay home D the coaches wanted and Jaffray's Dan Burgess who didn't play for a couple of years fit right in after a few weeks. Would sure like to see him play out the rest of his eligibility here in Fernie. Brandon Butler was a great backup finishing with a great 13-5 record.
And Finally… the sixteen year olds Cavin Tilsley and Kyle Haugo… Both these players made real big leaps in their development as the season wore on. Tilsley is looking at the WHL next year so I hear… and Haugo earned a spot on D and at times up front. Tilsley has the speed to move up and Haugo has the size to get a look at the next level if that's what he want's to do.
Besides the two 98's that were just mentioned we sometimes forget that Peers, Reid, Yan, Kuchler, Sincennes, Pronchuk, Butler,D Burgess and Kelly were rookies, if they return next year Coach Mohr will have the so called good nucleus to start from.
Posted by admin in : Fernie Ghostriders , comments closed
Note: The Fernie Ghostriders lost the series to Kimberley in six games. They were a young team who exceeded expectations and topped the point standings in the Eddie Mountain Division. Congratulations on a fine season and we look forward to next season!
The Fernie Ghostriders are facing their biggest rivals in Round two and have spit their homes games on the weekend. The Ghostriders lost game one by a 5-2 score to the Kimberley Dynamiters then in game two they won 5-2.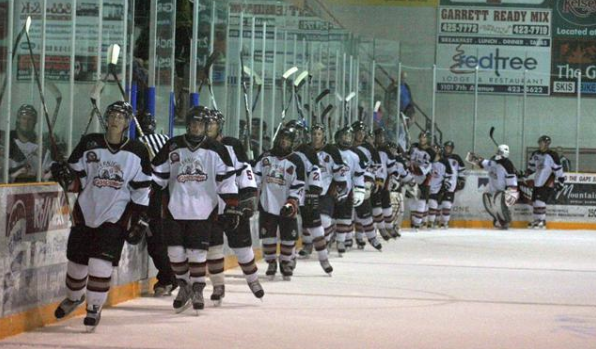 Game #1 Overview
Kimberley had the best of the scoring chances in the first and scored two goals. Braden Saretsky from Jared Marchi scored on the PP at 12:30 then Coy Prevost from Sawyer Hunt and Eric Buckley scored at 8:53 and it was 2-0 at the end of the first.
In the second the Ghostriders were a much better team and with just 1:29 left- Justin Peers from Cole Keebler and Evan Reid scored to make it 2-1 at the end of two.
In the third with Brody Nelson in the Kimberley net in relief of Tyson Brouwer Dan Burgess scored his first as a Ghostrider from Will Lightfoot and Jason Yan tying the game at 2-2. With 4:23 left on the clock Eric Buckley got in behind the defence and took a pass from Alex Rosolowsky and scored the game winner. Kimberley added 2 empty net goals from Prevost and Saretsky for the 5-2 win.
Jeff Orser was in net for the Riders stopping 23 of 26 while Tyson Brouwer started the first two periods then in the third Nelson was in and made some great saves particularly the one on Cole Keebler's breakaway. The shots were 29-28 Fernie and there were 553 at the game.
Fernie was 0-6 on the PP Kimberley was 1-3.
Game #2 Overview
The Riders Aaron Neufeld from Evan Reid and Sam Plaquin scored first on the the power play but then the Dynamiters answered back with two power play goals of their own. James Jowsey and Braden Saretsky scored the goals.
In the second the Riders Joel Burgess from Justin Peers scored the tying goal and Tayler Sincennes from Sam Plaquin and Aaron Neufeld scored what would turn out to be the game winner.
The Riders added two more in the third, Aaron Neufeld from Burgess and Burgess from Derek Georgopoulos and Cavin Tilsey scored the final touches. Jeff Orser was in net again and made one particularly big save in the third to help demoralize the Nitro's.
The Riders were 2-6 and Kimberley was 2-5 on the power play and the shots were even at 29. Kimberley had territory for much of the game but the Riders kept them to the outside for the most part. As the players were leaving the ice Nitro Coach Jerry Bancks was goin at it with the referee. There were 663 fans at the game and games 3 and 4 will go in Kimberley Wednesday and Friday then back home in Fernie Saturday night.
Notes
Injuries are already taking a toll on both teams , especially for the Dynamiters who lost their #1 goalie Tyson Brouwer (95) 5-1 P/O record who left the game after the second period with a reported lower body injury. They also lost forward Sawyer Hunt (97) as well.
The Ghostriders started the series without forwards Doan Smith (95) and Spencer Bender (95) along with defensemen Travis Thomsen (95) then lost defensemen Matt Pronchuk (96) in game one. Coach Mohr tells us Doan Smith, the Riders top scorer
Kimberley and Fernie are legendary rivals and the regular standing placed Fernie on top with 78 points and Kimberley in 2nd place with 69. This series will be fast and tough as these two teams battle for the Eddie Mountain Division championship!
Be sure to get out and see this exciting series, the schedule for the remaining games is as follows:
Kimberley Schedule
Saturday – Kimberley 5 Fernie 2
Sunday – Fernie 5 Kimberley 2
Wednesday – Fernie 7 Kimberley 4
Friday March 6- in Kimberley at 7:00 PM
Saturday March 7- in Fernie at 7:30 PM
Monday March 9- in Kimberley at 7:00 PM
Tuesday March 10- in Fernie at 7:30 PM