The following is an investigation into a snowmobile triggered avalanche in the Heartbreak snowmobile area near Corbin Pass southeast of Fernie:
Around 13-14 sledders were in the immediate area when the slide occurred around noon on Jan 17th. There had already been numerous highmarks over the slope prior to it finally releasing. (This really speaks to the problem with the current persistent weak layer in the region: It can be difficult to trigger but has the potential for large propagation when it does let go.)
There were two sledders involved directly – the one who triggered the slide from halfway down the slope was pushed into trees and partially buried. The other was at the edge of the runout on his sled when he was hit by the airblast and thrown off his sled and clear of the debris. His sled was buried up to the handlebars. (Only having one person highmarking and almost everyone clear of the runout zone definitely contributed to having everyone returning home safely that day.)
What happened next was a great rescue effort by other members of the group. Some members had previous avalanche training and ensured everyone stayed safe while helping the affected members get themselves and their sleds free of the debris. There was some significant hangfire left above the fracture line that still threatened the group which they made sure to avoid.
Check out this video of the slide area and the test results from Jan 18th.
You may recall past test results from locations some distance away being quite similar to this video. That's because the slide occurred on the same persistent weak layer that is widespread throughout the South Rockies. This layer is not going away any time soon and may be creating dangerous conditions in the backcountry for some time to come.
Below: You can really see how variable the snowpack depth is in the area. It is generally easier to trigger an avalanche in a thin snow depth spot such as near rocks or a cliff band when a weak layer is deep in the snowpack.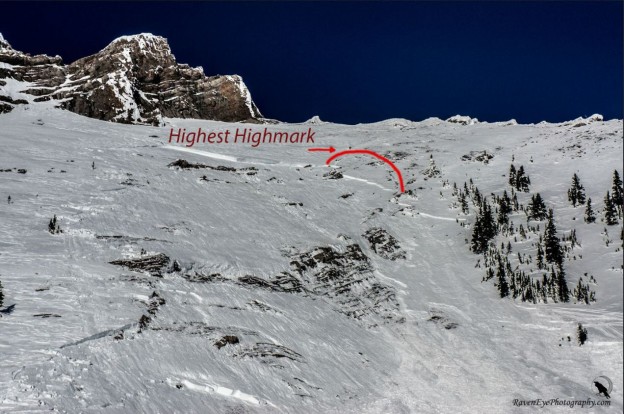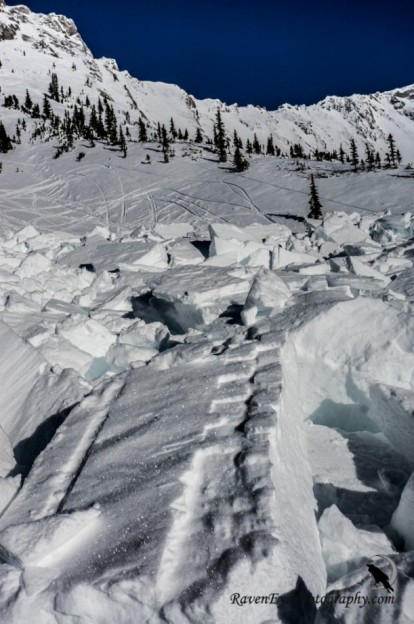 Big thanks to the group member who shared his experience and information about this incident with our field team. Many people fear being judged harshly by their peers and this guy had the guts and generosity to share his experience with the CAC and the community. This gives all of us an opportunity to learn from what went right and what went wrong on that day.