Teck Resources announced that the company has made a significant investment in the Sledhead Think Tank, a backcountry snowmobile safety outreach program that is being launched this January.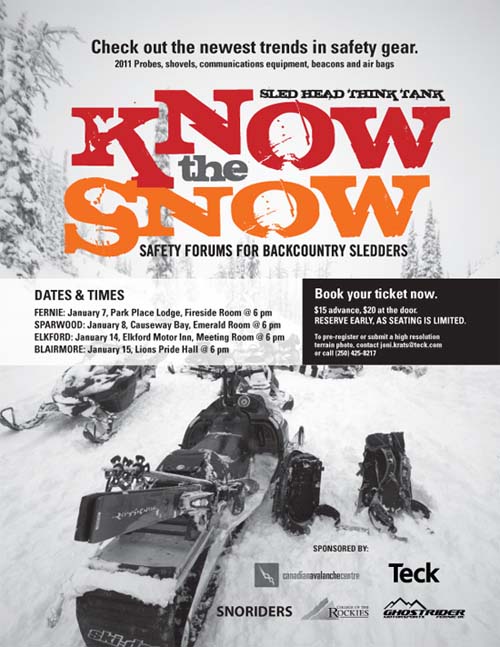 The Sledhead Think Tank was created in partnership with the Canadian Avalanche Association, the College of the Rockies, SnoRiders magazine and Zac's Tracks. The events will bring together snowmobilers and snow safety experts in a collaborative, constructive setting.
The itinerary will include:
• A slide show of local terrain, analyzed by the Canadian Avalanche Centre
• A talk from local helicopter pilots on safe evacuation.
• A talk by snowmobile athlete and avalanche survivor Jeremy Hanke
• The ripple effect, a values-based safety exercise developed by Teck
• Presentations from Avalanche Safety Training (AST) providers
• Display tables and demonstrations by safety equipment retailers
• An open forum to share the experience of the backcountry snowmobiler community
Each event will give snowmobilers a chance to win $2400 of backcountry snow safety equipment. Participants are all eligible for a $100 voucher toward AST1 training.
The January Sledhead Think Tank series will be held in four communities:
• Fernie, January 7th at Park Place Lodge
• Sparwood, January 8th, at Causeway Bay
• Elkford, January 14th,at Motor Inn
• Blairmore, January 15th, at Lions Pride Hall
Every event will run from 6 p.m. to 9 p.m.
"This is a community-centred initiative," said Nic Milligan, Manager of Government and Community Relations for Teck. "The care and value invested in the Sledhead Think Tank demonstrates Teck's passionate commitment to health and safety in our communities."
About Teck Resources
Teck is a diversified resource company committed to responsible mining and mineral development with major business units focused on copper, steelmaking coal, zinc and energy. Headquartered in Vancouver, Canada, its shares are listed on the Toronto Stock Exchange under the symbols TCK.A and TCK.B and the New York Stock Exchange under the symbol TCK.